Valley Wide Cooperative's retail stores and other services benefit rural communities in Idaho, Oregon and surrounding states in a number of ways.
Most retailers wouldn't consider the city of Menan, Idaho, to be a prime location for a store or eatery. However, Valley Wide Cooperative's store in the rural community of 700 people has proven to be successful since it opened last year.
"Anyone else would say it was crazy to build there, but we're doing $1,000 a day in food and other transactions there," says Jeff Jones, vice president of the Jerome, Idaho-based company's retail division. "We're drawing from the city's 700 people as well as outlaying communities, and it works because we have a lot to offer."
The 12,000-square-foot store, which bears the cooperative's Valley Country Store brand name, offers farmers and others fresh deli food, convenience grocery items and farm supplies. The Menan location is one of 18 Valley Country Stores in Idaho and Oregon; store locations are typically in towns with no more than 19,000 people.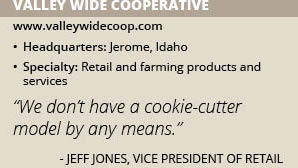 "We are a rural one-stop shop," Jones says, noting that Valley Country Stores vary in size and offerings based on their communities. "Most commonly, our stores will feature farm supply products, hardware, convenience products, fuel and foodservice."
The variety of offerings in Valley Country Stores distinguishes them from retail competitors, most of which focus on one service. "No one else offers the mix of farm store, convenience store, gas station and foodservice all in one like we do," Marketing Manager Sean Durham says.
Foodservice Variety
Valley Country Stores' food offerings include McDonald's and Subway franchises, as well as the Krispy Krunchy Chicken and Hot Stuff foods concepts. These are complemented in most locations with the cooperative's own Valley Country deli, which offers pizza, sandwiches, wraps and salads both to order as well as pre-made. "We have an across-the-board mix of concepts," Jones adds. "We don't have a cookie-cutter model by any means."
Food and convenience grocery items are the dominant offerings in Valley Wide's newest location in Jerome. The company earlier this year opened Valley Country Store at the Crossroads, a travel center and plaza located off Idaho Interstate 84. The location also offers fuel and dedicated truck and RV lanes. "This store has four food concepts, which is twice as many as we have anywhere else," Jones says.
The cooperative's ongoing projects include remodeling and adding to an existing 15-year-old location in Rexburg, Idaho. The farm store and convenience store sections of the store are being expanded, and foodservice offerings will be added, Jones adds.
Part of the Community
Valley Country Store's one-stop-shop philosophy reflects the cooperative's dedication to the rural communities it serves. Valley Wide Cooperative has helped farmers and ranchers in a variety of ways since 1920.
"We are on a full-length journey with farmers and ranchers," Durham says, noting the cooperative also operates propane and agronomy divisions. "We do everything from helping them plan their crops and make them better to heating their house and providing what they need on their farm or ranch."
The cooperative's farming customers have a direct say in its operation because it is member-owned. "We get very good customer feedback," he adds.
Valley Wide Cooperative's closeness with its customers also extends to its community work. The cooperative contributes financially to a number of local organizations including the 4H Club, Future Farmers of America (FFA), Meals on Wheels, the Elks Club and the Veterans of Foreign Wars. FFA and 4-H clubs frequently participate in customer appreciation events at Valley Country Store locations to cook hamburgers, the proceeds from which directly benefit the clubs.
Valley Wide Cooperative's grant program also donates money to causes including Meals on Wheels and the Salvation Army. Grants given by the cooperative are matched by Land O' Lakes Inc. "We give back to the community in a number of ways," Durham says.