Expertise through experience
Vandemoortele has grown to be a truly international food company over more than a century
The name Vandemoortele and its association with food manufacture stretches back all the way to 1899 – the year that Constant Vandemoortele and his son Adhémar opened a factory in Izegem, Belgium. Today boasting commercial offices in 12 European countries, as well as in the United States, and now operating from more than 28 high-quality production sites all over Europe, Vandemoortele has created a position whereby it can ensure proximity to all its key markets, and furthermore, its export capabilities from Europe mean that its products are sent to 95 countries worldwide.
Investment into its factories is key – for example, in the UK, where the business has two sites (an office and a plant in Worcester) it has allocated a multi-million-pound figure into the site, with new equipment and staff recruitment on the agenda. Another area of note and a historic part of the company's legacy, the Izgem location founded by Constant and Adhémar remains a Vandemoortele factory today, and in 2020 was heralded as a 'Factory of the Future' by the technology federation Sirris and Agoria.
The locations from which the business operates concentrate on two categories: Bakery Products, and Margarines, Culinary Oils and Fats. In the first area, Bakery Products, Vandemoortele offers convenient solutions for professionals and products the consumer can trust. Supplied frozen for easy preparation, they come either raw, pre-proofed, prebaked or ready to defrost and include breads, pastries, sweet treats, Italian savouries and patisserie.
The second area – Margarines, Culinary Oils & Fats – reflects Vandemoortele's more than 100 years of experience and features a very extensive product range, both in consumer goods and in ingredients. By working closely together with customers, the business has created a product portfolio that ranges from healthy consumer spreads and tasty cooking blends for top chefs, to top quality pastry margarines for artisan bakers and food manufacturers.
In these core categories, Vandemoortele holds a leading position thanks to a steady growth curve, which has focused on both organic expansion and targeted acquisitions. But of course, the business has to maintain exceptional levels of quality and innovation to ensure that it keeps ahead of trends and continues to meet customers' needs.
Indeed, the business prides itself on having a tailor-made solution for every customer, and this requires a dedicated emphasis on new product development. Maintaining a focus on creating new margarines and fats that are very high quality, convenient to use, and are the best tasting, Vandemoortele also follows the latest insights in nutrition and health and incorporates those into its products as well. These activities are undertaken by an experienced research and development team, who combine creativity and curiosity with ingredients, packaging and process know-how, in order to create the products of tomorrow.
A major part of this process is undertaken in partnership with customers and also by studying consumer trends. As a B2B2C company, Vandemoortele has to listen to customer needs, watch and analyse consumer behaviour and monitor the market to ensure that its innovations will solve problems, inspire new products and assist in the continued creation of delicious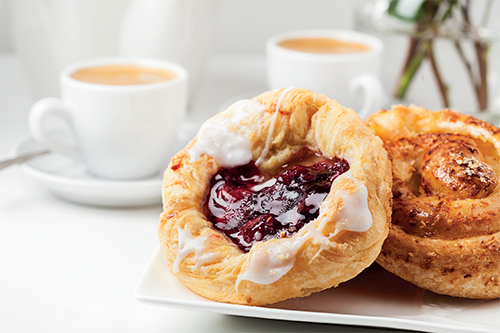 and tempting options. As Roel, R&D Manager – Bakery Products states on the website: "The team needs to be out there in the market place all the time in order to 'smell' the trends, to constantly ask the right questions, and work with the customer to unearth their vision. This is how good innovation happens."
The business is always looking for ways to improve existing products, too. This continuous process of refining, improving and innovating can be seen in all the brands in the Vandemoortele library, which includes recognized names such as P100, Golden Harvest Catering Spread, St-Allery, Banquet D'or, Lanterna, Les Pains Pérènes De Roland Cottes® and My Originals.
Enviable performance
The strength of these brands is impressive, but this is not the only way that Vandemoortele shares its products – it also provides private label solutions, enabling it to create unique products for its customers. These clients gain from the knowledge and experience of Vandemoortele's R&D department, which can be combined with their own expertise to create exceptional new additions to their brands.
As a successful business, Vandemoortele had a strong foundation from which to work, but as with all global businesses, in 2021, it was confronted with the combination of Covid-19 and a sharp rise in energy and raw materials prices. What turned out to be its key success factor when dealing with these challenges? Its ability to adapt meant that the business still achieved its financial targets, as well as keeping sustainability at the heart of the business – a key priority for the organization going forward. As Group Sustainability Manager Aurélie Comhaire commented in the business' 2021 integrated company report: "We managed to achieve all our Clean Label targets, which focus on replacing food additives with natural ingredients, and to further tighten our Clean Label definition. We also made great efforts to protect the physical and mental health of our associates and to keep them motivated during a challenging year. We even achieved outstanding safety results, a remarkable feat considering the number of temporary workers who replaced our permanent associates during the pandemic."
In the same report, Marc Croonen, Chief Human Resources, Sustainability & Communication added some further plans for this year: "In 2022, we will continue to build a sustainable corporate culture. Our associates are our best sustainability ambassadors. We also need to further tackle our carbon emissions. By joining the Science-Based Targets initiative, we aim to take our climate goals to the next level. We have already begun to define our emission reduction targets in line with the Paris Agreement."
Having referred to the corporate culture at the business, Marc leads us into another aspect of the business' enviable performance. Everyone at Vandemoortele lives by three corporate values: respect, cooperation and ambition, and the staff are recognized as being a pivotal part of the Group's success. "Happy customers and happy employees build successful businesses and long-term value," states Jean Vandemoortele, chairman of the Board, on the website.
As the business continues on its sustainability journey and focuses on the three key areas of Balanced Nutrition, Protecting Nature and Enhancing Lives, it is drawing on all its experience, expertise and scale to make the difference, and continue to achieve a top level of operational excellence in everything it undertakes. It looks set to maintain its position as a leading European food group well into the future and beyond. D
www.vandemoortele.com