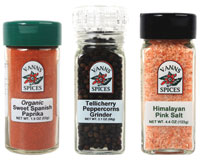 One might say Vanns Spices is attuned to growth – both in the products it sells as well as in business. The company was established in 1981 by a Baltimore food enthusiast who enjoyed ethnic cooking. Particularly interested in Indian cuisine, she found these spices and blends hard to come by at the time. She created a Tandoori spice blend that she sold at local farmers' markets and shops. Fueled by positive customer feedback, she developed a line of other blends that were also made available to local markets.
As word of these unique blends spread, the company branched out to offer both raw materials and custom blends for restaurants, retailers and other foodservice demands. "The line grew into offering more than 200 different raw materials and more than 1,000 different blends," boasts Nick Ciotti, vice president of operations.
Vanns Spices' product offerings and services have allowed the company to grow into a multimillion-dollar operation that sources spices and herbs both domestically and from the most exotic locales around the world.
Quality Seasonings
Vanns is known as a supplier of some of the highest-quality spices and herbs available, Ciotti says. The company sources some unusual spices, too, such as Sichuan peppercorns, Grains of Paradise or Piment d'Espelette, a ground chili pepper from the Espelette region of France. "We also have several domestic sources for mustard, garlic and other herbs," Ciotti says.
Regardless of the source, he claims Vanns offers the highest-grade spices available, many of them organically grown. Vanns selects spices and herbs that contain the highest levels of volatile oils, which en­hance their overall taste. And the selection criteria do not end there. The company also sources extra-long cardamom pods or larger peppercorn berries that, because they've stayed on the plant longer, have more complex, deeper flavors.
Though Vanns Spices delivers the best raw materials available, it knows its clients are cost-conscious. "We may not be the cheapest guy on the block, but we'll source the highest grades possible," Ciotti says. "We'll also try to find the best value for our customer base."
Vanns finds value for its clients by arranging buying contracts when it becomes beneficial to its customers. Because commodity goods have seen massive increases over the last year, Vanns tries to take advantage of this at the beginning of these upward cycles.
"We always have an eye toward quality and never want to warehouse our spices through the next harvest date," Ciotti explains. "We ensure a speedy rotation of raw materials by purchasing exclusively from the most recent harvest." He adds that this mix helps result in the best quality at the best prices.
Catering to Customers
Adaptable to each client's needs, the company can develop or clone a blend for a particular food business. Whether the product is sold individually as a bottled spice blend, as an ingredient for a company's food product or even commercially scaled for use by a restaurant, Vanns tailors its services for each client. Vanns also offers private-labeling for clients, as well as sells its spices directly to the public on its website.
Its on-site test kitchen allows Vanns to recreate an existing recipe or create new products for clients. "A company may come to us to create a barbecue spice rub," Ciotti says. "Our food technologists will talk to them about the flavor characteristics they desire – sweet and spicy, Carolina-style vs. Kansas City-style, etc. – and we'll take a stab at it and create a baseline product." The finished product is evaluated by the client and tweaked until it achieves the desired taste. "We can do a test run at our facility and cook with it or the client can do its own process run," he notes.
Once the correct formulation is achieved, it goes through a packaging process. "If the product is going to retail outlets, we help choose the appropriate packaging and have a graphic arts department on site to help design a label," Ciotti says. "If it's going to a restaurant supply, we also offer bulk packaging services." From there, Vanns can pouch product in sealed bags or bottle-fill, cap and apply labels – either manually or through its automated line.
Though it serves Fortune 500 private-label brands, Vanns also has an eye toward smaller start-up companies. "We're very nimble in what we do," Ciotti claims. "We can customize a rec­ipe and create unique packaging on a smaller scale for a customer who does a 100-pound run." Conversely, the company is capable of running 1,000-pound batches, which are run until it hits the total sum needed – either 30,000 pounds or whatever the customer needs.
The company offers either hand packaging for small orders or hard-to-automate spices such as cinnamon sticks, as well as fully automated production. In some instances, a combination of both is used. By purchasing state-of-the-art equipment such as capping and filling machines, the company has exponentially increased output for its clients.
"In one instance, we could only fill the orders by hand-packing the products, which was both time-consuming and expensive," Ciotti notes. "Our new form-fill machine enables us to deliver 100,000 units in two weeks as opposed to two months and at a lower cost." Thanks to the faster turnaround, this client could approach new customers and market its products more aggressively.
Upping the Ante
Vanns is upping the ante on the quality-control portion of the business. The Global Food Safety Initiative (GFSI) is a certification system that Vanns is working to achieve. This program offers uniform food safety handling measures worldwide "In this way, the products can be documented through the course of production, from grower to end-user," Ciotti says. "It will also allow us to accommodate clients that have very strict quality-control requirements."
Vanns will be certified in the Safe Quality Food (SQF) program (SQF2000) by the Safe Quality Food Institute by the end of 2011. Ciotti describes SQF as "HACCP on steroids," in regards to safe food-handling procedures.
"Through intense scrutiny at every level of our operations, we have developed programs to monitor, verify and double-check all aspects of raw material and finished goods movements – from farm to table, as it were," Ciotti claims. This is achieved through supplier and self-audits, inspecting incoming raw material and trailers, light bulb outage reports and weekly operator training evaluations. "You basically need to fill out a form if someone sneezes," he says.
Employee safety training is an integral part of Vanns' operations. Not only trained in HACCP regulations, employees are given safety instruction in such areas as forklift safety and proper hand-washing procedures. "All employees have to be trained in about 30 different programs," Ciotti says. "We've brought in an interactive training module from Alchemy Systems that not only provides training presentations, it documents the employees' strengths and weaknesses in a given area through testing."
Vanns' marketing plans include an increased emphasis on retail sales. Ciotti says consumer trends toward eating in as well as Vanns' increased production capabilities have poised the company to gain market share in this segment."The trend today is in preparing more meals at home," Ciotti says. "Spices are a relatively inexpensive way to change up a dish – but they bring a lot of flavor to the table."