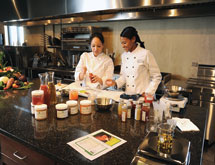 For Vegetable Juices Inc. (VJI), there may be no better time than now to be in the natural vegetable flavor and ingredients business. "We're in a very good spot as far as the wellness trend," President Jim Hurley says. "We're trying to provide solutions so people get more vegetables, health and wellness into their diet."
Based in Bedford Park, Ill., VJI supplies its products to food processors with a line that includes culinary blends, fire-roasted purees and juices. Founder Dr. Dominic Rolle started the company in 1928.
A renowned food technologist, Rolle formed the company when he was dissatisfied with the way processed vegetables lost their characteristics during the dehydration process. He and his employees sought to find better ways to flavor manufactured foods and created VJI's line of vegetable juices, such as garlic and onion juices.
Ultimately, Rolle invented a blend that became the model for what would become V8 vegetable juice. "Our heritage is in beverages," Hurley declares. The Garvy family acquired the company in the early 1960s, and continued its focus on savory ingredients. Today, VJI serves 11 or the 18 Fortune 500 food manufacturers.
"We deal with most of the top consumer food packaging companies," Hurley says. "Our customers are looking for assistance to bring more vegetable-based health and wellness to their products."
Throughout the years, VJI says it has strived to be at the forefront of vegetable ingredient conversion and has become a leader in customer collaboration and service. "We pride ourselves on the long-term relationships we've built with our customers and suppliers," the company says. "We regularly leverage our technological and culinary expertise to provide custom solutions and products tailored to the individual needs of our partners."
Although VJI has changed over the years, the company says it strives to keep the tenets of innovation and collaboration at its core. "Whether it's helping our customers create gold-standard products, developing prototypes for consumer-qualified concepts or leading ideation and testing in our state-of-the-art innovation center, we offer the sophisticated partnering which our customers increasingly need to better meet the needs of their own customers," it says.
In addition, the company operates with the mission of selling products that enhance consumers' lives. "Globally, the connection between food and health and wellness continues to grow in importance among both consumers and world manufacturers," VJI says.
"As a leading provider of natural vegetable flavor and ingredient solutions to the world's leading food marketers and manufacturers, we can offer [customers] the tools to take full advantage of this seismic shift in customer behavior," the company says.
Maintaining the Essence
In 2010, VJI introduced its Essentia Liquid Flavor Systems, which allow beverage makers to concentrate on product differentiation, the company says. For instance, its Essentia Beverage Concentrates are made using Advanced Concentrate Technology (ACT), its proprietary process that maintains "the essence of fruits and vegetables," it says.
The products also provide the benefit of greater health. "To remain competitive in the beverage industry, where health is the No. 1 driver, manufacturers need to ensure that their products are optimized for today's healthy lifestyle," the company says, noting that the products preserve the natural vitamins and minerals of fruits and vegetables, and maintain low sodium levels.
The Essentia products also offer an improved taste. "The technology underlying Essentia Beverage solutions simply makes drinks taste better with cleaner flavors, more resonate top notes and greater degrees of clarify," VJI says. Another benefit is stronger quality, the company says. "Because Essentia Beverage Solutions locks in the true essence of fruits and vegetables, it provides beverage brands with a range of marketing benefits, cleaner labels, the flexibility to include more fruit and vegetable servings, and the opportunity to tell consumers that the beverage they're about to enjoy is made from high-quality ingredients," the company says.
The products also offer improved receptivity. "Manufacturers know that [the] beverage's aroma and visual appeal impact consumer receptivity," the company says. "So, it's good to know that Essentia Beverage Solutions can improve a product's overall aroma and can help a product retain the color of its fruit and/or vegetable ingredients."
Satisfying Work
Hurley joined Vegetable Juices in August 2004. A former vegetarian, he notes that he appreciates the company's mission of producing and selling products that provide a strong quality of life and wellbeing in consumers.
Hurley also has enjoyed working with the company's staff and strives to work shifts in each role at Vegetable Juices, whether it is a custodian, accountant or an engineer. "It's not as easy as it used to be," he admits. "People are the company's prime ingredient."
He also has enjoyed the "intersection of opportunity with respect to our products," he says, citing ACT as an example. "There is emerging process technology we're providing in unique [ways]."
Following the Trends
Hurley says he now sees four major trends within VJI's market. The first is an increased number of regulations on systems, quality platforms and the cultures of companies. "It is a big deal for any company in the food ingredient industry," he says.
To meet these demands, VJI will work to achieve Safe Quality Food (SQF) Institute compliance in the first quarter of this year. In addition, the company utilizes outside experts to ensure it is compliant with regulations.
"We'll use a whole host of experts to expand our domain of knowledge," Hurley says, explaining that the company also employs experts for such areas as human resources, finance and accounting. "We use that tactic in every area of our company.
"We have 25 or 30 people who are thought experts [that are] best in class," he says. "They make sure we've evaluated or assessed things properly."
Another trend is sustainability, which is "a significant, long-term issue in our industry," Hurley asserts. "We're in active research about not only reducing our waste stream but monetizing it."
Hurley cites Walmart as a major influence upon VJI in this area. "They're driving a real effort throughout the value chain to not only get green, but also get the metrics to prove green," he says.
A third trend in VJI's industry is an increase in the transparency of companies. "There's a duality to that," Hurley says, explaining that most say transparency involves the traceability of the company's products. "The other side of transparency is in the supply chain.
"We're making active investments in our systems," he adds. "We've also evoked our values and believe to be congruent with a philosophy of personal and professional transparency."
The final trend is an increase in consumers who are more frugal and practice discretionary spending. This reflects the "long-term implications of what people have gone through in the recent recession," he says.
To cope with these changes, Vegetable Juices has a return driven strategy, which is focused "around ethically maximizing wealth," Hurley says. One method, he notes involves focusing on larger packaged goods companies to provide added culinary, food science and innovation-related activities.
"Those were very active investments we've made over the last four years," he says, noting that one such investment included VJI's new 5,000-square-foot innovation center and applied science food facility.
First and Foremost
Hurley says he sees challenges, opportunities and growth ahead for Vegetable Juices. "We're committed to a market-driven philosophy," he says. "I think branding will be in our future.
"I think a customer-centric focus will be in our future and the rest will take care of itself," according to Hurley. "The first and foremost thing is to satisfy the known and unknown needs of our customers."