Venturi Brands is breaking through in the premium spirit world by reaching consumers with unique whisky and other liqueurs.
Connoisseurs of whisky, vodka and other spirits do not need to look far for their next drink. With a preponderance of major and specialty brands available on the market, it can be difficult for new spirits to find their way to consumers.
Venturi Brands LLC believes in tackling this challenge by getting the word out about its unique products in as many ways as possible. "No one is waiting for a French Whisky to be created – the person sitting at the bar will order the spirit that they know," says Florian Passera, CEO and co-founder of the Weston, Fla.-based company. "Our responsibility is to make people drink outside the box.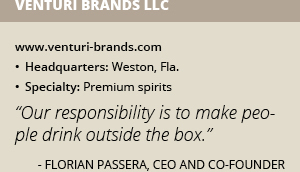 Though founded in 2012, Venturi Brands has been developing its flagship brand for more than a decade. The company produces and markets Vicomte, a single-malt French whisky that has been aged for eight years in cognac barrels. Venturi Brands is also the sole North American importer and marketer of Xellent, a premium vodka carefully handcrafted on the foothills of the Swiss Alps. "We have been focused on bringing innovative spirits to consumers," Passera says. "In an industry dominated by giants, the best way to stand out is by creating a new experience."
Educating Consumers
Venturi Brands brings its unique consumer experience through extensive marketing efforts, as well as through its partnerships with distributors. The company regularly attends trade shows and other special events and hosts in-store product tastings and workshops to bring its products to consumers. "The craft spirit movement encourages consumers to find the next new product with a taste and story to make their own," Passera says. "We have found that customers embrace our products when we share our passion in person."
The company's partnerships with distributors provide a channel and platform to introduce its brands to consumers. Distributors are given regular product training and other tools needed to promote Venturi's brands in their respective markets.
"Our goal as a brand owner is to strengthen relationships with wholesalers and help them in the marketing of our brands," Passera adds. "We need to make sure we recognize and identify the most effective ways to help our distributors perform. We focus on training and educating the people responsible for getting our products into customers' hands."
Venturi Brands also maintains relationships with all of its vendors from glass manufacturers to label printers. "Our strengths include putting together the most impactful and attractive package we can; to do that, we need to maintain strong partnerships with market leaders in our industry," Passera says. "All of our vendors are very proficient in their areas of expertise, which allows us to bring the best possible product to market."
Expansion Plans
Venturi Brands is growing both its product line and geographic reach. Several Vicomte brand extensions are in the works, including a cask-strength version expected to launch this fall. A 12-year old version will be introduced early 2017. In addition, the company will introduce its latest creation: Idylle, a cognac crème liqueur, later this year.
"Over the next few years we will keep introducing new versions of our products while increasing the size of our portfolio of premium European-made spirits and liqueurs," Passera says. "We will also bring new brands into the market that are in line with what we are currently offering."
Vicomte Single Malt French Whisky is available in 15 states and 14 countries. Further expansion across the United States and internationally is a high priority for the company. "So far, we have been focusing on North America and Europe exclusively, and we will continue to do so, but in 2018 we plan to begin expansion into Asia," he adds.