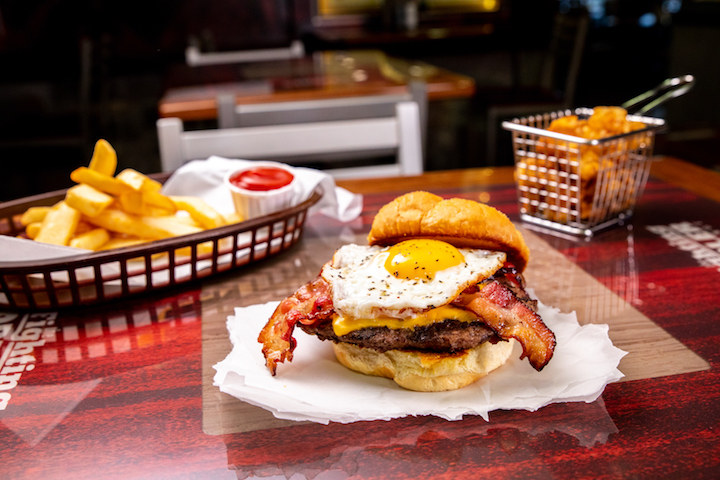 Dining Services at Virginia Tech keeps students culinarily satisfied by communicating and keeping up with changing tastes.
Graduates with college far in their rear-view mirrors might still recall going to a college dining hall and being disappointed by the food selection. "Oh no, not meatloaf again," the graduate might remember saying.
In contrast, the Dining Services department at Virginia Tech takes a multi-pronged approach to keeping students happy while they are filling their stomachs.
Dining Services at Virginia Tech is a big operation. It serves 7.5 million meals a year. While roughly 10,000 students living on campus are required to purchase a meal plan, another roughly 16,000 off-campus students voluntarily spend money at the dining centers.
How does Dining Services attract all those off-campus diners? It starts by communicating with students. Dining Services has a student advisory committee of about 24 students who speak to management on behalf of students. Dining Service interacts with the Student Government Association. The department solicits online comments from students and aims to reply within 24 hours. The department also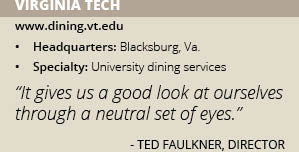 engages in Table Talk, where the entire management team from Dining Services sets up tables in a public place and engages students in dialogue. "We listen and take notes and inform them of any changes we make based on their involvement," Director Ted Faulkner says.
Students at Virginia Tech want variety and Dining Services has obliged, being an early adopter of bringing outside brands onto campus. Its 46 concepts include eight national brands – including Pizza Hut, Qdoba, Au Bon Pain, Chick-fil A – and a variety of local and regional brands.
Dining Services engages students in dialogue and has worked with independent food consultants. That, for example, is how Bruegger's Bagels came to campus. "As out-of-state enrollment numbers began to rise, many students came from the northeast part of the United States," Faulkner says. "We began to hear comments about unauthentic bagel quality and bagel sandwiches."
Bringing in national brands, in particular, has helped Dining Services attract off-campus students to its 10 dining locations. "When we try to promote the sale of dining plans, we can say we have [local] restaurants but when they hear dining plans can be used with national brands, it provides a level of comfort and familiarity," Faulkner says.
Dining Services is careful not to duplicate concepts. The campus has, for example, five different pizza places. And, as student have become more adventurous in their tastes, Dining Services has kept up by offering a Japanese-style steakhouse, Brazilian food, a sushi bar, gelato made on-site and other authentic flavors.
Showcasing Food
To keep up standards, Dining Services borrowed a technique from the private sector and uses mystery shoppers. They recruit students, give them a dining card and set them loose in dining halls. The identities of the mystery shoppers are kept a secret from Dining Services management. "Even I don't know who the mystery shoppers are," Faulkner says.
Mystery shoppers consider such factors as cleanliness, engagement, display of food, whether food is the proper temperature and so forth. "It gives us a good look at ourselves through a neutral set of eyes," Faulkner says. "The management team gets the results and can quickly react to both the good and bad."
The largest challenge faced by Dining Services is recruiting staff. The department is the largest single employer on campus with more than 2,200 employees during the school year; 349 full-time, 220 to 300 hourly workers and more than 1,600 students. "Recruiting has been an issue the last three to four years, particularly the last two years," Faulkner says. "The unemployment rate has continued to drop and Blacksburg has seen an uptick in growth. Last year we went the entire academic year and never got fully staffed."
To help, they recently upped the hourly wage for starting student employees to $10.50 an hour. If a student works a four-hour shift, they get a $10 food voucher. More recently, Dining Services approved a $1000 bonus to students who work 500 hours or more during the academic year.
Faulkner started as Virginia Tech 21 years ago and took over as director of Dining Services eight years ago, in time to help transition from one-size-fits-all dining plans of the all-you-can-eat style to a la carte options and debit-based flexible accounts. That includes the Grab & Gobble program, which is being expanded.
Over the years, the program has brought the cooking out from behind walls. "It was institutional," Faulkner recalls. "Now it's a showcase. Everything is done in front of guests."
During Faulkner's time, Dining Service has developed partnerships with other departments at Virginia Tech. The most notable might be with the College of Agriculture and Life Sciences, which runs a 6.5-acre farm named Homefield. "Our chefs work with our faculty member to decide what to plant and when to plant it," Faulkner says. "So, the harvest can be used within 24 hours, sometimes the same day. We use 50,000 pounds of produce a year from the farm."
Dining Services is not resting on its laurels. This fall it will bring in Globowl, a 70-foot long countertop where students can try a variety of bowl-style meals from different countries.
"I couldn't be prouder of our effort and our team," Faulkner says. "We try to be progressive and out in front of bringing offerings to our students."