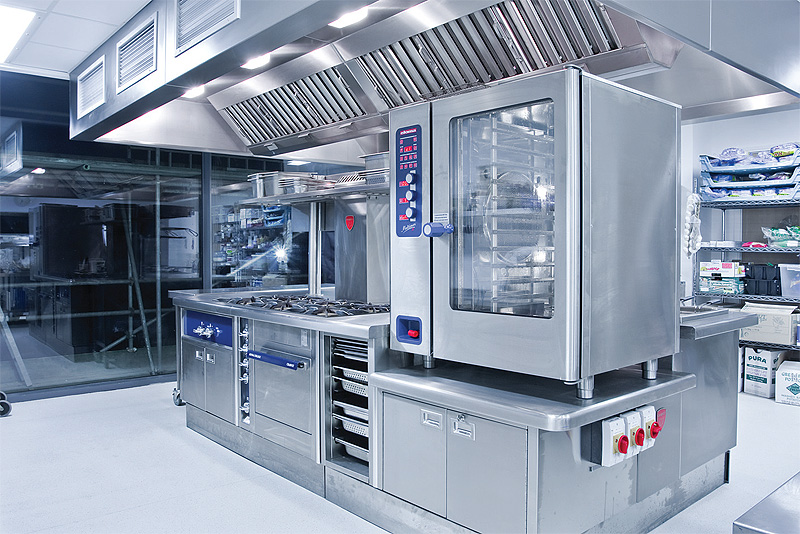 Vision Commercial Kitchens
Cooked to perfection
With prestigious contracts for celebrity chefs and major academic facilities, Vision Commercial Kitchens has been going from strength to strength
Vision Commercial Kitchens provides high quality commercial kitchens throughout the UK. As part of its service Vision is able to offer expertise at every stage of the process, including design, specification, project management, supply, installation and after-sales services. The company has worked with a wide variety of clientele through a range of market sectors such as schools, universities, hotels and restaurants, and continues to grow its profile with increasingly prestigious contracts.


Recent major projects include the installation of kitchens for two three Michelin star chefs: Heston Blumenthal and French New Yorker, Daniel Boulud. Working in conjunction with foodservice design consultants, SeftonHornWinch (SHW), Vision has created these kitchens for the Mandarin Oriental hotel Group at its Hyde Park Hotel, London. Daniel Boulud's, Bar Boulud, opened to critical acclaim in May with great success and Heston Blumenthal's restaurant 'Dinner' is currently under construction with opening due later this year. Jack Sharkey, managing director for Vision, explains what these contracts mean to the company: "People are recognising the quality of work and the standard we work to. They're prestigious projects for us and raise our profile quite considerably, which is good for PR in its own right."
However, it is not just celebrity chefs that contract Vision. Jack highlights another major project the company recently accepted: "We're just completing the Bolton College project with BAM Construction. It is a £90 million new-build college project due to open for the new term in September." Bolton Community College recently invested in a 20,201 square metre site and three brand new buildings that will include, amongst other facilities, a training restaurant and catering facilities. Vision is responsible for the design, materials supply, installation and project management of the restaurants and training kitchens.
Vision has been responsible for a number of other installations at academic sites including kitchens for Kendal College, Warrington Collegiate and the Barnsley / Stockport Academies. Most recently, however, the company has been awarded two contracts at Durham University. The new £48 million university building is being designed to maximise energy efficiency and Vision will be providing a kitchen that fits in with this green ethos. The kitchen will be made to cope with serving over 300 staff and many more students efficiently on a daily basis. Work is currently in progress and the two projects are expected to be completed during spring 2011 and summer 2012.
Despite being part of a tough industry with a lot of competition, Vision has managed to rise to the top through expertise and high standards. The company was formed in 2002 when four individuals with extensive experience in commercial kitchens, as well as their own specialities, got together with the aim of providing customers the most focused concept they believed the industry could offer. Jack Sharkey, Craig Forester, Phil Shea and Chris Rouine formed Vision Commercial Kitchens Ltd in Manchester and continue to be its directors.
Today the company has grown considerably to become one of the UK's largest kitchen planning and installation agencies. It has an annual turnover of £9 million and since 2002 has seen between 25 and 30 per cent year-on-year growth. Jack explains the reasons for this: "A lot of it is because of the systems that we have implemented, which we operate in-house. Our management systems and our IT infrastructure as they have enabled us to expand rapidly." However achieving this level of success requires something more than just efficient systems, and Jack ultimately puts this down to the company's staff: "I think our people are our key competency. I genuinely believe that we've got some of the best people in the market. They are very, very professional and at the top of the industry."
The company has access to all major equipment manufacturers in the industry and a comprehensive network of service and installation engineers across the UK that it can call upon at any time. This wide-reaching list of contacts mean Vision is able to provide its customers with the highest quality service available. Backed up with ISO 9001:2000 accreditation and a membership with the Catering Equipment Distributor's Association (CEDA), whose board Jack now sits on, there can be no doubt about the quality of Vision's services.
Because of the company's growing infrastructure, Vision has recently changed premises from its original site at Whitefield to a new location Axis Point Business Park in Heywood. Jack gives further details on the move: "We recently moved into a purpose-built 9000 square foot warehousing and office premises on a brand new estate. This will allow us to grow, expand and develop without the need to move again. We spent £1.2 million on this new facility."
This investment and the company's growing business have been in spite of the recent national economic crisis. The company was not unaffected, however, as Jack points out: "2009 was a challenging year. I think it was a challenging year for everybody because that was at the start of the credit crunch. As a result of that we had to really look at our business model and client base. We had to diversify and start concentrating on other, lucrative market sectors." This was a wise decision for the company. Jack explains: "As a result we've built the business back up through 2010 and now we're looking at expanding the business through 2011 to 2013. I'd still say the market is challenging but it's certainly improving."
The recession has brought some unexpected advantages for Vision as well. Where Vision has lasted, many other firms and agencies within the industry have fallen over the last two years. This presents Vision with new opportunities for expansion within a burgeoning market although, as Jack explains, this may take some time: "Currently it's a bit too early in the general economic recovery to be able to look at any particular market sector and say that it is definitely a sector set to be on the increase."
He concludes: "Because it's such a mature market we are looking at alternative market sectors in which we'd like to take some of the market share. Obviously we're hoping to enhance and develop our current market share in the sectors we're currently operating, but we are definitely looking for new opportunities."