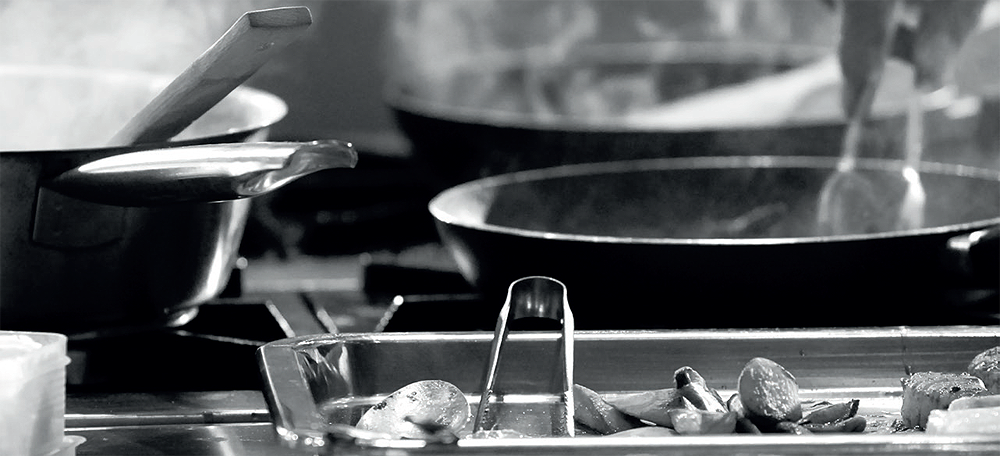 Nationwide lockdown is back and beleaguered but determined restauranteurs, hoteliers, pub and café owners are once again pouring over their books, predicting the shape of their business come February. Some are unfortunately asking themselves whether it will still exist at all. In an industry battling for survival amidst ever-evolving health concerns, lockdown and social distancing measures, the thorny issue of how to sustain profitability beyond the pandemic can no longer be ignored.
Most commercial kitchens are underutilised and carry excess capacity. It's a problem that predates Covid by many years, but the pandemic exposes the dividing lines amongst the different types of outlets that make up the hospitality sector.
Whereas a standalone restaurant has no choice but to achieve financial sustainability or go bust, hotel kitchens for example, have typically been propped up by the wider organisation without due scrutiny towards where improvements or efficiencies might be implemented. However, in the last quarter of 2020 it was hotels that felt trading challenges acutely due to being largely ill-equipped to offer their food service as a standalone consumer offer. Comparably, some restaurants, pubs and cafes were able to transition to takeaway service, albeit with mixed success.
Food operators of all stripes are revisiting their on-premises food offering by rethinking how their kitchens are run, and who they serve. But these changes must not just be in response to the pandemic. As with many aspects of our 'new normal', the health crisis has merely accelerated a trend already gaining traction. The key for owner/operators is to adapt for both the short and long term; and the answer lies in the online food delivery market.
A taste for takeaway
Online food delivery has grown by 40 per cent in the past five years in the UK. The pandemic has further quickened uptake, introducing new audiences and demographics to delivery for the first time. And what we're learning is that any commercial kitchen has the potential to achieve success within the delivery arena.
Those doing so successfully are breaking with the 'one brand, one kitchen' mindset that has dominated the food industry for decades. The rules of the delivery game are very different to on-premises dining. Owners and food providers need to look past their existing menus because they are unlikely to meet delivery customers' exacting requirements around speed, convenience, price, and presentation. However, where the menu and kitchen processes need to change, the kitchen itself does not.
Expansion in the industry is traditionally sought by investment in more bricks and mortar. Restaurants expand into new locations by purchasing or renting new premises. Cafes move into new towns, pubs set up in new cities. The rise of so-called dark kitchens in the delivery space, are also falling foul of the old rules. Success in food delivery does not demand new premises – it simply needs a rethink of how the current one is being used.
By reconfiguring the kitchen to prepare multiple food brands, any hospitality outlet can maintain their existing on-premises offering while branching out into an array of different, complementary cuisines specifically designed for delivery. Kitchen staff who might normally be left twiddling their thumbs for long periods can spend this time preparing delivery orders. Expensive-to-run, always-on kitchen equipment can be far better utilised. More food options make for better use of kitchen equipment and staff; more brands served targets a broader local customer base.
Pop up brands – pop up revenue
Designing, testing, and trialling new menu options is time consuming, but this also needn't fall to the venue owner. There is an array of 'pop-up' brands deliberately designed for ease of preparation and the brand owner will typically provide a range of training materials to ensure that existing kitchen staff can prepare the menus to a high standard. For example, Absurd Bird chicken, which was originally devised as an on-premises restaurant chain, is now licensed, and produced for delivery by a hospitality business that owns hundreds of kitchens across the UK.
So, the brands are in place, the kitchen is ready, what's the missing ingredient? Technology.
The transition is two-fold. Firstly, delivery technology can seamlessly integrate POS and inventory management systems with the leading online delivery platforms, allowing a kitchen to start taking delivery orders within days.
Secondly, some technology offerings can harness the power of machine learning to give kitchens better data on how their food brands and menu items are performing. Whereas a pub may notice some menu options are losing favour over a season – delivery focused technology will spot patterns and trends to allow owners to make changes to their offer, in acutely aligned with local demand. Sushi is extremely popular on a Tuesday, but burgers dominate the weekend? Inventory and marketing can be adapted accordingly, to ensure efficiencies and secure the potential revenue. In the delivery arena, a trial-and-test approach can be achieved without ever impacting the on-premises offering.
This is a critical moment for the hospitality industry. The furlough scheme, which supported 1.4 million accommodation and food services employees, has been extended to April, providing a window of support, but with Eat Out to Help out now a distant memory, it's not clear that any new Government support initiatives are going to be offered beyond then. The onus is on venue owners to do everything in their power to improve efficiency and find new means of revenue generation at this difficult time.
Moving into food delivery may feel like a bold move, but it is one that could represent a vital lifeline for beleaguered venues facing a future of reduced bookings, safety concerns and social distancing. Firing up the kitchen for the delivery market, by harnessing new technology and digitalisation, has the potential to benefit the hospitality industry, and consumers.
Kbox
As the founder of Absurd Bird, a six-restaurant chicken chain, Kbox owner Salima Vellani, is passionate about supporting restaurants and on-premises food outlets to rethink their entire model and capitalise on the opportunity of the delivery age.
Kbox is a host kitchen package that enables kitchen owners to use their spare capacity, in hotels, restaurants, pubs, casinos, gyms, to enter the delivery market and turbo charge their revenue, without additional spend on premises, menus, customer research, or staff upskilling. Kbox is underpinned by a technology offering rich customer insight and up to the minute data to make the kitchen hyper responsive to local demand.
For further information, please visit: www.absurdbird.com .  www.kboxglobal.com