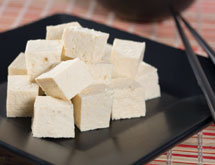 Rinda Tucker, foodservice manager at Vitasoy USA, recalls a time when selling soy products required some extra work. Though the benefits – including decreased risk of many serious illnesses – are numerous, it was lost on the larger non-vegan population. However, as the nation has heightened its awareness on those things that soy helps prevent – such as heart disease, diabetes and obesity – restaurants, grocers and food manufacturers have sought alternatives to traditional proteins such as beef, chicken and pork. Though these meats remain on the menu, tofu, which is a soy-based product, is playing more of a role in foods sold today.
"The attitude around tofu has changed," according to Tucker. "It was very hard to educate people on what tofu was. The best way I could describe it was if you had a fillet of chicken, it has no flavor until you season or marinate it. Then you can take that chicken and do something with it and it's the same with tofu – you can grill it or marinate it. But that's what I used to have to do. You would be there to sell it, but you also had to constantly educate people."
Today, however, it's a different story, which is good news for Vitasoy. The food manufacturer makes and distributes natural and organic soy-based products under its own brand name and private labels. Nasoya is its made-for-retail organic line, which includes tofu and tofu-plus made from black soybeans. It also includes Asian-style wraps and noodles, spaghetti noodles, mayonnaise and hummus – all made from soybeans.
Azumaya is its all-natural tofu-only line and includes different textures of fresh, water-packed cubed tofu including extra firm, firm, silken and lite extra firm. The firm and extra firm are its top two products, and Tucker says that its popularity has risen among retailers and all customers in the food industry.
On the Tofu Train
"In the last two years, I've been contacted by quite a few manufacturers who are using it for a protein in their products," Tucker says. "There is consumer demand for vegan product and for soy product. Soy is a very popular ingredient right now. They are using it in frozen dishes, soups and using it as an entrée or for dips.
"This is something we have already been making for retail," Tucker ex¬plains. "We've already been making cubed tofu for retail, so we just took that product and put it in a pail. It's three-quarter-inch blocks of tofu in a 25-pound pail."
Restaurants and cafeterias at colleges and camps also have jumped on the tofu bandwagon. Restaurants – in particular, Mexican restaurants – are adding tofu as another protein option on their menus, such as tacos and enchiladas available with chicken, beef, pork or tofu.
When Tucker came to Vitasoy nine years ago, she says there weren't many colleges that had tofu on their menus. "And now I can walk onto any college and there's tofu on the menu," she says.
One simple change – making the product available in bulk and not just for retail – has allowed Vitasoy to serve this fast-growing market in which tofu is becoming an ingredient to a dish and not just the entrée itself.
Vitasoy's customers also have the benefit of knowing they are dealing with a longstanding and credible manufacturer. For instance, all of Vitasoy's tofu products are pasteurized, which means it has a 70-day shelf life as opposed to the four- to five-day shelf life of tofu products being made by mom-and-pop organizations.
Now that customers realize the benefits of soy, Tucker says her goal is no longer educating people about soy, but keeping up with the sales. "Today, you don't have to educate people about tofu," she says. "In 2003, it was totally about educating people. But now, you just sit back and wait for the sales."