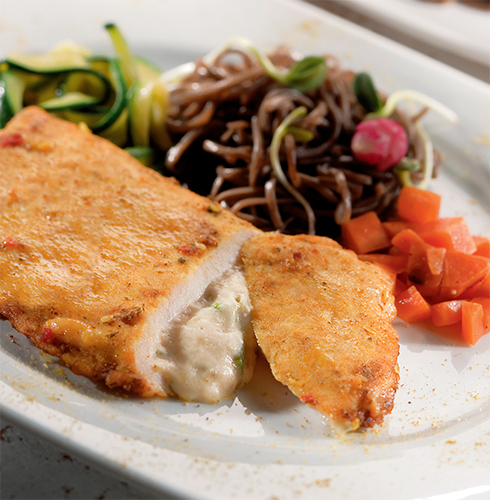 A unique alternative
Having Launched two new products, Koen de Praetere outlines Volys Star's aims and pland for the future
Because we're in a market that is 100 per cent international, we have competitors in the European countries along with Brazil and Thailand. This is a challenge that we use to our advantage because it not only keeps us on our toes, it also ensures we continue to be innovative and remain the trendsetters we are," comments Koen de Praetere, the general manager of Volys Star.
He continues: "In exercising our innovative side, we recently launched two new products: Twister and Smoked Turkey Rasher. Twister is a non-breaded product that is folded over like a pancake but made of pure meat. Unlike breaded products, Twister is a convenient product and is microwaveable; and is also extremely fast to prepare – out of the freezer, into the microwave and ready to eat in just three minutes. Besides the speed, Twister is also a healthier alternative because it contains only five to six per cent fat compared to breaded products that contain 20 to 25 per cent. We invested over 500,000 euros in machines for this and launched it in Belgium at the beginning of 2006. Because it's a new product, we really wanted to test the market and see its reaction although the challenge we face in Belgium is that there are not many people who utilise a microwave to heat their meat – they'd rather prepare it traditionally, in the pan. However, other markets that are already further developed in using a microwave as a cooking alternative pose more opportunities for us. Apart from the Scandinavian countries, the UK might be another one of the target markets where speed and the healthy option are important factors.
"Our second product is the Smoked Turkey Rasher, which is an alternative to smoked bacon. We had this product in our portfolio for over ten years but when we analysed our strengths, we realised we were one of the best around when it came to high quality specialty products and turkey bacon was definitely a specialty product, as no other manufacturer was producing it. We also realised that turkey was a great product for the halal market and because most countries have a healthy connotation associated with turkey, it wasn't long before we began improving the recipe and adapting it to the market.
"Our quality leadership in halal meats in the French market allowed us to broaden our product portfolio elsewhere and the Middle East proved to be the next market for us to tap into. Beef was used to develop rashers for this market but it was not as good an alternative as turkey. Apart from the Middle East market, we're also looking at significant bacon markets in Europe, for example the UK. Because there is a general healthy eating trend in the market especially in the UK, we realised smoked turkey rashers might be the healthier alternatives that consumers have been looking for – there is only about 50 per cent of the normal salt and fat percentage in our turkey rashers than there is in bacon."
Koen adds: "We're currently actively seeking routes into the UK market and targeting the sandwich market predominantly. I understand that the BLT (bacon, lettuce and tomato) is the most popular sandwich in the UK and our aim is to not only develop a TLT (turkey, lettuce and tomato) sandwich, but also to make it the first choice for consumers. In order to tap into the right channels, we entered into a partnership with a chef, Tom Bridge, at the end of 2006. The product will be endorsed by him and because of his extensive knowledge in the sandwich market, he will be developing some exciting recipes. With all his contacts, he will also be approaching the main players in the field. Tom's endorsement will be a warranty for consumers who are sceptical of the product because it is new."
He concludes: "We're also looking to attend IFE (International Food Exhibition) in London in March of this year. We're hoping to get people acquainted with the concept and we need to convince the sandwich manufacturers that we've found the right concept to attract the market and the consumers."
In a production area exceeding 16,000 sq m, Volys Star processes more than 9500 tonnes of chicken and turkey meat on a yearly basis. With over 60 years experience, Volys Star started life as a regional chicken slaughterhouse. The year 1957 symbolised the first use of 'Volys' as a brand name, as it stands for 'volaille de la Lys', translated as poultry of the River Lys area.
In 1972, Volys Star made a conscious decision to change from a chicken slaughterhouse to a turkey slaughterhouse, and became a pioneer with its turkey ham, being the first poultrybased charcutery product in Europe. Today Volys Star is renowned for its high levels of quality in food and has been awarded ISO 9001, ISO 9002 and BRC accreditation to prove it.