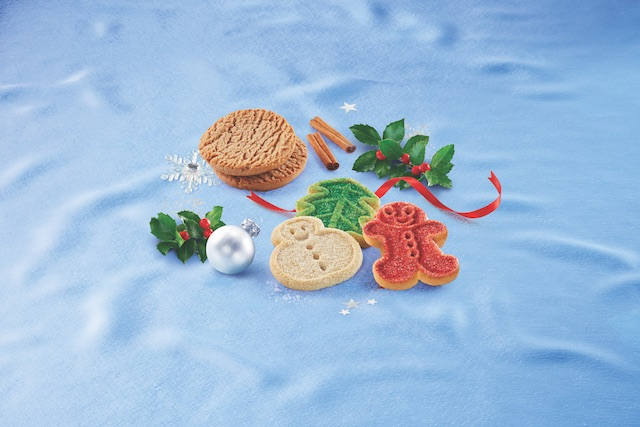 Voortman Cookies expands into new international territories and launches new products.
When it comes to wafers, Voortman Bakery has a large chunk of the market cornered. The Burlington, Ontario-based company is famous for its assortment of cookies and wafers that are baked using real ingredients and contain no artificial colors, flavors or high-fructose corn syrup.
"This year, our wafer sales alone are up about 20 percent," says Ken Cross, chief marketing officer. "It's the fastest-growing part of our business. We're the leading brand for wafers in both Canada and the U.S. and we sell our wafers in 70 countries."
Cross estimates that Voortman's market share in Canada and the United States is roughly 40 percent. Its brand cookies and wafers are sold at major retail locations throughout the United States, Puerto Rico, Canada and internationally. This year, the company introduced its products in China and launched a new line of sugar-free cookies in Europe.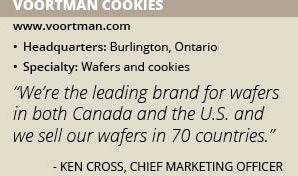 Aside from wafers, Voortman is known for its assortment of cookies. The company uses real ingredients, like whole grain oats, coconut and almonds. It also offers a line of sugar-free products and season-specific snacks.
"With the high percentage of consumers that are diabetic or pre-diabetic, we're by far No. 1 when it comes to sugar-free cookies in the U.S.," Cross says. "We have 70 percent of that market. Walmart has been a strong supporter of us because of its campaign to fight diabetes." The company rebranded its products about two years ago when it pulled artificial colors, flavors and high-fructose corn syrup from most of its products. "We wanted more clean ingredients," Cross adds. "And we also redid our packaging."
Hunger For Quality
Voortman has been a pioneer in its market when it comes to recognizing the public's hunger for healthier ingredients. For example, the company cut out trans-fat from its products in 2004. "We took a natural approach when we decided to become trans-fat free before it became a thing," Cross says. "We were the first major bakery in North American to do that."
Voortman prides itself on uncompromising quality when it comes to its products. Its goal is to provide products with a better flavor, texture and value. The company has attained a high rating and HACCP certification and was FSSC 22000 Food Safety System Certified in May 2017. It has also won awards for its safety processes and product developments.
"There are lots of companies that have tried to go down the all-natural-ingredients route," Cross says. "But most of them charge a really high price and become inaccessible. We went natural but we went did it at an accessible price point. We offer the everyday cookie, not the million-dollar cookie. You don't have to mortgage the farm to be able to eat a cookie you can enjoy."
Coming Soon
Known for innovation, Voortman has a few new products on the horizon. In January, the company plans to launch sugar-free breakfast biscuits. Being described as a "wholesome cookie," it will be available in three different flavors: apple cinnamon, oatmeal blueberry and banana chocolate chip.
"The idea with these biscuits is that they are nutritionally enhanced products," Cross says. "You can bring it with you as a nutritional snack anywhere you go."
Voortman releases new products on a quarterly basis. Some are launched exclusively for specific retailers, a few are experimental and others are limited time offers.
Limited time offers include seasonal products such as gingerbread men cookies, gingerbread wafers, vanilla short cakes and holiday-related products. In the spring, Voortman's sells a lot of its s'mores wafers that are baked with real cocoa. In the fall, it offers pumpkin spice and apple slice crisps.
"We have a team of bakers who do a lot of R&D work," Cross says. "We invest in research to understand current trends around the globe and our marketing group keeps an eye out."
Voortman is also in the midst of launching its new enrobed wafers. They are fudge-coated wafers in an assortment of flavors such as peanut butter, vanilla, chocolate and salted caramel.
From its classic windmill cookies to its newer oatmeal chocolate chip, Voortman prides itself on "constantly reinventing what delicious tastes like."
Growing Its Core
Founded in 1951, Voortman Cookies is the brainchild of two young Dutch brothers, William and Harry Voortman, who opened their first bakery in Hamilton, Ontario.
It took about five years of dedicated baking and hard work before a Canadian grocery chain agreed to give Voortman Cookies shelf space in their stores. Since then, the company has been growing at a rapid pace – its cookies and wafers popping up on the shelves of major retailers in North American and beyond.
"We're on trend to grow," Cross says. "We're going to have a lot of organic growth and continue to grow our core. And we're going into new markets, like China, where we've gotten amazing feedback from consumers. "
Cross also sees the sugar-free cookie line growing. According to its website, the company has more than a dozen different types of sugar-free wafers and cookies.
Another potential growth for the company is in the foodservice markets. This includes selling its products in schools, hospitals, nursing homes, vending machines and to food vendors.
Cross says that Voortman entered the foodservice market roughly five years ago and that it is fast-growing market for the company that has been accelerating faster each year.
"We're seeing double digit growth here," Cross says. "A lot of them are looking for all-natural and healthier products but at accessible price points."
Major retailers that carry Voortman's cookies and wafers include Walmart, Kroger, Target, Pulix and Stop & Shop.