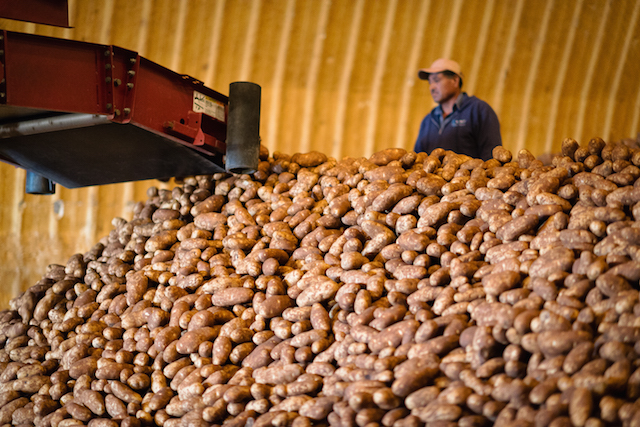 Wada Farms uses technology and product diversity to stay on top of its game.
Kevin Stanger knows it can be difficult to distinguish yourself in his line of work. "It's not exactly brain science to grow and bag potatoes," the president of Wada Farms Marketing Group says. "What we've done instead is to focus on quality and service to our customers, as well as offering more than just potatoes."
Based in Pingree, Idaho, Wada Farms supplies grocers, wholesalers and foodservice companies across the country with potatoes, onions and sweet potatoes. The company was established in 1943 by Frank Wada, who emigrated from Japan to the United States in 1922. Fearing he would be placed in an internment camp during World War II, he moved to Idaho and planted his first crops in the spring of 1943. Wada Farms since has grown to cover roughly 30,000 acres in three Idaho counties, and grows more than a billion potatoes annually, making it one of the largest growers and packers in the industry.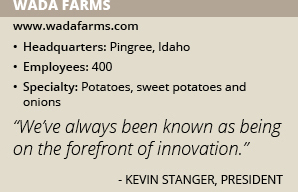 Diversification of Offerings
Staying ahead of the crowd is vital to Wada Farms' growth. That's because over the years, thanks to advances in technology, average yields on a typical acre have gone only one direction: up. "Because of the ability of growers to manage and get more out of the ground, there aren't really more ways you can increase yields," Stanger says. "We're kind of maxed out where we want to be, and that's why we have opted to diversify our product offerings with sweet potatoes and onions."
That focus on extending Wada Farms' offerings has led it to branch out. Diversification of its product lines has been key in keeping the company competitive. In recent years, Wada has begun marketing onions through its partnerships with facilities in Oregon, California, Mexico and New Mexico. It also began packing sweet potatoes through its facility in North Carolina.
Sustainable Growth
One of the ways this 70-plus-year-old grower has maintained its edge in the industry is with a culture of innovation, particularly with sustainability practices in packaging. In 2014, the company debuted its first "Tater-Made" Eco-Friendly Bag, used for bagging potatoes. With up to 25 percent of the packaging made out of potatoes; it is 100 percent recyclable.
That sort of innovation is nothing new to Wada Farms. "We were the first growers to use microwaveable bags," Stanger says. "Generally, we have always been at the forefront of innovation." That innovation extends to its equipment as well, and dates back to the early years of the company. For instance, Frank Wada was one of the first in his industry to use a mechanical harvester.
In addition to diversification, Wada Farms has stayed efficient by perfecting its processes. It has six packaging facilities in Idaho, one in Colorado and one in North Carolina along with their onion operations in Oregon and California. To streamline efficiencies, the company owns its own logistics company, to move all their finished packed product and to haul their raw product from field to storage and to the production facilities. In fact, the logistics arm has grown to the point where it can offer services to companies outside of Wada Farms.
Thriving Partnerships
Wada Farms focuses its energies on its customers to make sure it meets their needs. That is of special importance to Stanger, who before being named president in 2016 had spent 25 years with the company mostly focused on its sales and marketing efforts. To understand the end-user even better, Wada is a strategic partner of Category Partners, a data management company. A system developed by Category Partners helps Wada and its customers better understand the end-user and the marketing environment they operate in. The program provides competitive analysis and consumer shopping data for our customers. We have seen a huge impact for our customers that use this service.
"What we do is offer this service to our retail customers, free of charge," Stanger says. "And we can go to them and basically say, 'Here is what can help grow your entire category, and thus have some opportunities to jointly expand in certain areas.'"
Dole has been another key partner for Wada. For more than 15 years, Wada Farms has held the exclusive marketing agreement for all potatoes, onions and sweet potatoes sold under the Dole label. This gives Wada an additional opportunity for customers that may be looking to providing their customer a National label to promote at store level.
And, in addition to expanding its product offerings, Wada also has expanded its customer base.. It can now provide products to private and national labels. Such partnerships have the company well positioned as the third generation of Wadas begins to ascend to leadership positions.