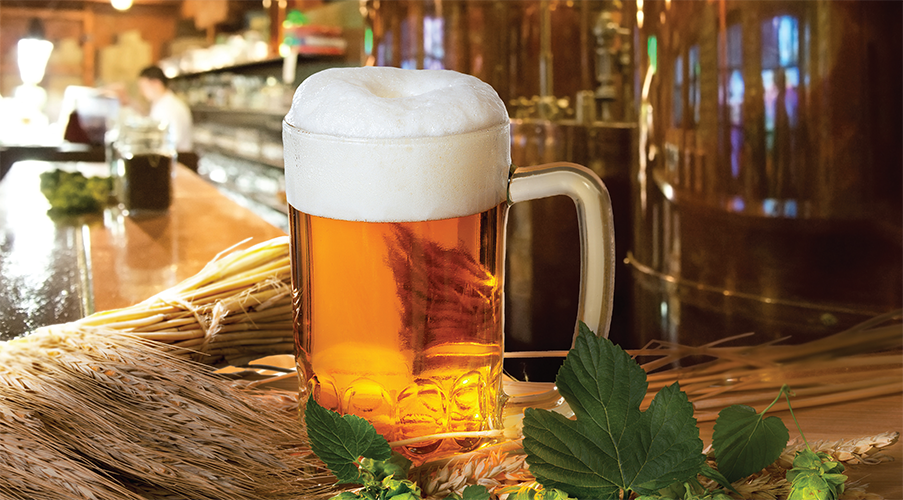 Brewing tradition
Originally founded in 1875 by Henry Alfred Wadworth, and subsequently passed to his founding partner John Smith Bartholomew, family brewer and regional pub operator Wadworth still remains in the hands of the Bartholomew family today
Wadworth's Victorian brewery has become a landmark in the town of Devizes, in Wiltshire, attracting visitors from across the world. While its skills in brewing craft beer may be based on years of experience accrued from history, its state-of-the-art Steinecker brew house illustrates how the traditional can be combined with modern production techniques and systems. This partnership results in the highest quality and greatest consistency in a beer and ale range that includes 6X, a classic crafted amber ale and Swordfish, a unique blend of Wadworth beer and Pusser's Navy Rum. The range also includes Horizon, Henry's IPA, Bishop's Tipple, and Corvus stout. This range of 'core' beers is complemented by a comprehensive selection of seasonal beers, with recent offerings including Dirty Rucker, a rich ruby beer; and Game of Stones, a golden ale, among many others.
It is worth turning the spotlight onto Wadworth's 6X product, which is described by the company as the jewel in its crown. It has been in production for nearly 100 years and is still made using the original recipe. Pronounced as the winner of the United Kingdom's Gold at 2017's World Beer Awards, 6X is full bodied and distinctive, mid-brown in colour, malty and fruity on the nose with a balancing hoppy note.
While 6X may reflect the traditional side of Wadworth's brewing proficiency, 6X Gold, a gluten-free beer, proves not only the company's modern side, but also its willingness to adapt products to
attract a new audience, or meet the need of a new subsection of consumers. This position has been further enhanced by 6X Gold's recent upgrade in July 2018 to not just gluten-free but also vegan. Speaking about its vegan credentials, CEO for Wadworth, Chris Welham explained that the change was made due to customer feedback: "6X Gold is extremely popular with drinkers who like beer and also those that need to choose a gluten-free diet. What became very apparent in our discussions with customers is that there is a real demand for vegan products too. We set about changing the brewing process so that this award-winning beer is vegan also." To make the beer vegan, the isinglass finings (obtained from fish) were replaced by a silicate and polysaccharide finings agent in the brewing process. The beer takes six weeks to create and is specially bottled to retain its gluten-free and vegan status.
Alongside the brewing of this extensive range of beers, ales and stout, Wadworth also operates in excess of 200 pubs – some award winning – across South West of England and London. This estate is split between tenanted and managed pubs, but what unites them is a warm and welcoming atmosphere, and excellent quality food and drink.
Maintaining its pub assets is a priority at Wadworth, and again, highlighting the company's willingness to respond to the needs of its customers, in June 2018 it announced a £500,000 investment in the outside spaces of five different locations. As temperatures soared, Wadworth completed a large external decoration and spruced up the garden at the Bush Inn in Ovington for £75,000 and carried out a full external refurbishment and new patio dining area at the Beehive in Carterton for £70,000. Alongside these the courtyard at the Goat & Tricycle in Bournemouth has been enhanced, the Bear in Devizes has received a major facelift and a new outside bar and covered external trading area was unveiled at the Crown in Devizes
Décor refresh
Commenting about the al fresco investment programme, operations director for the Wadworth managed business, Rupert Bagnall said: "Outside areas in pubs are of equal importance to their internal trading spaces and that is why our continuous investment in these are reaping rewards. Customers want comfort outside as well as in. Our programme of developing these external areas to a high level so customers can really make the most of the weather with the same quality they would get inside is paramount to making their days."
This investment plan also applies inside pubs too – with Wadworth having already refreshed accommodation and facilities in many of its locations in 2018. In fact, The Kings Arms in Melksham has received its second revamp in quick succession, with its ten original bedrooms now having received a full makeover in a £365,000 investment, after building three brand new rooms in outbuildings last year. The ten bedrooms have been fully refurbished with updated bathrooms, soft furnishings and décor and brand new furniture throughout. They have retained many of their original features, to ensure that a stay at the market town hotel is still unique, and to retain its individual personality.
Clearly making bold and significant investments is part of the Wadworth approach, and the £650,000 spent at Barton's Mill Pub in Old Basing, Hampshire can be used as an example of how its vision to offer more to customers is being realised. Twelve premium rooms have been created at the 17th century pub and restaurant, using a barn that had sat on the site unused for many years. Each room retains the traditional character of the building whilst offering all the home comforts guests now expect and there are dog friendly rooms also available, reflecting the area's popularity with dog walkers.
Speaking about the investment, business development manager for Wadworth, Michael Phillips said: "I'm very confident that the Barton's Mill will provide business and leisure travellers a great B&B venue for local people and businesses alike, making it an even more popular destination."
When looking at the Wadworth business, it could be described as the perfect marriage between traditional and modern. While it remains one of the few family brewers still delivering to its local area using shire horses, and hand painting its pub signs, it also willingly embraces and responds to contemporary trends, showing its flexibility – the cornerstone of new and fresh businesses. This potent mix of experience and agility, knowledge and innovation has created an ambitious, successful and dynamic organisation with big plans – based on its history, Wadworth still has many more chapters to write in the story of its success.