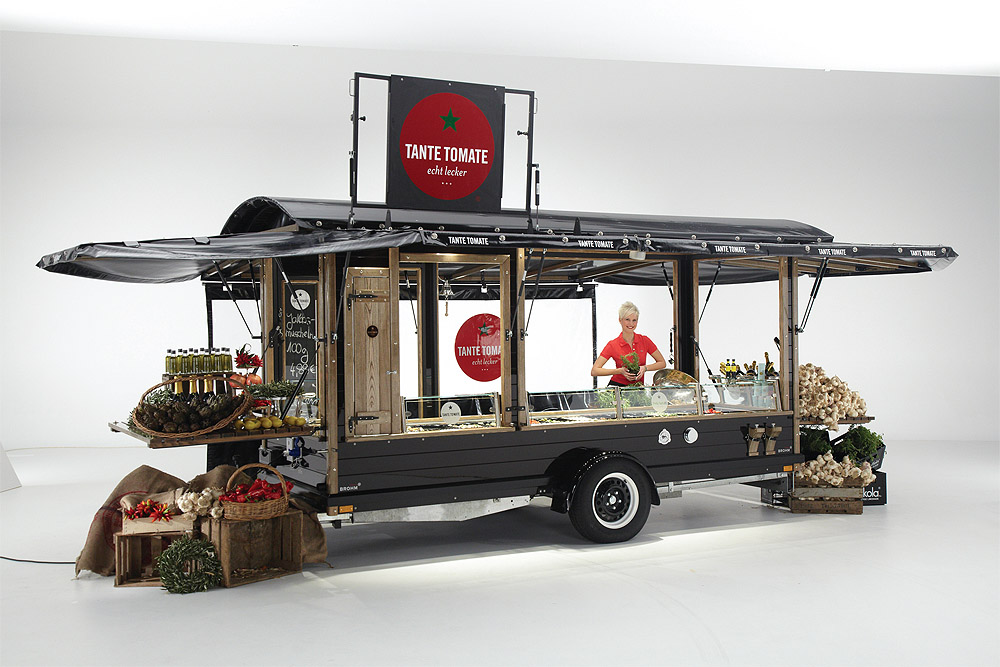 Wagons roll
For nearly a century Wagnerei Brohm has been crafting retail and exhibition wagons that marry traditional aesthetics with innovative technology
Traditional wagon building is today an artisan craft, overtaken by the manufacture of modern motorised trailers and vans. Wagnerei Brohm, however, is one of the fewcompanies to have remained stalwart in its preservation of traditional skills and continues to build multipurpose wagons using nearly a century of experience. The German company is based in the small town of Brombachtal at the heart of the romantic Odenwald Forest, which forms a perfect backdrop to Wagnerei Brohm's pursuit of elegant yet cutting edge wagons.
In 1919, Peter Horn began crafting wagons to sell; the passion with which he undertook this was passed down to his son in law Wilhelm Brohm in 1946 and then to his grandson Achim Brohm in 1993, who remains the owner and managing director today. The passage of experience has arrived today at an understanding that traditional skills are best complemented with a nose for integrating contemporary technology both in the manufacturing process and the wagons themselves.


As such, Wagnerei Brohm's models today are used for a huge variety of purposes. The wagons' quaint wooden aesthetics house modern equipment to make them successful in both form and function. One of its latest models, for example, the Currywurst Classic is a market wagon designed especially for serving the eponymous German snack food. It is readymade with stainless steel sinks and work surfaces, bain maries, racks for baskets, cupboards and plenty of lighting – an ideal set up for the average currywurst trader. Two Currywurst Classics have so far been made: one for a German client and one for an Israeli client, highlighting the company's international appeal.
Achim tells Food Chain about another recent build: "We recently built for Tante Tomato, based near Dortmund, a black wagon with road rather than wooden wheels. Because it has wheels like a car, you can attach it directly to the back of a vehicle whereas wagons with wooden wheels must be put on a trailer. We have built three of these for the client and, because she takes them to street markets, the wheels are of huge benefit to her."
These are just two examples in a wide range that caters to many different needs. Past wagon models have been geared towards serving beer, barbecues, ice cream and vegetables, and even to function as a mobile whiskey and cigar lounge. In all cases, innovation has been a hallmark of the Wagnerei Brohm brand. It is with in this spirit that the company is currently looking at developing a wagon that can be slept in, emulating the original gypsy caravans the company takes its inspiration from. It is also looking at designing a wagon for the transportation of ice.
Plenty of options
Throughout the creation process, Wagnerei Brohm consults closely with the client to understand what they need from their wagon whilst also giving plenty of options for materials used and interior decoration. "I outline a design for the client but he or she always tells me exactly what it will contain and how it will look," says Achim. This has led, in the past, to producing smaller wagons that can be pushed or pulled by hand, such as tables for casks and trailers for transporting vegetables to market.
Metal or ash panelling; trim lacquer or piano lacquer; wood or marble work surfaces; nylon or leather coverings; all of these and more choices are available, allowing customers to create a unique vehicle that reflects their company. Thus a wagon can conform to standard and durable construction for daily use or glamorous trappings for promotional and luxurious purposes. Either way, Wagnerei Brohm integrates traditional tools with up-to-date machinery to ensure that every component is turned out pitch perfect.
Such delicacy and passion is afforded by the company's small number of employees: just five, each person a master of their skill be it carpentry, design or construction. "We aren't looking to expand much beyond this number because I think it is good to be small," Achim explains. "It means we can make sure all our products are of the highest quality. We don't want a company with 100 people that don't know each other. Everyone here knows and likes to work with one another. There are five people and that's enough for now."
Worldwide customers
This passion has led to customers from across the world seeking the company's services. For example, UK-based mobile catering firm AJC Trailers recently began offering its own line of Wagnerei Brohm-produced models named simply The Wagon. Premiered at the Caffé Culture exhibition in April this year, The Wagon was successfully displayed as the ideal mobile outlet for all general retail and catering use.
AJC Trailers is just one client, however, with Wagnerei Brohm's client base extending across the globe. The roster includes distilleries, breweries, gastronomes, restaurants, landowners and private individuals in regions as diverse as Siberia, Italy, Romania, Israel, China, Ukraine and Northern Europe including, of course, Germany. Despite a global delivery network, everything is produced in the company's Brombachtal facilities where a mechanised workshop supports its skilled craftsmen in a marriage between the old and the new – much like the wagons themselves.
Over the last two years, business for the company has thrived with the production of two currywurst classics and the Tante Tomato wagons amongst others. "We have had so many clients and a lot of work that our delivery times have grown to approximately half a year," illustrates Achim. "Even at the moment we are working on four covered wagons for a German client that are designed to serve feuerzangenbowle, or red wine punch. Alongside this we are also making two wagons for another client in Israel."
Wagnerei Brohm believes, however, its products can gain an even wider audience and so is currently actively promoting itself through exhibitions and trade shows. In combination with sister company Brohm Messebau, Wagnerei Brohm has for the last few years displayed at events including DrinkTec and Brau Bevial, and in the next few months will be making appearances at Anuga 2011 in October, where it will be showing off the feuerzangenbowle wagon, and InterNerger in Hamburg. Frequenting trade shows has proved a successful strategy, encouraging a cross section of new clients toward the company's wagons and helping the company maintain a steady stream of business.
Maintaining its mastery
This obviously sets the company in good stead for the coming months. With projects on the go, and as one of the few traditional builders still offering high quality wagons housing innovative, modern facilities, Wagnerei Brohm looks determined to maintain its mastery of its market niche. As growing numbers of potential clients become aware of the company's unique product, expect to see Wagnerei Brohm's craftsmanship on streets and at events across the globe.
"Over the next five years I expect we will take on two or three more workers so that we can meet increasing demand," says Achim with an eye on the future. "I also hope we will start delivering to clients in North America, Australia and China. Our wagons are not a mass-produced product, they are individually crafted and I think people really appreciate that. We enjoy working with our clients, especially if they visit us at our facilities, and we want to offer this to more clients around the world."