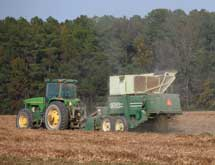 Wakefield Peanut Co. has maintained close bonds with local peanut farmers since its founding in 1965. "The thing that makes us special and unique is our connection with the farmer and our quality control," explains Sue Laine, who owns the company with her husband, Jimmy Laine. "Some of our peanut farmers have been our customers since 1965.
"We know these farmers – they are our neighbors and friends," she points out. "Some are state pea­nut champions."
One important aspect of the business, she stresses, is the personal interest Jimmy Laine takes in each customer and his peanuts. Jimmy's knowledge of peanuts and his reputation in the peanut business has been a great advantage to this company, she explains.
"When the peanuts are inspected and graded by the federal and state inspection service, my husband has all of the results on his paper work," she continues. "This information tells him which farm the peanuts were planted on, who planted them, the peanut variety, the germination, the pounds of peanuts and other vital information. This is a requirement. The bags of peanuts are tagged with information list­ing the year they were grown, their lot number, pounds, variety, germination results and other information. This is done for all of our peanuts.
"So I think it's just the attention we have to quality," she summarizes. "We're still trying to keep that American tradition going of farming and keeping the family farm. This is a family business, and we deal with family businesses; we only buy the best peanuts from farmers and family owned businesses."
Gone to Seed
To help control quality, Wakefield Peanut Co. furnishes seeds – unshelled peanuts – to its farmers. "The farmer has to have good seed to plant to grow a good peanut," Laine emphasizes. "The seeds are all inspected federally and state-inspected. You [also] have to have the right weather conditions – not too much rain, sandy soil and cooperative weather.
"We supply seed to many of our farmers," Laine explains. "Some farmers keep their own peanut seed, and we shell the peanuts for them. Our peanuts have a germination result of 80 percent. We do buy seed from farmers that plant our peanuts.
"We have farmers growing peanuts for us from our seed," she continues. "The peanut crop has been short in some areas the last few years due to the dry conditions. A small number of farmers are able to irrigate their crops."
Nutty Sales
Fortunately, enough people like peanuts in a variety of ways that half of Wake­field Peanuts' sales are from their retail website. The company sells a variety of peanut and related products, such as:
Raw and roasted peanuts
Peanut brittle
Butter toffee
Trail mixes
Cashews and almonds
Gifts
Wildlife feed
Peanut sales are increasing slightly, Laine says. Additional sales are made by mail order, over the toll-free telephone line or at the 2,000-square-foot store, which Wakefield Peanut Co. opened in 2008 on Highway 460 be­tween Richmond and Norfolk, Va. "We have a country store here," Laine notes. "In the summer, we have a lot of beach traffic – a lot of tourists."
Wakefield Peanut Co. sells approximately 2 million pounds of peanuts annually, of which about one-third is sold to other companies.
"We sell tractor trailer-loads of peanuts," Laine says. "That's one thing that makes us unique. We do have that array of sales; one division is totally different than the other.
"My husband handles the seed division and wholesale division of the company, and the office handles the retail and some of the wholesale part of the business," she adds. "We have a good, varied customer base."
Processing for Peanuts
Wakefield plants its peanuts in May and the peanuts then grow underground like potatoes. The single, annual crop is harvested around Oct. 1, depending on the weather, by farmers within a 25- to 50-mile radius of Wake­field.
After delivery to a facility where they are graded by the federal and state inspection service, they are delivered to Wakefield, where they are shelled, sorted by size, inspected electronically and visually, and bagged.
"We skim off the super extra large, and these are the peanuts that we cook," Laine says. The smaller peanuts are sold to other companies to be used in peanut butter, oil and other products. The very tiny split peanuts are used for ingredients in wildlife food.
The shells are utilized for filler in some animal feed and also for mulch in gardens. No usable peanuts are wasted, Laine emphasizes.
Wake­field keeps its peanuts in its own cold storage facility, which can hold approximately 1.2 million pounds of peanuts.