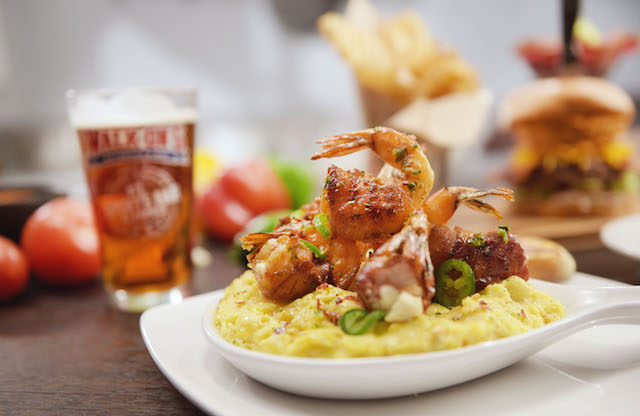 Walk-On's Bistreaux & Bar
Walk-On's Bistreaux & Bar prides itself on being an atypical sports bar where the star on the floor is its Louisiana-style cuisine.
At Walk-On's Bistreaux & Bar, the all-star lineup is found on the plate rather than on one of its 80 televisions broadcasting Louisiana sports teams. "When we travel around the country and people ask what type of place we are, we say 'a Louisiana sports bar,'" co-founder Brandon Landry says. "There's not many states in the nation where you can say that and people get it. When you say Louisiana, people think New Orleans, good food and good times, and we really empower that."
In the late 1990s, Landry and co-founder Jack Warner were walk-ons for the Louisiana State University Tigers basketball team. While traveling throughout the country with the team, the two teammates saw a need for a sports bar in Baton Rouge.
Landry and Warner drew the floor plan for Walk-On's Bistreaux & Bar in 2001 on the back of a beverage napkin during a plane ride home from a game at the University of Tennessee. Landry and Warner submitted their idea for Walk-On's as a class project and received a C because the professor said it needed more work. "That didn't discourage us," Landry says. "We were turned down by not one or two, but six banks for a loan; but we never took no for an answer. Number seven gave us a loan and we opened in September 2003. We were 23 and 24 years old at the time and didn't know a lot about the restaurant business."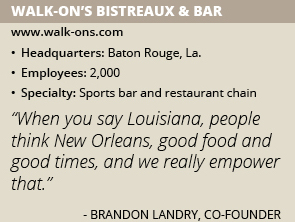 Building the Brand
"Being from Louisiana and with the food culture down here, we saw an opportunity and white space for a sports bar but one that serves really, really good food," Landry says. "We became food-first focused about five years into our journey and it's been the focus ever since, which has really got us to where we are now."
As rookies in the restaurant industry, Landry and Warner admit the first couple years operating Walk-On's was a struggle. "There is no better way to learn how to do it right than to do something wrong once," Landry says. "We weren't good operators back then and we admit that. One of our biggest strengths was accepting help. We were willing to accept as much help and advice as we could."
Landry and Warner wanted to defy the odds of a typical sports bar and committed to making Walk-On's great. "I think that was the biggest driving force," Landry remembers. "Why can't you have a cool place with an awesome beer selection and a great atmosphere, but also really, really good food? We are a restaurant first and foremost."
Walk-On's features 80 televisions in its locations, but just because a game isn't on doesn't mean the restaurant isn't busy. "In typical sports bars, you go to watch the game and drink a beer, and order food if you're hungry," Landry says. "We are completely opposite. People are coming to eat and enjoy our cuisine. Everyone likes good food, and when you accompany that with the great atmosphere and culture we created, it's proven to be successful."
Menu Development
Walk-On's prides itself on creating delicious, memorable culinary experiences. "People aren't prepared for our quality of food when they walk in," says Michael Turner, vice president of culinary and supply chain. "For us, it was a full-blown commitment to the culinary side and doing whatever we could to separate ourselves from perceived competition."
The restaurant features 75 menu items prepared in its from-scratch kitchen. Walk-On's performs a majority of its prep in-house, such as slicing its own cheese, cutting its own rib-eye steak and putting together burger patties. The menu features classic Louisiana-style dishes, such as crawfish etouffee, duck and Andouille gumbo, po'boy sandwiches, fried Louisiana alligator, boudin balls and fried jumbo Gulf shrimp, as well as burgers and fries.
Landry adds that Walk-On's has not reinvented the wheel with any of its menu items, but focuses on preparing quality food that people want. "We watch the industry, but it's more about what people want. For example, that gumbo you grew up eating," he says. "We are noticing that the rest of the country is attracted to Louisiana-style cuisine and we sit down to figure out how to express Louisiana in a dish."
Walk-On's also announces up to two limited-time offers per year that feature eight to 10 items, which are market tested to see what appeals to its guests. The company launched a burger of the month special last year, featuring "eclectic and funky" burgers.
"It was an awesome experience," Turner notes. "Our best-selling burger of the month was the French Dip Burger created by a server at the Burbank, La., location. It's an eight-ounce seared burger topped with Abita Amber-braised onions, provolone cheese and garlic aioli served on warm po'boy bread with a side of au jus."
Walk-On's sold more than 25,000 burgers of the month in 2016. "With us branching out of Louisiana into Texas and other states, it will be interesting to see if guests take to our ideas," Turner notes.
The company submitted its revamped menu to the National Restaurant Association Show MenuMasters competition for consideration. Winners will be announced in May during the annual NRA Show.
Training for Consistency
Walk-On's develops recipes that work well within its kitchens and operationally make sense for its chefs. Recipes are readily available and the company's thorough training program ensures its line cooks and managers understand the quality and consistency of the food.
Managers are trained for eight to nine weeks and certified to perform every position in the restaurant. They are required to work prep for five days and work their way through the line to be certified in every station. Through the course of training, managers will cook Walk-On's entire menu. Line and prep cooks are trained for five to seven days, working in each station and making every menu item for certification.
Servers are trained for five days and menu knowledge is one of the major focuses. "We will show them photos and provide descriptions of the menu items so they can guide guests properly," Turner says.
Southern Expansion
Walk-On's opened a location in Lubbock, Texas, in October and has plans over the next two years to open restaurants in Dallas, Tyler, Houston, Waco and San Antonio, as well. The company features the same menu and atmosphere in all of its locations. "We are under the thinking of letting them do what they do well and we will do the same," Landry says. "We can't be everything to everyone and will be who we are."
For those who don't like Louisiana-style cuisine or spice, Walk-On's menu is filled with other options like burgers, wraps and salads. "We are seeing though that the things you can only get down here are really, really working in other parts of the country," Landry notes. "It's interesting to see our product mix and what's happening in these new markets; and that is that they are loving it. You can get local products anywhere, but no one does what we do."
In 2012, ESPN named Walk-On's the No. 1 sports bar in America and interest in the franchise continues to grow. For example, in 2015 New Orleans Saints quarterback Drew Brees became a corporate owner of the company and franchisees in Tennessee, Mississippi, Florida, North Carolina, Alabama and Colorado have also expressed interest.