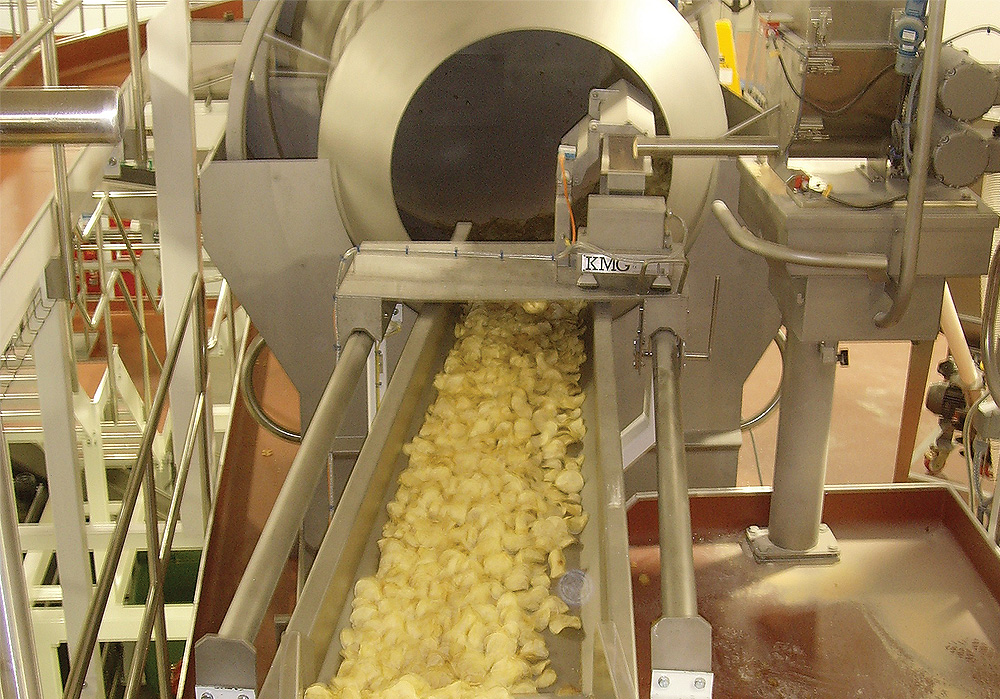 Performance with purpose
As part of PepsiCo International, Walkers Snack Foods is working towards providing a better life for the communities it operates in
PepsiCo is one of the largest food and beverage companies in the world employing approximately 185,000 people worldwide and selling its products in around 200 countries. In the UK, PepsiCo brands include Walkers crisps and snacks, Tropicana juices and smoothies, Quaker oats, PJ Smoothies and Pepsi, and employees over 5000 people in 11 sites across the UK.
Simon Ward, plant manager for Walkers Snack Foods comments: "Walkers in the UK began life in a butchers shop in Leicester just after the Second World War. In 1948, the business started producing crisps, and in the 1970s it grew to supply products on a regional basis in the Midlands. The company then continued to expand, and in 1989 it was bought by PepsiCo.


"Today we have five UK snack manufacturing sites, in Skelmersdale, Peterlee, Lincoln, Coventry and Leicester – the Leicester site is the largest facility of its kind in the world. We also have a site in Boxford in Suffolk, producing Copella fruit juices, Tropicana smoothies and PJs Smoothies, and a facility in Cupar, Scotland manufacturing Quaker Oats. This is complimented by an extensive distribution network," he adds.
As part of the PepsiCo group, Walkers has strong financial backing and greater potential for large investments, therefore the business has wider possibilities to expand and grow. Through the parent organisation, the company also has access to a vast amount of technical knowledge and expertise. "In addition, we are steered by what is happening in the US market. For example, 18 months ago we launched 'Walkers Baked' – this was modelled on a successful US product," Simon comments.
Looking at investments, Walkers has recently built a new crisp production line at its manufacturing plant in Skelmersdale. Simon continues: "This is the fifth manufacturing line at the facility, which began operating in October last year. We have invested about £30 million in the overall project and as a result we have hired an additional 200 employees, so clearly this was a significant investment in the local economy. In addition, this new line has more than doubled our production output and now we will be producing approximately 31,000 tonnes of products this year compared to 14,000 tonnes last year."
The Skelmersdale crisp line project has been heralded as an outstanding success within PepsiCo given the record-breaking production ramp-up and the quality of the installation. The engineering design of the line, site infrastructure, co-ordination with building companies, installation and commissioning was managed by a dedicated team from engineering design and project management specialist, Lorien Engineering Solutions. Project manager, Antony Carter said: "We have been working with PepsiCo International for the past two decades. The new production line at Skelmersdale is just one of a number of projects we have worked with them on. The main two challenges we faced throughout the whole task were time and financial constraints.
"However, we completed the work early and under budget and now other PepsiCo manufacturing sites are coming to Skelmersdale to see the outcome. This was a very enjoyable, fast-track project to work on and we look forward to working with PepsiCo again in the future."
The new line has given Walkers more flexibility with regards to meeting customer needs. In line with innovation and promoting healthy eating, the company believes this is one of the key factors to the future success of the business. Simon explains: "We can now respond much more quickly to consumer demands, as we now have four different technologies within the Skelmersdale facility. This gives us the ability to adapt to new market requirements and demands.
"Looking to the future, we have the capabilities to expand this site even further and add more manufacturing lines as and when demand requires it. The Skelmersdale site has gone through a massive period of growth over the last three years, going from a standing start to a five line, 700-employee site. This has been a huge piece of expansion for us and has helped the business grow, whilst also preparing it for the future," he adds.
Alongside investment, PepsiCo in the UK is also committed to sustainable growth. This is defined as 'performance with purpose' and is focused on generating healthy financial returns, whilst giving back to the communities the company serves. This includes transforming its portfolio of products to make them healthier – primarily through reformulation and new product development; reducing its impact on the environment through water, energy and packaging initiatives, and supporting its employees through a diverse and inclusive culture.
As evidence of its commitment to the local environment, PepsiCo is aiming to gain ISO 14001 accreditation for all its UK sites by the end of 2008. Kathryn Smith, sustainability and community manager for PepsiCo in Skelmersdale comments: "This will be a very visible demonstration of our commitment to sustaining the environment around us. We talk as a business about performance with purpose – we make no apologies for the fact that we are a business and we need to make profit, but we want to do it without any adverse effects on the communities in which we operate. For us in the UK, the ISO 14001 accreditation provides us with a structure to firmly embed some of our environmentally friendly systems, processes and behaviours and ensures we remain committed to sustainability in the long term."
She continues: "Specifically at Skelmersdale, we have someone who is dedicated to developing our systems and processes to ensure we are continually reducing our impact on the local environment. Once we have gained the ISO 14001 accreditation, our customers will be able to see that we are serious about our commitment to sustainability. At Skelmersdale, this commitment will be even more visible in the next 18 months as we will be installing a wind turbine to start generating our own power."
PepsiCo Skelsmerdale will be investing approximately £4 million in the new turbine, which will be installed at the end of 2009. This investment will look to power around 50 per cent of the plant. The company is also considering investing in another turbine depending on its energy requirements. Together the two turbines could power 100 per cent of the facility making it completely self-sufficient.
In addition to environmental issues, PepsiCo at Skelmersdale is undertaking a significant amount of work in the local community. Kathryn explains: "Over the last nine months we have increased our involvement in the local community. We started off with a scheme that is well established across the PepsiCo business in the UK called 'Reading Buddies'. Also  known as the 'Right to Read' scheme, this is where our employees go into local schools, typically for an hour a week, and listen to children read. The intent being that those children can enjoy the benefits of literacy later in life."
The first Reading Buddies programme in Skelmersdale began in December 2007 in a local school. The business is now in the process of expanding the scheme with asecond phase of volunteers currently going through the checking and training process. Kathryn continues: "The programme has been very well received in the area and the school we are working with at the moment is extremely grateful for all the support. We believe, as one of the largest employers in Skelmersdale, we have to give something back to the local community and Reading Buddies is doing exactly that."
PepsiCo International has various other schemes running in the UK, which seek toeducate or generally benefit the local community. At Skelmersdale, the company is working with secondary schools and developing workshops which are linked to the academic syllabus. For example, the site has developed an Information Technology workshop that looks at control systems at work. Within this, pupils have the opportunity to visit the Skelmersdale manufacturing plant to experience how this technology works in real life.
"During the summer of 2008, we are also running a family visit programme, which gives employees the chance to bring members of their family to the site and see where they work. This programme will be open to about 2000 people and is one of the biggest schemes we will ever run," Kathryn comments.
In addition to all these schemes, the organisation has also invested in children's parks in Reading and Leicester, near to its manufacturing facilities, and various learning centres throughout the UK. These centres are open to both PepsiCo employees and the wider community. They cover everything from basic life skills, such as reading and writing, to more specialist areas, such as computer programming. "With such a wide range of topics available, the learning centres have proved to be extremely popular," Simon comments.
By looking at PepsiCo International UK's commitment to the environment and work within the local community, it can be seen that the group's slogan, 'performance with purpose' is being put into practice.
Looking to the future, Simon concludes: "Performance with Purpose really does summarise what we are all about – we want to grow and make a profit for our shareholders, but we don't assume a right to operate, so we know as a large business we need to give something back to the communities we operate in. Therefore, our future is about growth but sustainable growth, and we plan to continue to focus on this. Innovation is another main goal for us, and this is particularly important within the UK, as it is a fairly mature market. The main demand in the industry at the moment is for healthier products, and with new Baked Walkers, and Sunbites, I believe we are meeting this demand."