Wayne's Coffee and the new kind of coffee culture 
In Sweden, people don't take a break – they fika. Often translated as coffee and cake break, the term is actually derived from a 19th century slang word for coffee.  
Kaffi – inverted – becomes fika. But as any Swede will tell you, fika is much more than taking a moment. It's a concept in itself. Taken one step further, it's a state of mind – an attitude that puts friends and socializing at the center of the experience. 
Indeed, it's not a solo activity. It's a communal pause. Even factories operated by Volvo stop for fika. And it's non-negotiable. 
Fresh, well-presented food and carefully roasted coffee. For Swedes, nothing else compares; you can never be too busy for fika. 
Wayne's Coffee was founded on this curious state of mind. Since its first location opened its doors in 1994, the Swedish-owned coffeehouse chain has exploded in popularity, reflecting the discernible cultural value of fika and the quality of its organic, ethically sourced coffee. 
Today, the Stockholm-born business has grown into a brand comprising 140 cafés spread across numerous countries. In December 2022, for instance, Wayne's Coffee opened its first location in Denmark in the Nørrebro neighborhood of Copenhagen.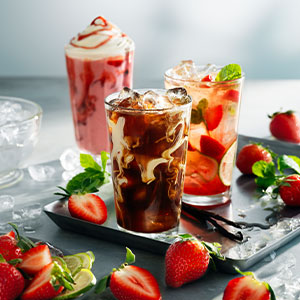 Sustainability and community 
Alistair Burrows, Head of Franchise at Wayne's Coffee, recently joined Food Chain in conversation. He offers us valuable insights into the hugely popular and fika-focused venture. 
"Wayne's Coffee was the brainchild of four Swedes: Anders, Lena, Marika, and Margareta," he begins. "The inspiration came from their experiences in Canada, where they had tasted a new kind of coffee culture.  
"In Sweden, the locals were starting to get tired of black filter coffee and marzipan cake. Anders, Lena, Marika, and Margareta realized that people were ready for something new.  
"So they founded Wayne's Coffee!" he goes on. "Fika-inspired shops, but with a homey feeling and Italian coffee. All combined with the best Swedish classics like the cinnamon bun.  
"The vision behind the atmosphere and culture of Wayne's Coffee is to create a cozy and inviting space for customers to relax and enjoy high-quality food and beverages. We place an emphasis on sustainability and community, with an ancillary focus on supporting and partnering with local initiatives. 
"Indeed, as an early adopter of ethical coffee, people responded well to our mission. In particular, consumers continue to appreciate our entirely organic coffee range, which is Rainforest Alliance- and KRAV-certified. 
"We also use eco-friendly packaging, compost waste, and have a robust recycling program. This aligns with our values of sustainability and community. By prioritizing these ethical and green practices, we are actively reducing our environmental impact and helping people." 
There were queues lining the streets from opening day. Celebrities and royals alike were in audience as the very first café latte was poured in the Nordic region. 
Flourishing franchise 
A second Wayne's Coffee was a tangible prospect. One opened soon after the first in Götgatan. But the company, which was named after Margareta's husband, wasn't going to slow its fika-focused mission.  
Consequently, you can now find Wayne's Coffee in Jordan, Vietnam, and the Middle East. The company's expansion into ten international markets is in large part a result of its 2018 acquisition by German food and beverage firm, Tank & Rast Group. 
Alistair reflects on the milestone. "The acquisition allowed us to expand our presence into a range of exciting and new markets," he says. "It also, critically, offered us access to novel resources to facilitate the company's continued growth.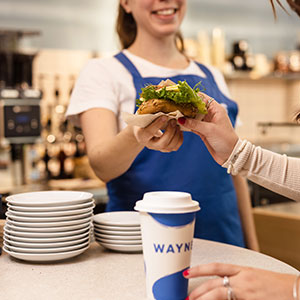 "Wayne's Coffee still operates under its own brand and management," Alistair adds. "It just also benefits from the support and expertise of the larger group. In short, it's a win-win." 
Supporting expansion at Wayne's Coffee is a flourishing franchising model. To become a franchisee, explains Alistair, interested parties complete a thorough application and go through an approval process. 
This includes a review of the applicant's financial resources, business experience, and commitment to the company's values and standards. But how does Wayne's Coffee choose the location for its next café? 
"The decision to enter new markets is based on a variety of factors," reveals Alistair. "We'll look at market potential, cultural fit, and the availability of suitable franchise partners.  
"The company also considers factors such as local regulations and infrastructure when evaluating new markets. Looking ahead at the rest of the year, it's likely Wayne's Coffee will be in a suitable position to expand its presence further, venturing into new markets while maintaining its focus on sustainability and community. 
"Then, over the next few years, we can pause and take stock," he concludes. "We can decide how we can continue to expand our presence. Undoubtedly, though, we will be prioritizing our core mission of exploring new ways to engage with customers and promote sustainability."