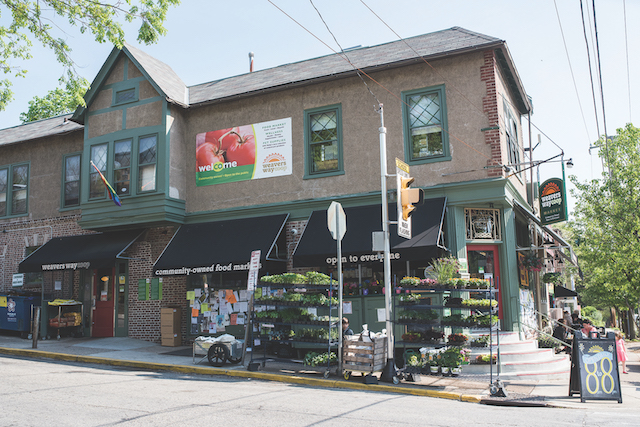 Weaver's Way Co-op aims to enrich the community around Philadelphia with its quality products and services.
The local market has been a community gathering place for ages around the globe. Food brings people together, and it's enjoyable to shop alongside one's neighbors, finding the best foods and goods to bring into their homes. Weavers Way Co-op understands this well, and its dedication to community is reflected in all it does.
Weavers Way started as a small buying club in 1973, founded by Jules Timerman and other neighbors in the Mt. Airy section of Philadelphia, and is now a cooperative food market open to the public with locations in Northwest Philadelphia and Ambler, Pa. The operation uses the International Co-op Principles as the basis of its value system, with a mission to provide "high-quality, fairly priced foods and a broader understanding of their importance to our members and community." As a result, Weavers Way remains committed to serving and forging a bond between local sustainable food producers and the co-op community. With these values, the operation has become much more than a co-op grocery.
"We have three stores, two farms, a CSA, a monthly newspaper with a circulation of 20,000, and attached to our farm at Saul High School for Agricultural Sciences is a farm market," General Manager Jon Roesser explains. "The farm market serves as a mini fourth store for us, but it is seasonal. We have an affiliated nonprofit, Food Moxie, that works on nutrition education, primarily for inner-city kids. We also have a farmstand at the farmer's market in Germantown."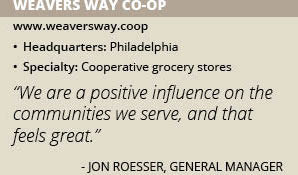 Weavers Way is dedicated to being a community-owned co-op, but open to everyone. Currently, the organization has more than 9,400 member households, representing more than 20,000 people. The co-op's three stores – in Mt. Airy, Chestnut Hill and Ambler – account for almost all of its revenue, but the farms provide a lot of produce to the stores' offerings. The market farms produce almost exclusively vegetables, although they have some strawberry plants and blackberry bushes. Primarily the farms grow salad greens, cucumbers, tomatoes, squash and cooking greens such as collards, swiss chard and kale.
The co-op's mission is to supply products that are as healthy as possible and:
* Positively impact consumers' bodies, the ecosystem and other people in the present and future.
* Provide opportunities for the improvement of the food system by supporting producers who also care about doing minimal harm to people and the ecosystem.
* Support the co-op's mission and its ends.
Weavers Way categorizes products into three groups to ensure it is fulfilling its mission. First, the co-op wants products of which it knows the background and reasonably trusts they are in line with its values, and then it works to maintain strong relationships with these suppliers. Next, the co-op stocks products that respond to the desires of its community, such as convenience foods, options that are more affordable and foods important to local cultures and tastes. The third category comprises products Weavers Way will not stock because they are known to be harmful to people's health, society or the environment. These include tobacco products, foods with known harmful additives and anything produced by disreputable companies or using exploitative labor.
"Our stores emphasize natural foods and we have a lot of organic and local foods," Roesser says. "We try to promote all the green space around Philadelphia and source from places like apple orchards and stone fruit orchards, as well as local turkey farmers and cheese producers. In the city, there are a lot of artisanal bakers, ice cream makers, granola makers and so many other makers like that. There are more than 200 local vendors who we support."
A True Reflection
Weavers Way's Ambler store opened in October 2017, and it's been exciting for the co-op, Roesser says, because it's much larger than its other stores and has allowed it to open an indoor café and a sizeable bulk department. This is an example of how Weavers Way is continuously improving and finding new ways to provide for its community. Roesser explains this dedication goes far beyond providing quality food.
"We formed a committee on plastic reduction and we're working to reduce the co-op's dependency on single-use plastics," he says. "We no longer have plastic straws and we've found alternatives to beverages in plastic bottles. This committee is just getting started and it's exciting to see what they have in mind.
"As a food retailer, we are part of a system that is quite remarkable in our ability to deliver the bounty of food to Americans," he adds. "The problematic part is that it is very plastic-dependent. If we could just get a little more creative in how we operate our stores, we can find ways to reduce plastic in a meaningful way."
Because Weavers Way is owned by the communities it serves and as a result of operating as a triple-bottom-line business – making decisions that have good financial sense but also make sense for its communities and the planet – the co-op has a culture of progress, Roesser explains. Additionally, everyone working for Weavers Way wants to continually do better tomorrow than they are doing today.
"As a cooperative-owned business, we are responding to the needs of our members who are the owners of the organization," he says. "For example, members keep telling us they want to see less single-use plastic on the shelves, so we are responding to that. We always have to think about what we are doing to meet the needs of our customers and owners because that will make us a true reflection of the communities we serve."
Weavers Way doesn't operate for profit, so it only expands to meet the needs of its members. The co-op sees a lot of demand in the community that hosts its farm, and Roesser notes the farm market sometimes seems like its fourth store. But instead of major expansion plans, Weavers Way simple aims to operate in a way that will better serve its communities. This could be through nutritional education, hosting community dinners, participating in wellness festivals or teaching DIY classes, like how to make quick refrigerator pickles or whipped shea butter.
"I've never worked at a place where I'm more proud to work than Weavers Way," Roesser says. "Ultimately, it's great that the communities in which our stores are located are better places to live because of our stores. Our stores enrich these neighborhoods. People move there because of our stores and property values have increased. We are a positive influence on the communities we serve, and that feels great."