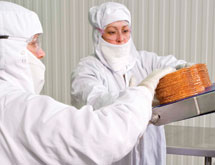 A dedication to food safety and innovative processes helps West Liberty Foods stand out as one of the country's premier meat producers.
The West Liberty, Iowa-based company processes and packages high-protein meats including turkey, pork, beef and chicken for foodservice and major retail customers in the United States. Products include private label deli meats and prepared foods such as chicken strips, patties and wings. The company also provides co-packing services. West Liberty Foods is celebrating its 15th anniversary this year.
The company operates three facilities: its main processing plant in West Liberty, Iowa; a slicing facility in Mount Pleasant, Iowa; and a four-year-old processing plant in Tremonton, Utah. All of the plants can process up to 43.9 million pounds of turkey, pork, chicken and beef per week.
West Liberty Foods was founded in 1996 after a cooperative of 47 Iowa turkey growers purchased the West Liberty facility from Oscar Mayer, a division of Phillip Morris. "We pride ourselves on preserving family farms," President and CEO Ed Garrett says.
Cleanliness Counts
All of West Liberty Foods' facilities use state-of-the-art processes that ensure safe food and internal efficiency. "I believe we are as good as, or better than anyone in the industry when it comes to food safety," Garrett says. "We're always looking at innovative and game-changing processes and products on the leading edge of the industry."
Production processes include an automated line that gives the company the ability to process cooked meat logs up to 10 feet long and 120 pounds, a microwave and thawing line that can thaw frozen raw materials within eight hours, and an X-ray system that aids in eliminating bones from products.
One distinctive feature of West Liberty Foods facilities is their patented Clean Room Food Processing System™, in which slicing cells limit the amount of exposure to contamination. The use of clean rooms ensure products are kept safe from contaminants and bacteria including Listeria, Vice President of Technical Services Dr. Lee Johnson says.
Workers in the slicing rooms wear special suits while handling meat.
"The exposure time of the product after opening is very limited," Lee explains. "It's sliced within minutes or hours instead of being left exposed, vastly decreasing the chance for contamination."
West Liberty Foods' Mount Pleasant facility holds a USDA patent for its clean room processes. It is the first building of its kind to hold such a patent, Garrett says.
Sealing The Deal
The company also leads the way in packaging options. This year it introduced its Peel & Reseal packaging to private label customers including Costco. The package can be opened multiple times while keeping its seal, and uses roughly 35 percent less plastic than retail trays and tubs, Garrett says.
Peel & Reseal packages are available in a number of sizes, and can hold deli meat slices in addition to breakfast sausage and chicken or beef strips.
The Right Tools
West Liberty Foods maintains product quality through an automated floor reporting system that provides information on yields and other productivity-related measurements.
"I think we do a good job giving our employees the right tools," Garrett says.
West Liberty Foods continued to invest in its processes even amid the recession. "We tightened our belts and looked into ways to take costs out of the system and increase our yields," he adds. All West Liberty Foods facilities are ISO 14001 certified.