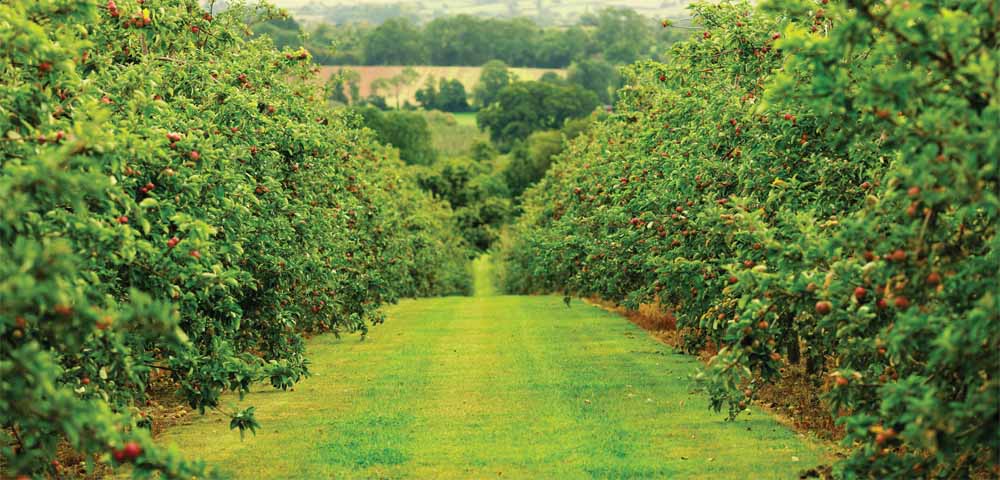 A good taste in values
It is a period of exciting development in the 140-year history of Herefordshire cider maker Westons Cider. The family owned business enjoyed a year in which it saw its turnover cross the £60 million threshold, and the future looks even brighter with key new ventures already lined-up for 2018. The company's Commercial Director, Geoff Bradman was happy to share with us his
overview of the past year, the cornerstones of Westons' philosophy, the company's most recent developments, and the plans for the future that are intended to lead the business to even greater success.
"It was a very good year," he begins, "as we grew by just over three times the rate of the market. We have had consistent year-on-year growth, despite the general business environment becoming tougher and more challenging for everybody. We are very delighted with our performance, because it shows that we have been able to adapt and react to the ever changing market conditions."
The company's evolution did not go unnoticed by the industry, which presented it with numerous awards. "In 2017, our Stowford Press Low Alcohol and Rosie's Pig Flat Tyre brands won the 'Grocer Drinks Awards' in the low alcohol and the fruit cider categories, respectively. We were also presented with the British Bottler's Institute 'Diploma Award' for the Mortimer's Orchard English Berry," Geoff says. He puts this type of recognition in the wider context of the particularly strong year the company experienced in 2017: "These awards ratify and consolidate our position as a leading quality cider producer in the marketplace, as they send a very strong signal to the consumers. They also indicate that it is the quality of our ciders and their premium nature that are the driving force behind our growth."
Bold decisions
While market success is the visible product of Westons' efforts, a lot of hard work and cast-iron business principles have carried the company forward over the years. "An overriding objective of our business is to maintain its family ownership," Geoff insists. "We want to stay true to the original family and business values that have been ingrained into our long-term vision, as they keep us away from the pressures PLCs experience." He goes on: "We can afford ourselves the luxury of making bold decisions, which may seem detrimental to the business in the short term, but they actually secure our position in the long run."
Another powerful characteristic defining Westons is its reliance, almost exclusively, on local ingredients. "We source 90 per cent of our fruits from within a 40-mile radius of our office in Much Marcle. We have developed long-term relationships with the most prominent growers in the region, who provide us with their best produce."
This is where the craft of cider making kicks in, and Geoff likens it to wine making, at least in some aspects: "We normally have 16 cider bases, which we carefully analyse, and our cider makers blend those to ensure that we get a liquid of the highest quality that has passed through all the procedures we employ. Of course, cider making differs significantly from wine making
in that it is unusual to get a decent cider from a single variety of apple. They get much better when blended. But it is still quite artful," Geoff argues.
Product launches
Westons' performance in 2017 illustrated the company's enviable ability to enshrine its traditional values, while deftly adapting to the changes that occur in the marketplace. Geoff is quick to provide us with an example of one such operation: "A couple of years ago, we enriched our portfolio with new products, such as Rosie's Pig, Mortimer's Orchard, and Caple Road, all of which are among the key brands we are focused on at the moment. We aimed these ciders at the younger market after we found out that 36 per cent of cider drinkers are millennials, and these brands are now growing by over 20 per cent on a year-on-year basis. At the same time, we continue to make cider today to the same recipe and in the same way that it was produced 140 years ago."
Embracing change is easily observable in another recent key decision taken by the company. Geoff explains: "Two years ago we embarked on a change in our marketing strategy, which saw our two biggest brands – the off-trade Henry Westons Vintage and the on-trade Stowford Press, appear on TV, and this has helped us to drive sales of these products. We are planning to do more of the same in 2018, as we feel we need to invest more in our TV advertising in order to support the currently growing 'next generation' brands."
In addition to investing for marketing purposes, Westons is on course to upgrade its product portfolio. "We will be bringing new products to the market, particularly in the Rosie's Pig range, where we will refresh some of the flavours," Geoff outlines. He then reveals 2018's most exciting development of all: "We will shortly announce this officially, but we are expanding into America, with the first shipment leaving for the United States very soon. This breakthrough fits our aspirations to grow our international business further in 2018," he concludes contentedly.