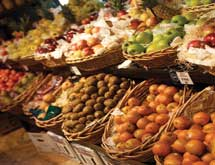 As shoppers peruse the aisles of Westside Market – be it one of the grocer's three locations in New York City or its Maywood, N.J., branch – they'll catch glimpses of owner John Zoitas' family roots, whether it's one of his children overseeing the day-to-day operations of a particular store or a specialty food item imported from his native Greece.
After migrating to the United States at age 17, Zoitas started out in the grocery industry as a stock boy, slowly working his way up in the business until he saved enough money to buy the store from his previous employer. In 1969, he opened the first Westside Market location at 2844 Broadway in the Upper West Side neighborhood of Morningside Heights.
Due to the construction of a high-rise condo building above the original location, Westside Market was forced to close its Morningside Heights store in 2004 much to the distress of long-term neighborhood shoppers, who went as far as to write sentimental messages on the boarded-up store indicating how much they missed the Zoitas.
Although Westside Market already had two additional stores in New York City and one in New Jersey, it was anxious to reopen its Morningside Heights, N.Y., store, which it did in 2007. Today, each store operates independently, "so we are able to maintain our mom-and-pop values that are instilled in our organization," says John's daughter, Anna Zoitas, who runs the 77th Street and Broadway location. Her brother, George Zoitas, manages the newest store, and their brother-in-law, Demetri Belesis, oversees Westside Market's 4th Street and 7th Avenue location along with John Antonopoulos.
"It is these values that have made us so successful," she continues. "In this business, you lose attentiveness to customer needs when you try to centralize, so we continue to operate independently. Even if they don't carry the name 'Zoitas,' our employees are still family."
House Specialties
John Zoitas was born and raised on a farm in Ourpakia, a village situated on the lush, mountainous island of Lefkada, Greece. His background has led to a lifelong appreciation for fresh produce, which is evident to anyone who passes a Westside Market. According to Anna Zoitas, the staff takes great pains to make sure all fruits and vegetables displayed outside the store's entrances are impeccably arranged and that any item with a bruise or blemish is promptly removed.
Since the Zoitas' farm in Ourpakia also cultivated olives, it is no coincidence that one of Westside Market's many house specialties is its olive bar featuring more than 20 varieties of imported olives specially marinated with one of the family's exclusive recipes. The grocer also offers more than 500 types of imported and domestic cheese, bakery items that are hand selected from local artisanal bakeries, sushi wrapped and rolled daily, and a fresh fruit and salad bar.
Unique mixtures of vegetables for a soup mix or stir-fry and medleys of exotic fruits and cheeses are introduced daily to draw customers in, Zoitas says. "Innovation is done daily at the store level," she states.
The prepared foods section is another popular department among locals because everything is made fresh by John's wife, whose recipes were passed down from multiple generations until Maria reinvented them with an "up-to-date flair" to meet the needs of the modern consumer, Zoitas says.
"My mother was also born on the island of Lefkada and was raised eating traditional meals with no chemicals or preservatives," she notes. "This is how she cooks and how she's trained the staff to prepare the food. Right now, there's a shift towards more healthy, natural food. So, she brought in a lot of the old recipes, such as wheat berry granola, almond pudding or Moussakah, and redefined them to fit today's health needs."
New Ventures
In addition to the many private label packaged foods offered by the Westside Market brand, the company launched The Artisanal Kitchen™ in January, with olive oil, balsamic vinegar and coffee among the first products.
Above all else, Westside Market intends to remain a friendly neighborhood grocer. "We are not your overpriced gourmet store," Zoitas maintains. "We are family owned and operated, so there is a strong commitment behind what we offer and what we do for our customers."