A dedicated team who has a passion for excellence allows the What If Syndicate hospitality group to expand into new markets and with more concepts.
When you see everything that What If Syndicate is doing and how it is achieving all of its plans, you might have a tinge of FOMO (fear of missing out) if you are not a part of such a dynamic group. Now that the company is opening concepts in different cities, there is more of a family feeling within the business, according to Executive Chef and Partner Danny Grant. He explains that people are happy to travel together and hang out on their days off. With What If Syndicate's ongoing growth, the team may be working harder, but they also have a lot of respect for each other, and this is what Grant wanted to see when he helped to start the company.
"Over the years you get to work with such talented and amazing people, and as you move from project to project, you want to keep those people engaged in your world," Grant says. "When we got Maple & Ash going, it became the perfect engine to build the team and I had the ability to reach out to people who I'd worked with before and see if they wanted to work together again. I made that phone call about 15 times to different people and slowly but surely started building the team.
"It's a dream coming true for me because it's the people I love working with the most, getting them in the game and giving them the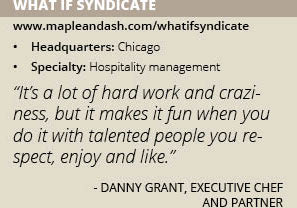 opportunity to do what they want," he adds. "It's a lot of hard work and craziness, but it makes it fun when you do it with talented people you respect, enjoy and like. My rule for hiring is if I can't see myself going out to dinner with them, it's not a good hire."
Based in Chicago, the first concept for What If Syndicate was Maple & Ash, a modern take on the traditional steakhouse designed to attract foodies. The company's portfolio now also includes etta, a neighborhood spot that serves wood-fired food in a relaxed environment; 8 Bar, the downstairs accompaniment to Maple & Ash that serves cocktails and upscale bistro and bar food; Mavens & Aficionados, a personalized wine club; and Aya Pastry, a commercial bakery that serves all of What If's restaurants and numerous other locations throughout Chicago.
In addition to Grant, What If's partners are Jim Lasky and David Pisor. Grant and Pisor met when Grant was the chef at Chicago's Elysian Hotel, where Grant was named Food & Wine's 2012 Best New Chef and earned two Michelin stars in both 2011 and 2012.
Integrity and Passion
Now, Maple & Ash just opened a new location in Scottsdale, Ariz., and etta is expanding with a second location in a new Chicago neighborhood and a location in Los Angeles early next year. What If plans to bring Maple & Ash to West Hollywood or Los Angeles, and it is looking for locations in Miami. Grant is excited about all of this, as well as the development of What If's corporate office.
"We are putting in a full test kitchen," Grant says. "I've noticed over the past five years that our restaurants are so busy, and that I get in their way by going in and testing new food. I wanted to build a place that is built for testing and coming up with new ideas, but also works for hosting fun parties. We will have a roof-top terrace and a spot to maybe even film TV shows. The new building is 20 stories and next to Maple & Ash in Chicago. The first five floors will be a beautiful, fresh Mediterranean restaurant and event space, then there will be a London-style private club above that. On the next 14 floors, there will be private residences, and each floor will be a single-family home. The rooftop will be a bar where we serve fresh seafood."
Grant notes What If continues to grow because of its commitment to excellence but also its ability to listen. He grew up on the East Coast, knows the Chicago market well, and has a strong connection to Scottsdale, having lived and worked there before. When opening the Scottsdale Maple & Ash, the team found Scottsdale consumers aren't big fans of dry-aged meat, so they adjusted the menu quickly and educated some of the customers about how it tastes. It's important, Grant says, that What If Syndicate uses their pedigree to engage clientele in a way that is meaningful, regardless of the market.
"We had the dream to open multiple restaurants with different concepts and maintain integrity throughout," he says. "The thing that makes us special is the passion behind every concept and making sure we go in and love and hug every market. With the team we have, it truly is a family – I am proud of them and couldn't do this without them. This is a hard job in an intense market, but the team makes it fun and almost easy."