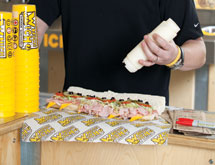 Inspiration comes to us in many different ways: a bird inspiring us to build a contraption to fly, a falling apple uncovering the science behind gravity, the astounding power of a summer storm to garner the electricity to light up our lives. For Jeff Sinelli, who founded Which Wich in 2003 in Dallas, inspiration came in the form of a brown paper lunch bag.
Sinelli's mother used to pack his lunch in a brown paper bag and write the contents on the outside: cookies, peanut butter-and-jelly sandwich and apple. Then she would write his name on the bottom of the bag.
Customized Success
Mrs. Sinelli's simple method was the genesis of what would become the innovative ordering system used at Which Wich. Today, the sandwich chain's customers pick up a pre-printed brown paper bag and mark it with a red Sharpie, specifying the type of bread they want, what kind of cheese, veggies, dressing and so on. Once done, the customer writes his or her name on the bag, turns it in to an associate and waits for the final product to be assembled and delivered.
Sinelli says this ordering system allows Which Wich to give customers exactly what they want and break the communications barrier. "One of the reasons we put the bag in place is to allow people to take their time to order the right sandwich, without the pressure of being in an assembly line system with people behind them."
Expanding Innovation
With more than 50 sandwich offerings – with names like "The Wicked," "The Turkeywich" and the "Pepperoni Pizzawich" – Which Wich has a sandwich for everyone, from meat lovers to vegetarians, and even for those who can't eat the bread. For the gluten-free crowd, the company introduced a sandwich in a bowl last year, which holds all the ingredients of a sandwich save the bread. Sinelli says Which Wich is continuously testing new items in its R&D kitchen located at its corporate headquarters in Dallas.
Gluten-averse customers will not be able to enjoy what sandwich experts often call the best part of a sandwich: the bread. Sinelli is proud to offer a superior-quality bread made by a professional baker. "We don't have a bunch of amateurs baking the bread in the store," he notes.
The Right Vibe
Sinelli does not hesitate to credit his team for the success of his brand. "I am most proud of our people; I couldn't do this alone," he admits. "We have great franchisees, great vendors, great team members and great customers. You put them all together and you have a band of warriors that believe in this brand."
But nobody lives the brand more than its founder, who claims that his work doesn't feel like work at all. "I am in a constant state of play because I love the people I work with and I love what I do," he says. "I wear the brand every day, I think about it every day [and] I integrate my family life with my work. I live, breathe and eat this brand."
Which Wich has grown to 200 franchisees throughout the United States in less than a decade and has double-digit development deals with international partners in Latin America, the Pacific Rim and the Middle East.