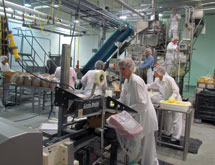 Thanks to its many offerings, Whitehall Specialties has become a leader in processed cheese products, cheese blends, substitutes and imitation/analog cheese production. The company serves the food processing, retail and foodservice industries and can customize products.
"Natural cheeses are fabulous, but their functional characteristics generally can't be adjusted," President and CEO Mike Baroni says. "What focus on the innovation potential of non-standardized cheeses. We differentiate ourselves through our breadth of products and our ability to customize them to meet the exact needs of our customers."
The company operates three Safe Quality Food-certified manufacturing facilities, two in Whitehall, Wis. and one in Hillsboro, Wis. It has more than 200 base recipes and top-of-the-line customization capabilities, allowing it to meet client needs for everything from functionality, shelf life, flavor and color to texture, packaging, cost and price stability.
One-Stop Shop
Whitehall Specialties makes its products from local Wisconsin cheeses, as well as high-quality dairy and non-dairy ingredients. It has an in-house research and development lab and test kitchen where it works with clients to create custom cheese product, cheese substitutes, blends and imitation cheeses. It can also produce custom-formulated products to meet clients' nutritional, labeling and budget requirements.
"We used to fly under the radar screen and didn't knock on a lot of doors," Baroni says. "We grew mostly through referrals and broker and distributor relationships. But over the last year we've been focusing on building out our external sales resources. We are making sure that more companies know who we are and what we can do."
For industrial ingredient customers, Whitehall can customize products to meet functional requirements. For food-service customers, it can devise products that can be readily incorporated into clients' recipes. For retail customers, it can help them reach new market segments. On the export side, it can provide products with longer shelf-life, customized for local tastes and with cost benefits.
The company is adept at adapting to trends and understands its role in the market. Baroni says connoisseurs of fine or artisanal cheeses mostly aren't the targets for its products. But average households concerned about value can benefit from the products it produces because they can enjoy cheese at better price points.
"That approach works for us very well in the direct retail, foodservice and frozen food channels," Baroni says.
The company is aware that consumers today have greater concerns over labels and health. Whitehall Specialties can offer products that have a number of better-health characteristics, such as no trans fats, no cholesterol and lower salt.
Working to Improve
The research and development lab and test kitchen are critical components of Whitehall Specialties' future. Located at its corporate headquarters in Whitehall, these facilities allow the company to produce smaller batches of products that can be evaluated before moving into the main production spaces. The test kitchen allows the company to try out its concoctions in ways that will duplicate what its customers are trying to achieve.
For now, the company's footprint is fairly built out. The company's newest facility, which is its second facility in Whitehall, has been online since it was opened in 2007 and was expanded in 2009 when the company added a line to produce cheese in a slice-on-slice configuration. The company is currently planning to expand its production capacity for individually wrapped slices for retail.
"A lot of our capital spend goes toward improving efficiency in the plants, making capacity increases and into R&D," Baroni says, "But we are always ready to invest in additional capacity to ensure we can keep up with our customers' needs as they grow."
Recently, the company launched a new look and identity for the brand that included a logo, tagline, website and a number of marketing and communication tools. The changes, including the new "Unlimited Cheese" tagline, were designed to better reflect how the company does business, as well as its commitment to helping customers achieve their goals.
Ultimately, Whitehall Specialties' focus is on non-standardized processed cheese products and providing a wide range of cheese styles and configurations. This focus allows food processors, retailers and foodservice operators to rely on the company for ideas, functionality and service.
"Our success has been built on innovation, customer service, speed to market, price stability and strong relationships," Baroni says. "We will never change that approach."