Florida-based seafood wholesaler is looking to expand its business while remaining true to the traditions and methods that have led it through 90 years in business.
Whitney and Son Seafoods (W&SS) Inc. owner Mark Whitney's grandfather started the business in 1920, selling seafood in the Chicago area. Over time, Whitney's father Jim took charge of the business, and in 1972 decided to move operations to Florida.
Jim Whitney sold his brand new station wagon and bought a truck. He regularly delivered freight to Disney World, and then would go home, shower, and make sales calls to build business. Jim Whitney built his own plant in Hudson, Fla., in 1978.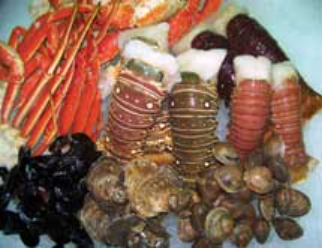 Mark Whitney took over the business after his father's death in 1981. Although he says he was initially scared to pick up where his father and grandfather left off, he quickly learned the business and continued to grow the company.
Traditional Approach
Most of W&SS business is in wholesale distribution, and the company also operates a fish market adjacent to its main plant facility. The company's products include fresh fish, mussels, live lobster, crab, scallops and frozen products. Roughly 45 percent of the business is fresh fish, Whitney says.
W&SS hires boats to bring in its inventory from South America, South Africa and other parts of the world. "(The company) has basically become a world deal," Whitney says.
The company processes fish in-house. Although the company's plant is equipped with modern cutting, cleaning and filleting machines, Whitney says he prefers processing fish and shrimp in a more traditional manner.
"We've tried a lot of these innovations, but it seems the old ways are the best," he says. "The quality is so far superior in terms of peeling shrimp, so we hand-peel everything."
W&SS staff also hand-fillets fish. "You always have to adjust filleting machines; you may get a yield, but not the quality you get from using a good knife," Whitney says.
Customer Base
The company's customers include the Hyatt and Marriott hotel chains; restaurants including Carrabba's Italian Grill; sports franchises such as Major League Baseball's Tampa Bay Rays; and Walt Disney World.
While the company's trucks will deliver within a 450-mile radius of Hudson, W&SS also serves clients across the United States and even outside of the country. "If you have money and your check doesn't bounce, we'll sell to you," he says. "We go all over – New York, Chicago, Indianapolis, Bermuda (and other locations)," Whitney says.
W&SS reaches 510 customers in Florida alone. A big step toward growth could be coming soon, as Whitney says he is looking into putting a satellite location in Orlando, Fla. The company ships three days a week to many of the hotel chains and attractions there.
"We still have some more room to go," Whitney adds. "We are really growing in the Orlando area; it's been really good to us for the last eight years. If I had a facility in Orlando, I think my business would pick up 35 to 40 percent just by having a presence there."
Like many food wholesalers, W&SS has seen a decline in sales during the recession because of slower business in the restaurant and hospitality sectors. "It's been rough, we've had to expand and go after more accounts to keep up," he says.
The company's sales are improving in 2010, but another challenge presented itself this year – unnaturally cool weather.
"We've had a good season this year, but it's been too cold, and a lot of our restaurant customers rely on outside seating," Whitney says.
'A Good Family Operation'
Beyond keeping busy with keeping his company running, Whitney is active in several charities, including children's hospitals, Big Brothers Big Sisters and the Make-A-Wish Foundation. He says the company believes in serving the community as much as it believes in serving its customers.
"We're just a good family operation that delivers good, quality seafood at a good price," he says. "We pride ourselves on two things – quality and service. If you don't have those two things, you won't survive for very long. We're consistent in delivering those two things."