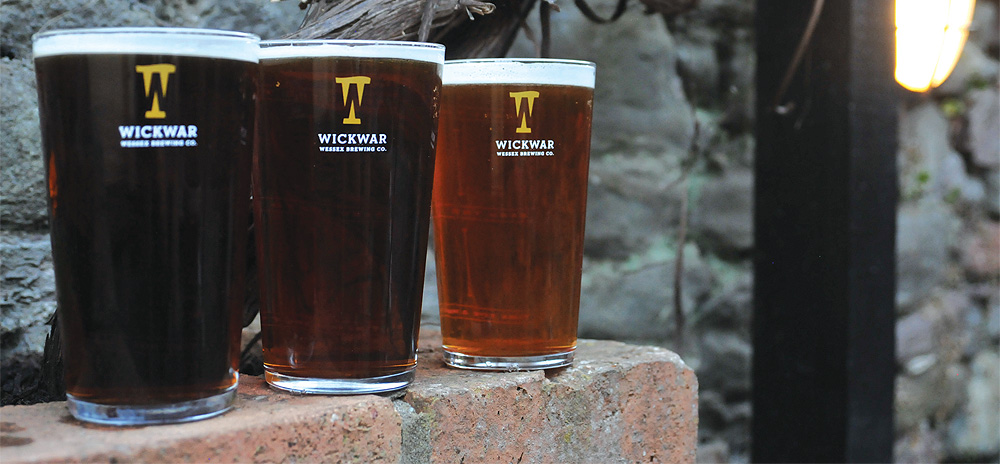 Wickwar Wessex Brewing Co.
Ales of distinction
The village of Wickwar, nestling in the hills of the Cotswolds, can celebrate the claims to fame of not only being the first place in England to have street lighting, but also as the birthplace of the
Wickwar Wessex Brewing Co. (WWBC). While these achievements may have taken place over a century apart, they are still linked, thanks to the location of a water mill and magnificent old brewery – the mill created the electricity for the village back in 1888, and the brewery buildings are where the first seeds of what was to become WWBC were sown.
"Wickwar Wessex created its first ales in what is now the brewery shop, over 20 years ago," explained Mike Watts, the Chairman and one of the owners of WWBC. "Production was then moved into the old original Brewhouse, and that was how it was set up when myself and my two partners bought the business around nine years ago."
Business improvements
Today WWBC is owned by three men who can be described as brewing industry veterans – Mike Watts, ex-Chief Executive of Morland Brewery PLC, and Mike Flavin and Ian Frost, both ex-Directors of Avebury Taverns. "When we took over the business needed stabilising, some staff changes were required and we had to look at quality improvements to our ales," Mike continued. "Our vision from the outset was to create a vertically integrated business, that includes a brewery, a managed house estate, and a tenanted 25estate, all built on the vision of producing quality, premium, handcrafted ale with a team of talented and passionate employees."
Focusing on the Brewery side, WWBC currently produces nine varieties of cask ales to approximately 400 free trade customers located in its South West 'heartland', as well as supplying bottled ales to premium retailers Waitrose, Marks and Spencer's and the Co-op. Mike explained that creating a range of very high quality cask ales was a top priority when he and his partners took over. "As soon as I moved in, I asked the head brewer from my Morland days to look at the brewing processes, and find a way of ensuring that the quality of our beer was outstanding. To put it into a nutshell, I think draught beer shouldn't be dull, and our beers all now sparkle in the glass – but I won't tell you how we achieve that! I will say that I think that our yeast sets us apart, as it makes all our beers extremely drinkable.
"Once we were really happy with the quality of our beer, we thought it was necessary make some more changes, so, two and a half years ago we went through a rebranding programme, added some new beers, and changed the name of the company to what we are today – Wickwar Wessex Brewing Co. – enshrining ourselves in the old South West name for England."
Beer innovation
The new beers that Mike mentioned include Falling Star – a light golden ale that he described as 'halfway between a traditional ale and lager.' "Part of this strategy was to have a product that will attract new beer drinkers who usually start with lager. We want to entice them to start with cask ale, and Falling Star is more in line with the lager sector at 4.2 per cent and with a citrus kick to the taste. It's a good introduction to ale and we are finding people who try it, stay with it."
He continued: "We also have a new beer called 1027 (2.7abv), and while there's a trend among certain brewers to create really strong, high gravity beers, we think it's more innovative to brew a lower gravity beer that tastes like a normal gravity beer. I've been in this industry for longer than I care to admit and I couldn't tell the difference between 1027 and four per cent beer, and in today's more health-conscious market, I think this is a step in the right direction."
Alongside perfecting the brewing side, WWBC has also been expanding its managed house business over the last three years, and has now built up a portfolio of 17 retail pubs. The latest venues were added in July 2017 with the acquisition of the Cascade Pub Estate. "That business consisted of a brewery, a managed house pub business and the main part of the business was a drinks wholesaling business," explained Mike. "We didn't want to take on the wholesale drinks side, so Tolchards Drinks have acquired that part of the business. We are now brewing all the beer at our site in Wickwar, and we are delighted with how the pubs are performing."
Tenanted pub sector
In fact, Mike described the Cascade deal as transformational, and a key part of the forward planning strategy that is in place at WWBC, along with the development of the tenanted pub side: "We think if you have the right offer for your tenants, give them great service and price, allow them to run the pub and make the right money to justify the hours, then there's a great future for the tenanted sector. So, we are looking to develop this side, as well as further expand our retail portfolio, all within the South West – the brewery will likely be operating at full capacity in about 18 months, so will need some investment into fermenting vessels as well, all of which is built into our strategy."
Future plans
Working alongside WWBC's traditional expansion plans is some high-tech innovation, designed to both assist bar staff and also attract new customers to cask ale. "This is a patent pending device called Dual Dispense (for now!), which not only allows us to serve a pint of cask ale through two dispense points, one a traditional hand pull, the second a modern pour, simultaneously from the same cask, but also to chill the beer to about six/seven degrees, all in nine seconds. The modern pour looks like a normal keg beer dispense point, but does not use gas. It means busy bar staff can serve two pints of cold ale in less than ten seconds. It speeds up service, plus, we believe will expand the consumer franchise for real ale, as you are able to tap into the consumers who would be usually drinking lager as they like their drink cold. This technology is unique to us and we are looking to develop and exploit that going forward."
In less than a decade Mike and his team at WWBC have taken what was a struggling business and created Gloucestershire's largest independent brewer, with award winning beers and a developing stable of pubs to its name. With big plans for the future, WWBC has no plans to slow down, with a firm long term strategy in place for the future. "We will further enhance our status over the next two to three years and I believe we will have the first vertically integrated brewing business along the M5 corridor," Mike concluded.