Wild Edibles Seafood Inc.
When restaurants in and around New York City are looking for the freshest and tastiest seafood to serve, Wild Edibles Seafood is happy to fill their plates.
The seafood wholesaler has spent more than 18 years supplying restaurants with fresh, exotic and rare items, President Richard Martin says.
Martin and his brother-in-law Michael Reynolds started the business in 1992 after Reynolds, then a waiter at a bistro owned by noted chef Jean-George Vongerichten, went on a trip with Vongerichten to Portland, Maine, to hunt for rare foods.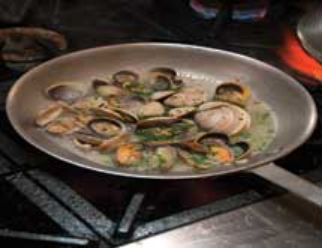 While there, they found a variety of items not readily available, including wild mushrooms, fresh urchins, crab meat and scallops. After Vongerichten exclaimed that he couldn't find these items in New York City, Reynolds and Martin – then a restaurant manager – got the idea to start the business. The two invested in a pair of ice chests to store inventory at home and started making deliveries in their cars. "That's how you start a business in New York City without any money: sell out of your car," Martin says with a laugh.
Demand from restaurants was great. "We started bringing in things like scallops, Maine crab meat and fingerling potatoes little by little and selling out of them quickly, just as soon as we brought them in," Martin says. "We'd get scallops shipped through LaGuardia Airport, pick them up in the morning, went to our apartments and broke them up into eight pound containers and rush delivered in the afternoon."
Retail Expansion
Word of mouth spread about Wild Edibles' wholesale business, and Martin and his partner were approached by the Metropolitan Transit Authority to open a small retail boutique in Grand Central Station in 1999. A few years later, they opened a second, 1,000-square-foot retail location that doubles as a 29-seat restaurant.
The restaurant offers raw and cooked fish and features an oyster bar concept that pairs 12 different types of oysters with different types of local wines and beers, Martin says. The company also operates a wholesale facility.
The company also cuts, fillets and packages its products in house.
Wild Edibles keeps up its supply in part through the efforts of two seafood buyers. One of them purchases products from auction, and the other purchases from a fish market in the Bronx. The company also works with local co-ops and fishermen, Martin says.
"We've been doing this for 18 years; the most important part of our job is making sure the fish we bring in is the best looking we can find and rotation gets moved as quickly as possible," Martin says.
Wild Edibles has a fleet of 15 trucks delivering throughout New York City as well as to Westchester, N.Y., and New Jersey. The company's online store takes orders from throughout the United States and ships products overnight through FedEx, Martin adds.
Eye on Sustainability
A major goal of Wild Edibles is to stress sustainability with its customers and suppliers. For the past three years, the company has partnered with the national Blue Ocean Institute to educate customers about the methods used to catch fish and the abundance of the species they carry.
"My goal within 10 years is to see if this company can be 100 percent sustainable," Martin says. "We try to make sure all the fish we bring in is hook and line; we try not to get netted fish in."
All of the fish served in the Wild Edibles restaurant is mostly sustainable, and the company provides customers with a color-coded rating system in its retail locations that explains the sustainability of its products, Martin says.
Products ranked as very highly sustainable include albacore tuna, salmon and striped bass caught in the United States. Products with lower sustainability ratings include imported varieties of those fish, as well as widely consumed and overfished species including Orange Roughy and Atlantic Halibut.
"Our retail stores are the only ones that I know of that promote sustainability and explain it to the customer, but we're not here to preach," he adds. "We understand people will want to purchase a salmon at $12.99 a pound that is not sustainable as opposed to buying a king salmon at $24.99 that is."