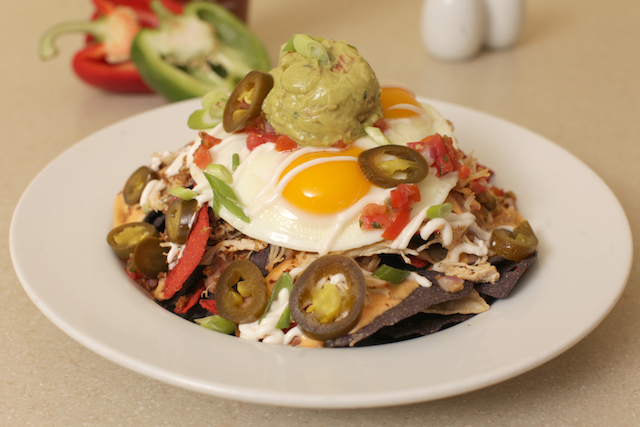 Wild Eggs succeeds by bringing the high-end diner experience to breakfast.
Starting one's morning with a hot breakfast is a comforting way to take on the day, and Wild Eggs takes pride in being a purveyor of such delicious beginnings. Owner J.D. Rothberg's mother made sure her family enjoyed family time around the table with a hot breakfast, and these memories stayed with him while he gained career experience in the breakfast market and overall foodservice industry. Eventually, Rothberg found he had something to offer the underserved a.m. part of the business, partnered with Shane Hall, who was a server at Napa, a dinner restaurant Rothberg managed, and opened Wild Eggs in 2007.
"We took the tactic of bringing a high-end dinner experience to breakfast," Rothberg says. "Plate presentations, high-end flavor profiles, unique dishes that were chef-driven with fresh ingredients, and on top of that, service was very important. It doesn't cost any more to offer great service, and it took a very small investment to make the staff understand how important service is. We took our experience from the dinner side of the business and have been very successful with breakfast."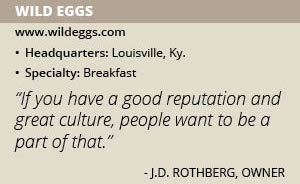 Wild Eggs now has 16 locations in Kentucky, Indiana, Ohio and Tennessee, and it continues to expand with its focus on service and quality offerings. To ensure a high level of service, culture is very important at Wild Eggs. When bringing on a new staff member or opening a new restaurant, Wild Eggs takes its people through an orientation and an extensive training program, all while stressing its core values and principles. Wild Eggs is dedicated to taking care of its employees, because if employees aren't happy, guests won't be happy, Rothberg explains. That is why the company takes the time to ensure its staff members understand how important great service is.
"If a customer orders a salad, our service staff will offer fresh pepper when they bring the salad to the table," Rothberg says. "We also offer fresh, cracked pepper on our breakfast dishes if the customer wants it. Our staff understand the guests are starting their day, maybe they had a rough morning, so we treat them well. Our restaurants have bright colors and open, airy environments, so they are very inviting. Our team understands we have an opportunity to shape someone's entire day by the way we take care of them at breakfast."
He notes that when he was developing the concept for Wild Eggs, he really focused on what would make it different. "I thought about service, a chef-driven menu, cloth napkins, ice water with lemon on the table and fresh, cracked pepper," he says. "The response to the pepper has been incredible, and there is nothing better than fresh, cracked pepper on some over-medium eggs that were just prepared in the kitchen. Little things like that make for great service – it's all about the details."
Layers of Flavor
At Wild Eggs, when servers are happy and smiling, discussing the menu with guests, getting the order right and bringing the food correctly, Rothberg knows guests leave with "an awesome experience" and can't wait to come back. He notes the food also plays a large role in that, and he went from coast to coast, eating in breakfast restaurants to find the best dishes and then put Wild Eggs' signature on them. Rothberg and five members of his management team collaboratively work on the menu, always working to come up with the next unique breakfast dish.
"Sometimes we get ideas from guests – they modify and item and we look at it for our menu," Rothberg says. "A friend of mine created a french toast breakfast sandwich, which was great. Our pancakes are called Frank's Cakes because I was on a fishing trip with a very good friend and he made from-scratch pancakes. They were so good, and he said he would give me the recipe as long as I named them after him."
He says the key at Wild Eggs is to layer on the flavor. "One of our omelets has great stuff inside and is topped with sour cream, avocado, pico de gallo and sprouts," he adds. "We want the plates to look like works of art, be colorful and have all of the flavors mesh well. That is how we do great plate presentation."
With the service, tasty menu, colors and overall atmosphere, Wild Eggs expects to keep expanding. The company opened 10 of its locations in two-and-a-half years, and it spent last year adjusting to that size, but is ready to expand again in 2019. Rothberg plans to fill in some of the company's current areas and then look south for more opportunity.
"I'm very proud that we have created a successful concept – people really enjoy it and have a good time," he says. "All along the way we've brought on a lot of people who started as line cooks, servers and hosts, and now they are managers, kitchen managers and general managers. People development is very important to us and we like helping people get where they want to be and move up in this industry. If you have a good reputation and great culture, people want to be a part of that."