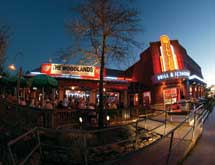 For Jay Barnes, the secret to the success of the restaurant company he co-owns with his brother John is simple. "I don't think there's anything magical about this business,  we just strive to execute better than the competition and give our customers value," says Barnes, co-founder and president of Houston-based Willie's Restaurants. The company operates 14 restaurants in two different concepts: Willie's Grill & Icehouse and Fajita Willie's Cafe & Cantina.  Both Fajita Willie's restaurants and nine of the 12 Willie's Grill & Icehouse locations are located in Houston. The remaining 3 Willie's Grill & Icehouse sites are in San Antonio.
Architecturally, Willie's Grill & Icehouse recreates the atmosphere of an old Texas Icehouse with a family environment.  "A Texas Icehouse was a place where people bought ice,  and gathered to talk, play pool,  and drink  beer," Barnes says. "We wanted to capture that same feeling with families in mind to enjoy good conversation, food and ice cold beverages. Our motto is `Great  Food – More Fun' – we cater to everybody from 2 to 92 years old."
Each Willie's Grill & Icehouse location features a sandbox and video game room for younger customers, while offering a casual and friendly atmosphere for adults. The restaurant specializes in "comfort food" items including burgers, salads, chicken tenderloins, fried shrimp, grilled catfish, steaks, and baby back ribs.
"We offer a wide variety of comfort food that appeals to people of all ages," Barnes says.
All locations feature a similar architectural design including the use of large garage doors reminiscent of those used in the old icehouses, as well as the use of reclaimed building materials such as old  wood, rustic tin, and stamped architectural metal. The Icehouse tradition of billiard tables also is represented by the design of the restaurants' menu boards.
Fajita Willie's is patterned after an outdoor Mexican market  and cantina, offering Tex-Mex fare like charbroiled beef and chicken fajitas, enchiladas, tacos and nachos.
All menu items in both concepts are made entirely from scratch and prepared using only  quality, fresh ingredients including Certified Angus Beef. "We only offer the best products we can buy," Barnes says.
Loyal Vendors
The company's vendors play a critical role in both the quality of the food and its ability to keep prices to customers down. "We try to lock down long-term contracts for our  center of the plate items," he adds. "We buy the best products we can find and lock in prices for six months or a year at a time."
As an example, Barnes cites his procurement of seafood, an item that proved to be difficult for many in the food industry to acquire at reasonable prices following the oil spill in the Gulf of Mexico in 2010. "Yes, the price did rise, but since we had our supply  locked in for a long period of time we weathered the storm."
Many of the company's vendors have been valued partners for several years. "We're very big on vendor loyalty," Barnes adds. "I don't think we would be where we are today without the relationships we have established with our vendors over the years."
In the beginning, the company would secure bids from several vendors for various products like meat, produce, dry goods, dairy, and bread on a daily basis, only to realize its time could be better spent taking care of  guests than chasing prices. "Once we teamed up with Sysco Food Services on a full time basis we realized we could lock in long term contracts and get better pricing for our commitment," Barnes says. "This also enabled us to concentrate on being consistent, probably the biggest factor all restauranteurs face when operating more than one or two units."
Another example of a vendor adding to Willie's  consistency is its work with  spice company  Consolidated Mills. "They custom blend all the spices for each of our recipes to help us to maintain that consistency in our kitchens," Barnes adds. "People always tell me how our consistent our products are no matter what location they visit."
Other partners that have played a major role in the company's success are Lamb Weston, Heinz and Coca-Cola. Vendors also play an important role in helping the company control its two biggest costs:  food and labor. Willie's Restaurants has partnered with System Concepts Inc. – the developer of Food-Trak software – and Alliance Payroll to help control and manage these costs.
"Food-Trak is a food and beverage software program that we have been using for the better part of the last fifteen years and it has enabled us to keep our food and beverage costs down by integrating with our point-of-sale and accounting software," Barnes says.
"Alliance Payroll has worked closely with us to develop applications to monitor and control our labor costs based on historical sales and trends. Both companies play a vital role in our continued success."
'The Right People'
Vendors are not the only people with loyalty to Willie's. Many of the restaurants' managers have been with the company for years. "Without a doubt, they are our biggest asset," Barnes says. "The only way we can execute better than the competition is by having the right people, additionally, the only way we're going to open new stores is if we have the right people involved."
Restaurant managers typically work 48 to 56 hours a week with two days off. Profit sharing and company-sponsored trips are also common. Several managers rose from the ranks of the wait staff, Barnes adds.
Both wait staff and management go through an extensive training program. "We expect our wait staff to know every single thing on the menu in terms of how it is prepared, the serving size and how we source our food," he says. "Our wait staff is ready for success before they're released on the floor."
Management training is similarly extensive. "By the time they start, our managers will have worked every single position and know what everyone does, as well as the names of our vendors and all the products we buy," Barnes adds.
Steady Growth
Jay and John Barnes  entered the restaurant business after graduating from the University of Houston with degrees in marketing and architecture, respectively. The men started their careers with Pappas Restaurants, a Houston-based company, before breaking out on their own with a small, 1,700-square-foot hamburger stand in 1982.
Named "Things Broiled and Brewed," the stand gained enough of a lunchtime following that a second location was added. Both locations eventually added fajitas and a delivery service in an effort to grow its night-time business before a third location – the first Fajita Willie's – opened. Using the name Willie – after Barnes' great-great-grandfather – proved a success, prompting the rebranding of the Things Broiled and Brewed locations to the new concept, Jay Barnes says.
The brothers branched into a different cuisine in the late 1980s with the help of a new partner, Jeff McCoy, and Willie's Dockside, a seafood concept, was born. The idea for Willie's Grill & Icehouse came when the three  had an opportunity to open a restaurant between the Willie's Dockside and a Fajita Willie's location. "(John Barnes) suggested the new concept. We wanted to serve comfort food that appealed to everybody, instead of just serving those who wanted seafood or Mexican cuisine," Jay Barnes says.
Community Connections
Willie's Restaurants extends the family friendly atmosphere of its restaurants to its work within the Houston community. Each location sponsors youth sports teams, and the company contributes to local schools. Willie's regularly awards students with gift certificates for attendance or good grades. The certificates can be redeemed for a free kids' meal, Barnes says.