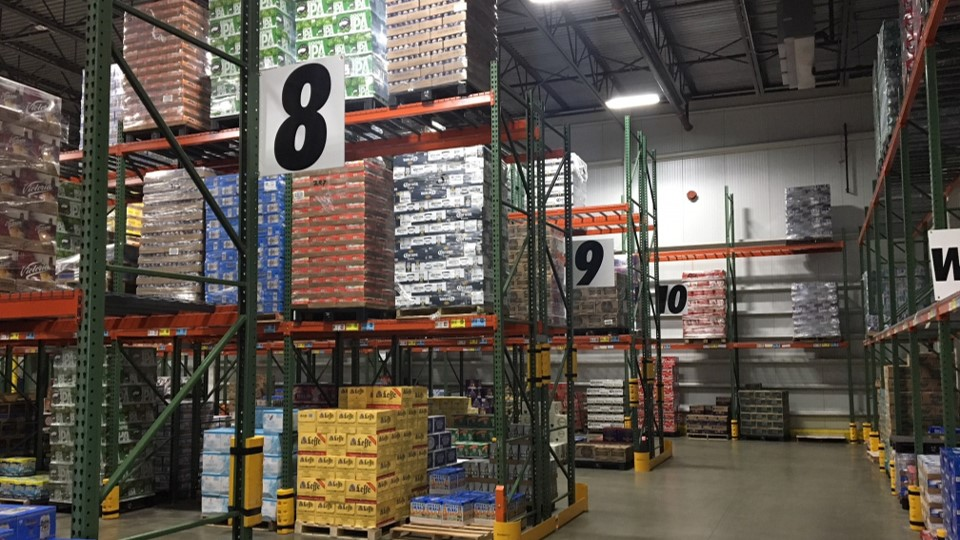 Wilsbach Distributors Inc.
Wilsbach Distributors adjusts to new laws impacting beer distributors while it continues to grow.
In 2017, a new law went into effect that impacted beer distribution in Pennsylvania. The law allows beer distributors to sell package beer in smaller quantities which has been great for customer choice and a boon for some microbreweries. "It used to be a case [of beer] state," says Frank Sourbeer Jr., general manager of Wilsbach Distributors Inc. "[Smaller quantities are] good for sampling and higher-priced beers."
Licensed Pennsylvania groceries and convenience stores now can sell packaged beer to go as the package is no more than 192 ounces. The law has increased the potential market but also made it more complicated for companies like Wilsbach Distributors, which delivers beer from 39 suppliers in eleven counties throughout central Pennsylvania.
"We have more than 100 new grocery and convenience stores to service," Sourbeer says. "There's a new level of competition. Hence, we need more space, another building most likely and bigger trucks."
Wilsbach Distributors is working on that. It is negotiating to buy land so it can build a new facility of up to 350,000 square feet if needed. If everything goes well, a new larger facility could be in operation sometime in 2021. "We must invest to maintain our ability to provide service to all of our accounts."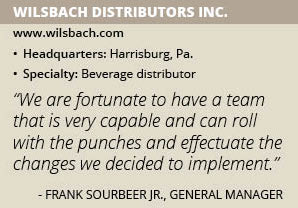 Decades of Growth
Frank Wilsbach founded Wilsbach Distributors in 1933 – the year prohibition was repealed – in a garage in downtown Harrisburg, Pa. The company began distributing Ballentine that same year and then Anheuser-Busch in 1934. Anheuser-Busch remains "our largest and longest lasting supplier partner," Sourbeer notes.
Wilsbach Distributors picked up new beer suppliers over the decades and expanded several times, most recently in 1999 when it built an 80,000-square-foot facility in Harrisburg. The Sourbeer family bought the business in 1988 and continues to run it.
Over the past 15 months, Wilsbach Distributors has expanded its footprint to include four new counties. Here, they represent most of the Anhueser-Busch InBev imports portfolio – including Stella Artois –, the Troegs Brewing Co. portfolio and Constellation Brands (two of the four counties). This is an increase of about 400 accounts or roughly 30 percent in total deliveries.
Though all the buzz might be about craft beers, Wilsbach Distributors is seeing the most growth in its higher-end lagers such as Michelob Ultra, Stella Artois, Corona and Modela. Craft beer, however, is still growing. "Our larger geographic footprint makes us more appealing to beer suppliers," Sourbeer says. "They can deal with one distributor rather than two."
Keeping it Fresh
Having the correct amount of inventory is a balancing act. Too much beer in stock and some of it could go bad. Too little beer in stock and the company might not be able to fill orders.
To meet that challenge, Wilsbach Distributors has taken several actions. In 2018, the company instituted weekly inventory meetings, along with hiring a demand planner and a business analyst to help it forecast appropriate inventory levels. "You want the inventory to be tight," Sourbeer says. "Beer is a product that doesn't get better as it gets older. We want to have the freshest beer in the market and we want to avoid overstocks and out-of-stocks."
To assist with meeting that challenge, the company has a location-based inventory system in its warehouse that helps to automate the rotation process. "If we need to replenish or move beer, the system tells the employees where to go," Sourbeer says.
The Greatest Talent
Wilsbach Distributors aims to treat its employees right. "We pride ourselves on our ability to provide better-than-average salaries and benefits," Sourbeer says. "We are fortunate to have a team that is very capable and can roll with the punches and effectuate changes we decide to implement."
The company is reviewing its current time-off policy and is considering a more flexible vacation and sick policy leave. It offers profit sharing, a 401(k) retirement plan and medical insurance. "We want to continue to innovate in terms of our benefit package," Sourbeer says. "Employee expectations are changing. We want to make sure we can keep pace to continue to hire and retain the greatest talent."
That is particularly true of recruiting and retaining truck drivers. "That's one of our biggest challenges," Sourbeer says, "with the unemployment rate being low and the high demand for over-the-road drivers."
He explains, "Delivering kegs and cases is a difficult job. They go into basements with kegs and cases. We work no matter what the weather is outside. A lot of new employees have a hard time understanding how difficult beer delivery is until they are doing it. We've had a couple people who left not along ago and we had to replace them."
As for his peers in the field who are facing similar challenges, Sourbeer advises getting out and meeting others in the industry. "As long as you keep your eyes and ears open and attend conferences and seminars, you can learn a lot about what's working for other people," he says. "If you only focus on your own business, you are going to miss some good opportunities."