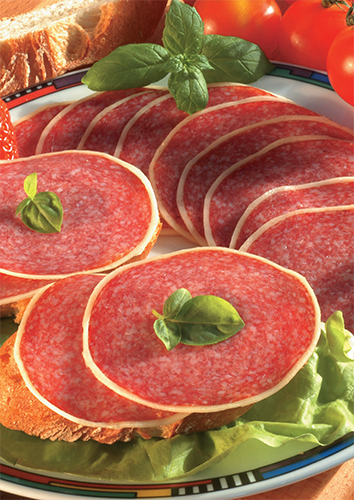 Meat the experts
A huge investment programme has seen Windau GmbH position itself well to cope with future sector demands
The German sausage and specialist meats industry has suffered in recent years from increasing fragmentation – there are currently many enterprises 'fighting it out' over market share. Yet, Windau GmbH has found a place for itself in this highly competitive industry, producing a ever-expanding range of ham, sausage and convenience products for the German and international sales markets.
Founded in 1976 by Clement Hilker, who possessed an extensive knowledge of meat production and processing having worked for one of the biggest companies in the German industry at the time, Windau was originally a small shop with just ten employees.
During its 30-year lifespan, Windau has grown into an internationally renowned producer that employs 200 people. Indeed, Windau is now recognised as a leading producer of healthy meats, sausage and convenience foods. Its products distinguish themselves by a special flavour, excellent freshness and appearance and consistent quality. Products are also priced in line with market requirements, where customers and products are the day-to-day focus.
In 2002, Thomas Maruschke joined the company to strengthen the directorate. Since then, and in order to maintain the high standard of production, Windau has undergone a huge investment programme, refurbishing its sites, bringing the original plant to the level of newer facilities. The old plant has now been formally integrated with the new further processing plant, streamlining operations. The complexity has been removed, which has simplified production processes and means Windau can now appeal to a wider customer base.
This drive to broaden the customer base has seen Windau launch the Windauer Vital brand, which offers light low-fat products for the health conscious consumer who prefers a calorie-controlled and cholesterol-free diet. "Windau Vital has been our focus over the last year or so," explains Thomas. "The collection, an innovative idea, is a lot more than just a low-calorie range and is a response to the growing healthy eating trend."
The brand represents food that is good for both the mind and body. The affluent 50+ consumer group is the target audience for the brand, as it is they who follow the trend religiously, and place high demands on taste and quality. The term 'vital' means feeling good by eating healthy foods whilst still enjoying the experience, so it tailors for the 50+ consumers perfectly.
Windau continues to have a strong presence in the German market, but as alluded to before, it competes with an endless list of German meat producers. The company, therefore, is enhancing its efforts to boost international sales, developing an already promising list of contacts, as Thomas comments: "We have contacts in 23 countries around the world and we are particularly strong in Scandinavia, Ireland, Denmark and the UK, while we also have an emerging presence in Asia, particularly China. Our international sales figures are between 15 and 20 per cent, which is way above the German average, and we expect this to continue growing year on year."
The Chinese market, a topic an enthusiastic Thomas was keen to talk more about, is an area of huge potential for Windau. China fits in superbly with the company's forward thinking approach that has seen it expand into an increasing number of previously untapped markets. Windau's determination to succeed in strengthening its international reach is shared by numerous other branches of European industry, which are looking for opportunities for growth in a market of almost unlimited potential.
"We recently acquired a licence to sell product into China. It is a new market at the moment because until recently the country had been closed to European producers. We have managed to secure the licence due to our connections in the country and have established a sales and distribution office in Dalian, on the northeastern coast. We are very excited by the prospect that is the Chinese market," he says.
"The future is bright for us," adds Thomas. "Despite tough market conditions we continue to be a success and enjoy the nature of competition. In recent times, raw material prices have risen, which has caused additional stress for us. With our ongoing efficiency measures we are meeting this challenge head-on. The relevantly few good raw material suppliers affect the raw material price, so we have to find additional cost savings internally to ensure the customer incurs no extra cost. Remember, our products are always priced in line with market requirements and we want to maintain this approach."
Continuing the development of new, healthy products, as well as maintaining the excellence of its established ranges, Windau can be assured of an exciting and global future.
"We have done our homework and are well-placed to take on the challenges of the future," concludes Thomas. "Thanks to the investments we have made in our facilities – which, incidentally are now amongst Europe's elite – and our ambition to grow global sales, we are optimistic of further success. We are very positive in our outlook and ambitious to capitalise on the opportunities open to us at present."