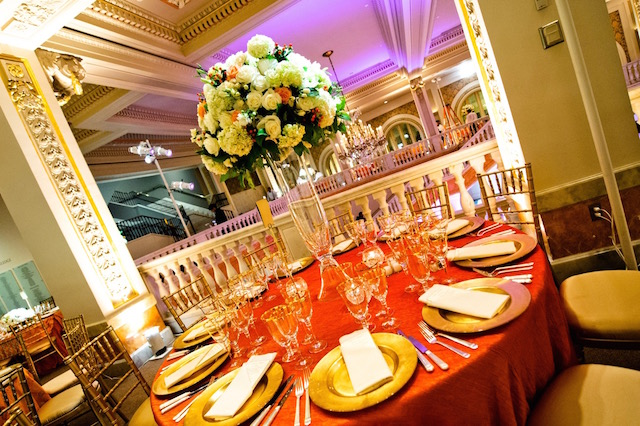 Windows Catering has built a reputation for customer service and avant garde cuisine worthy of world leaders.
Sustainability is a popular trend in the culinary industry, but Windows Catering Company has been making strides to lessen its environmental impact since the mid-2000s. The Washington, D.C., full-service catering and event management company has been certified by the Green Restaurant Association for the past decade.
As such, Windows ensures it buys from environmentally conscious food purveyors, uses biodegradable disposable products, maintains a composting program, uses "green" cleaning chemicals, purchases low-energy light bulbs for its offices and kitchen and low-flow faucets for its dishwashing and wash-down sinks, as well as many other environmentally friendly practices.
"It shows our commitment to being environmentally friendly," CEO Andrew Gerstel says of the Certified Green Restaurant designation. "Our clients are looking for environmentally conscious vendors who are dedicated to implementing sustainable practices into their daily operations."
Windows began in 1985 as a fine dining restaurant, but soon after it opened patrons started asking chef-proprietor Henry Dinardo if he would cater art exhibition openings, weddings and high-end, large-scale corporate events. The requests became so overwhelming that within two years the company shifted their efforts to growing their off-premise catering business.
Since then, the second-generation family owned company has become one of the premier caterers and event planners in the Washington, D.C., market. The company has planned and executed events at all of the Smithsonian museums, historic homes, art galleries and numerous unique venues throughout the metropolitan D.C. area. Events vary from charity fundraisers, social gatherings, corporate celebrations, embassy affairs, U.S. State Department meetings and the last eight presidential inaugurations. "We have solidified our brand in the marketplace as a high-end, quality caterer and event management company that is capable of doing small, intimate affairs as well as high-volume events. From private dining for two guests to most recently serving over 15,000 guests in a single day for a museum opening, we collaborate with our clients and execute on all the finer details that make an event successful," Gerstel says.
Nearly all of the company's customers are located in the Washington, D.C., area, but on special request Windows has managed events as far away as New York, Philadelphia and Naples, Fla. "Our reputation is one of high-quality, creative cuisine with outstanding levels of service," Gerstel says. "We are not only in the food business but also the service business. Our clients trust us to focus on the small details that can make the difference between hosting just an average event and an event where the guests leave with a truly memorable experience."
Stellar Service
When the recession hit in the late 2000s, many companies responded by cutting non-essential services and perks – such as catered lunches and hosting special events. However, Windows' corporate drop-off business has rebounded as the economy in Washington, D.C., has grown. "Over the last several years since the economic collapse of 2008, the perception and the stigma of large-scale corporate entertaining has been lifted," Gerstel says. "Companies are celebrating milestones, recognizing staff and holiday entertaining has come back very strong."
Today, Windows makes between 60 and 70 drop off deliveries of breakfast, lunch and dinner to corporate customers each weekday. That workload is on top of its full-service business, which can number as many as 25 events a day during peak season.
To serve all those customers, Windows operates a state-of-the-art facility with a 12,000-square-foot kitchen, a temperature- and humidity-controlled chocolate room and 4,000 square feet of refrigerator space staffed by 65 culinary team members. Food is delivered to customers using Windows' own fleet of vehicles.
Coordinating all these events and managing customer relationships is a daunting task, but Windows has developed several processes to improve efficiency. The company is divided into three business segments: corporate express, full-service events and weddings. Although each area has specific needs, team members are cross-trained so they can move to where they are needed most. "All of our event designers are fully trained to execute on all types of events. Each event is unique and we take a very consultative and educational approach throughout the planning process. Our clients trust us to walk them through every step of the way and empower us to make culinary and design decisions that impact the guest experience," Gerstel says.
The company manages all aspects of its business using an in-house technology platform, which Gerstel has spent the past 15 years developing. The customized point-of-sale system acts as a proposal writer for the sales departments and talks electronically with the culinary, delivery, staffing, warehouse and accounting departments. They have even tied themselves electronically to one of their largest vendor partners to streamline the procurement process.
Gerstel has also built an integration program to communicate daily with the company's general ledger. "Our custom developed point of sales system, integrated with our general ledger software, has created tremendous efficiencies and accuracy in all our operations and financial reporting," he explains.
Cultivating Creativity
Windows is known for its modern American and international cuisines. The company constantly adapts its menus to account for the latest culinary trends, such as the demand for seasonality and locally sourced products. "We work with local purveyors to identify the freshest ingredients that can be readily available to us at a high volume," Gerstel says. "Every Monday we get weekly updates on their product and availability. So as the seasons change our ingredients will be modified."
Large metropolitan areas such as Washington, D.C., attract a lot of culinary talent. Social and corporate clients, politicians and dignitaries want to enjoy the flavors of the city's dining scene. But the high demand for culinary talent also means there is significant competition to hire those chefs. Windows uses traditional recruiting methods but also scours social media to find up-and-coming chefs who may otherwise be overlooked. The company then gives them opportunities to develop their skills and become valuable members of our culinary team.
"We're always challenging our chefs to develop new and creative ideas to incorporate into our menus," Gerstel says. Many chefs have thrived with the Windows family for 15, 20 and even 30 years. Several chefs have been recognized with national and international awards including Chef Dinardo by Food and Wine Magazine as a top 25 chef in America and Executive Pastry Chef Laurent Lhuillier as winner of the National Team Pastry Championship. "It's a unique opportunity for any chef to work in a high-volume environment that produces a high-quality product as well," Gerstel notes.
Although its food may be the highlight, Windows has always been a full-service event management company. It collaborates with customers and vendors on design elements such as color palettes for the event, specialty china and glassware, lighting and floral. They can also arrange for entertainment, photography and videography services. "We work with our clients on creating the entire look, feel, sound and flow for the event," Gerstel says.
The catering and event management industry is a relationship business. Windows Catering Company is successful when customers' expectations are exceeded and they recommend the company to their friends and colleagues. Gerstel says, "We've grown organically for almost 30 years by developing strong relationships with our clients and event partners. Our team members are extremely hard working, passionate individuals that take amazing pride in their work. For Windows, that's our recipe for success."