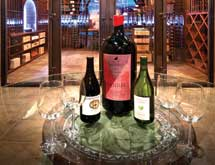 For avid wine enthusiasts, nothing is more satisfying than coming home to a well-stocked cellar full of the world's finest bottles of cabernet sauvignon, pinot grigio, chianti and merlot. Ideally, the area in which these personal treasures are stored should be as sumptuous and sophisticated as the wine taster's palate.
Rows of intricately spaced wine racks made of beautiful all-heart redwood and other premium woods are necessary to properly display a world-class collection, and nobody understands this better than Jim Deckebach, founder of Wine Cellar Innovations.
Immaculate wine cellars custom-made for affluent households across the nation are what put this Cincinnati company on the map, earning it a prestigious reputation for being the world's foremost designer and manufacturer of custom wine cellars and wine racks – an astounding feat for a business with very modest beginnings, Vice President of Operations Tony Wilke says.
Blossoming Business
After starting Deckebach Construction & Remodeling in 1977, Deckebach built his first wine cellar as part of a remodeling job in 1984. The success of that project prompted him to start building custom wine cellars out of his home garage for clients in the Cincinnati area. Three of the world's most prominent wine catalogs of that era – Wine Spectator, Wine Enthusiast and International Wine Accessories – took notice and asked him to start manufacturing products for them. At that time, Deckebach discontinued his construction company, and in 1988, began advertising his wine cellars nationally under the name Wine Racks Unlimited.
"The business has grown dramatically over the years," Wilke says. Wine Cellar Innovations' sales grew six times from 1989 to 1998 due to the strength of its business with wholesale accounts, including catalog companies, he explains. That year, the company introduced its commercial fixtures category for stores, restaurants and hotels in addition to catering to an expanding residential customer base domestically and around the world. As sales continued to grow, the company changed its name to Wine Cellar Innovations in 1998 and moved to its current 350,000-square-foot manufacturing facility.
Today, approximately 70 percent of Wine Cellar Innovations' business is with homeowners and 30 percent is with commercial clients. "We have several hundred preferred customer accounts ranging from wholesalers that resell our product to customers we sell to through our website and through outside representatives," Wilke notes.
The one drawback to purchasing custom wine cellars is the time involved to design and manufacture the product, Wilke says. The solution was the release of the Designer Kit Series and later the Vintner Series kit lines. The Designer Kit Series was launched first with the same features found in the custom series. All of the items are manufactured at a 6-foot height with several racking styles to choose from.
"The Designer Kit series was – and continues to be – a great success, but our clients asked for more," Wilke says. "They wanted a kit series that could be made to fit their existing ceiling height and go floor-to-ceiling, and thus the Vintner Kit series was born. The Vintner kits are made in 3- and 4-foot heights that can be stacked. In combination with the variety of molding options available, our customers can have a custom-built look shipped out in a time frame measured in days instead of weeks."
In July, Wine Cellar Innovations re-launched its website. "We have a new, expanded photo gallery with a lot of additional options, a video gallery and a 'my projects' folder, where customers can go through the website and tag items of interest so when they submit a design request, they can reference the photographs they found interesting and want implemented into their design," Wilke says.
From Floor to Ceiling
Several advances in Wine Cellar Innovations' history earned the company its reputation for ingenuity. In 1999, it started a refrigeration department and developed a test chamber to experiment on products tailored to age wine. The next year, it began investing in 3-D color design to create state-of-the-art wine cellars, and then took the idea further by introducing 3-D virtual reality wine cellar walk-throughs.
In addition to using premium woods, such as redwood, red oak, mahogany and black walnut, Wine Cellar Innovations has brought new meaning to the term "cellar art." Paintings and murals, mosaic collages, etched mirrors, stained glass, hand-painted tiles, and detailed wood trim are among the customized wall art applications the company produces. It also offers decorative flooring, tabletops, ceilings, lighting, cabinet hardware, doors and ladders. For enhanced entrances, two popular collections are its ornate iron doors and glass enclosures.
It can be challenging to maintain creativity throughout a challenging economy, but Wine Cellar Innovations achieves this by "spending a significant amount of time automating our design process," Wilkes explains. "We can complete a design in a little more than half the time it took two years ago, which has allowed us to lower our overhead and will also help with increased margins when the economy comes back.
"We used to manually ship out shipping notifications to customers; now we have an automated response that goes to customers with a tracking number included on it," he continues. "We've done a lot of automation to assist us with the daily processes and operations in the office as well as the factory, so automation has been the key to help offset the lack of labor.
"We've also invested in some new machinery designed to mass-produce some of our items," Wilke adds. "This was something we were looking at prior to the recession, but when the recession brought on reduced pricing, it made it economically viable to purchase the machinery."
With Room to Grow
Much like a fine wine, Wine Cellar Innovations has only improved with age and continues to look for new ways to dazzle its customers. "We are continuing to evaluate and look at adding more options to our Vitner kit line," Wilke says. "Right now, people are looking at every penny they can save, so we are going to roll out a pine option for many of our kit and commercial product lines to offer that lower price point option.
"We also offer some financing for our commercial racking for wine storage in hotels, restaurants and wine stores where they can buy now and pay later, which is a feature that we found our customers have embraced greatly in these tight financing times," he adds.
"We have some strategic partnerships that we are working with to develop our international market, and we are working with shipping companies to make it more economical to ship our product internationally," he says. "We plan on continuing our automation processes to allow us to do our jobs more efficiently and effectively, and increase our customer satisfaction level."