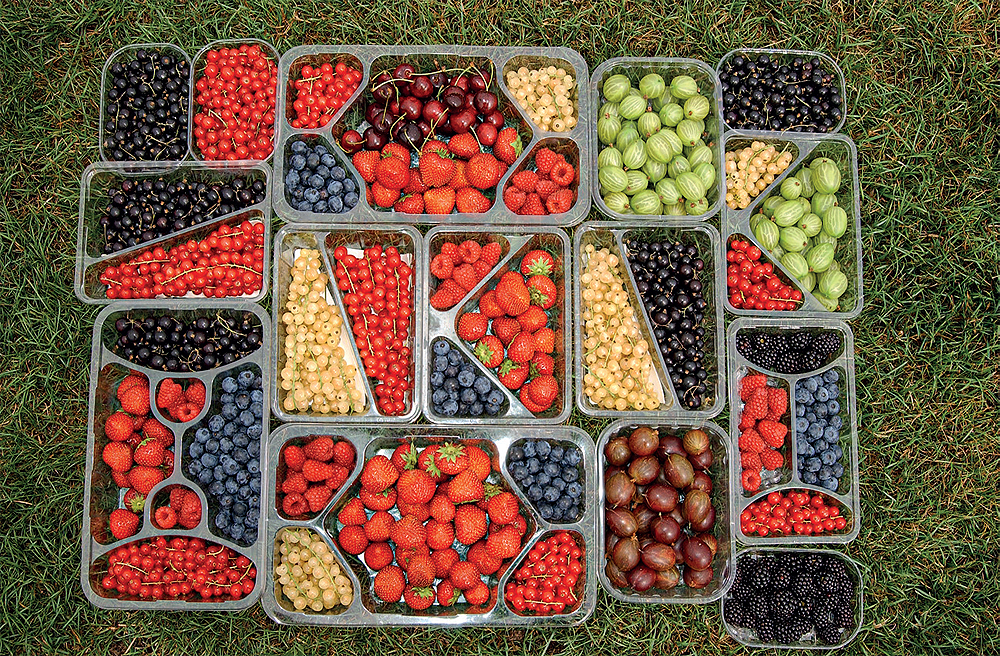 The fruits of labour
The largest growers of Blueberries in Europe and Africa, Winterwood Farms also produces a number of other fruits from its farms in four countries for the UK's major supermarkets and multiple retailers
Established in 1978 with just a single hectare to its name, Winterwood Farms (Winterwood) is today a vertically integrated business producing a wide range of fruit from its 17 farms in the UK, France, Poland and South Africa. In addition to being the largest growers of Blueberries in both Europe and Africa, other products grown across its more than 2,000 hectares of production include Blackberries, Blackcurrants, Gooseberries and Raspberries. The farming group also farms 110ha of Organic Blueberries on one of its Polish farms, the largest such farm in the world, and in total the Group employs over 6000 people.
Supply continuity
Alongside its farming operations, Winterwood also packs fruit from around the world at its packhouse in Maidstone, Kent, which is then predominantly marketed to various multiple retailers and
supermarkets in the UK. With a throughput of approximately 20,000 tonnes of soft fruit in over 60 million packs per annum, this is the largest dedicated soft fruit packhouse in the world.
"Between our packhouse here in Maidstone and our international farming operations, we are specifically geared up to service demand from supermarkets and major retailers in the UK," explains Winterwood's Managing Director, Steve Taylor. "With our model of having dedicated growers/suppliers across the countries in which we operate – most of which we enjoy exclusive two-way arrangements with – we are able to offer our customers in the UK 365-days-per-year continuity when it comes to our produce."
Winterwood has built up its network of growers and farms over a period of time, working with trusted individuals in each particular country to create mutually beneficial partnerships. "A good example of this approach would be South Africa, where our activities have been built on the back of establishing a close, one-to-one relationship with what was then a small local company. That relationship has ultimately led to a situation where – in 2020 – we now have a grower group in the country of 34 growers and counting," Steve states.
Grower guidance
The fruit that the company supplies its customers in the UK is very much considered as being at the premium end of the market when it comes to its quality. As Steve goes on to detail, maintaining such standards year-round comes down to the vertically integrated nature of the business. "When it comes to the quality of our various different fruits, it really starts with the breeding process," he says. "After all, if you do not have the right material to plant, you are never going to end up with the right quality produce that your customers demand. Indeed, one of our most important focus areas is on having access to the best germplasm available in a given area. For instance, in South Africa, the Group has an exclusive license to grow varieties bred by the Australian Company Mountain Blue Orchards, which is widely agreed to have the best material currently available in the world to grow in that region. This has given us a massive advantage in terms of providing our farms, and others we work with, with the best base material to work with.
"From there, we put in a great deal of research and technical input into the growing side of the business. One of the ways in which we work with our growers is by providing them with a template with which to guide them. So, again, taking Blueberries as an example, even if we have a grower who has never grown them previously, as long as they are good technically and have the right mindset, we can provide them with a template detailing the best varieties to use, how many plants to allocate to a hectare, what variety is best for the climate in question, how far apart the rows need to be, and so forth. Essentially, we are providing all of the necessary building blocks to successfully grow a particular product."
Additional support is then offered to help its growers on elements such as the technical nuances of harvesting, the various protocols around the cold chain, complete quality control across the life of the product, how it is packaged, and lastly how it is shipped and distributed. "Throughout the entire process, we never lose sight of the need to have the very best people specializing in each activity. We constantly want our customers to be reassured that everyone in our supply chain is the best at what they do, with everyone in the chain adding value to our operations and not cost!"
Steve affirms.
Ultimate flexibility
A further element of how the business functions is the way it aims to standardize its use of packaging, a decision that Steve firmly believes helps to boost Winterwood's efficiency in getting products out to market, as well as ultimately giving the growers a better return. "Taking Blueberries again as an example, once a crop gets to our packhouse in Maidstone, we could conceivably be doing 50 different SKU's just for this product line, and anywhere between 15 and 20 different punnets or pack sizes at any one time for the main supermarkets that we serve," he says. "When you have over 30 growers in South Africa supplying you, it is not possible to pre-guess or pre-select whose punnets you want to use at a given time, so our approach has been to standardize the packaging in the country of origin so that all of our growers are using the same kind. This allows us to concentrate all of our efforts on achieving the right kind of product quality at source in the fields, to reduce handling, and also to have ultimate flexibility when allocating what can be hundreds of different batches at any given point in time to up to 50 different SKU's.
New markets
Winterwood has also invested heavily in IT, and has developed its own Packhouse Management System to manage every step of the Production process.
"What the above ultimately gives us is a greater degree of flexibility when it comes to responding to the Just-In-Time orders that we receive in the UK. With these, we will receive an order from a supermarket that needs to be dispatched within hours of its receipt. By having, say, 200 batches of Blueberries to choose from that are all in the same style of punnet, it enables us to get to the customer the order that they want in a much faster manner than if we had 20 different types of punnet and only a handful of batches to choose from. In operating this way, we not only have the confidence of knowing that we have the same high levels of quality maintained across the board, but also the required degree of efficiency to respond to our customers with industry-leading lead times."
In a year that has seen its fair share of challenges for the world as a whole, what has remained a constant is consumer demand for quality food, and as record sales figures in 2020 highlight, consumer spend at UK supermarkets has at times never been higher. Despite the extra costs associated with Covid-19, Winterwood feels very grateful it is in the food sector, with its fruits continuing to fly off of the shelves. Moving into 2021, however, the company also has to contend with issues surrounding the UK's exit from the European Union, the Government's policies on tariffs, duty, immigration and the like, and its inability to plan for these eventualities.
"We foresee the weak link in our chain next year being centred around labour in the UK, which is why we are making a deliberate choice not to grow the UK farming side of the business at present," Steve says. "Instead, we have chosen to invest our resources and capital abroad, particularly in South Africa, where there is no risk in terms of duty being levied against its produce coming into the UK from 2021, as a zero-duty trade deal has already been signed. Meanwhile, we are also actively looking at markets across Europe in which we can sell our fruit from our French and Polish farms as we again look to minimize our exposure to any post-Brexit risk.
"The international network of farms, growers and partners that we have built up over the years gives us this opportunity to invest in multiple locations and in the fruit that we think will give us the best returns. It also places Winterwood in the enviable position of being able to fulfil a need or gap in the market, should it become available."