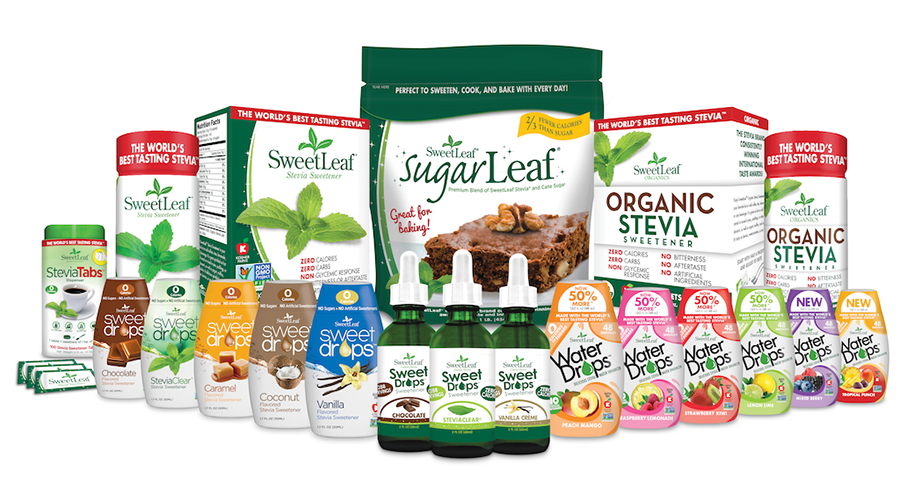 Wisdom Natural Brands/SweetLeaf Stevia
Wisdom Natural Brands' SweetLeaf Stevia products lead the way in the natural sweetener category.
Wisdom Natural Brands has been on a crusade for the past 35 years. "Our mission statement is to `make the world a sweeter place,'" CEO Carol May says. "That may sound sentimental, but it has meaning for us. We want people to have the choice to have an alternative for other sweeteners, be they sugars or artificial sweeteners."
The company is accomplishing its mission through its flagship brand, SweetLeaf Stevia. The brand is the No. 1-selling stevia product in natural and health food stores and has the second largest market share in grocery stores in the United States. In addition, SweetLeaf is sold in more than 30 countries.
Wisdom Natural Brands offers a full line of SweetLeaf Stevia sweetener products including single-service packets, liquids, powders, tabs and concentrates. All of Wisdom Natural Brands' products use only organic stevia. "We offer an increasing number of completely organic products," May says. "With our products, you can make delicious ice cream, desserts and smoothies or put it in your coffee, tea, cereal or water. We make it easier to make a healthier choice.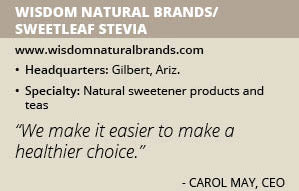 "We work with influencers such as registered dieticians, physicians, diabetes educators and others who recommend our products as an approved choice for their patients," she adds. "We've also worked with professional chefs who are happy to develop recipes at almost no charge to us and just because they want to be able to have sugar-reduced products in the restaurants." Restaurant chefs in downtown Manhattan have created recipes for SweetLeaf including La Cirque, Duet Restaurant and more.
With SweetLeaf Stevia now firmly entrenched in the United States, Wisdom Natural Brands is growing its presence worldwide. "We are very proud to be the first organic stevia products to be introduced to the United Kingdom and in several European markets," May says.
Industry Pioneers
The company's crusade began in 1982 when James May, Carol May's late husband, was introduced to the stevia leaf by a Peace Corps member who had just returned from Paraguay. The stevia plant was discovered in the rainforests of Paraguay roughly 1,500 years ago.
After tasting the leaf, James May left his career in the healthcare industry and devoted himself to developing a business around marketing the stevia leaf as a safe alternative to sugars. The Mays and their five children packaged and labeled herbs in their garage, and James May sold stevia, yerba maté and other herbs to local health food stores in the back of the family's car. The leafs from the Yerba Maté tree are the core ingredients of the Wisdom of the Ancients herbal tea brand, also owned and produced by Wisdom Natural Brands.
Because the plant was only allowed for topical uses in the United States until the mid-1990s, James May worked with a local congressional delegation to pass the Dietary Supplement Health and Education Act, enacted in 1994. The Act recognizes stevia as a dietary supplement. "We have put in 35 years of consumer and industry education and worked to help people understand the value of stevia and how it is best processed," Carol May says.
Following passage of the act, the company sold its products in powder and liquid form, but only as a dietary supplement. This changed in 2008, when SweetLeaf became the first stevia sweetener to receive Generally Recognized as Safe status from the U.S. Food and Drug Administration. With the certification in hand, Wisdom Natural Brands began marketing stevia as a food product and started selling it to other food manufacturers as an ingredient.
Since then, SweetLeaf has won 29 international awards for taste, innovation and sustainability including the prestigious ChefsBest Excellence Award. SweetLeaf Stevia Sweetener and SweetLeaf Organic Stevia Sweetener packets have also been designated as certified Paleo from The Paleo Foundation Inc., making it the only stevia on the market to receive this designation.
In 2016, James and Carol May were inducted into the Natural Products Hall of Legends. The honor recognizes the couple's contributions to the natural products industry. "It's been quite a journey for us," Carol May says.
The Science of Stevia
May credits SweetLeaf's success not only to her family's efforts, but also to the work of the company's employees. "When I think about our company's strengths, I think not only about the quality, value, and the need in the marketplace for our products, but also about the contributions of our quality employees and how grateful we are for their dedication," May says.
The company's product development team works hard to develop all-natural products that are appealing to consumers. "We know how to make stevia taste good and know how to develop applications that have a positive influence on product development, both our own and that of others," she adds. "When using stevia, one must take into account how the herbal extract interacts with all other ingredients in a product in order to successfully develop the taste."
Wisdom Natural Brands' staff includes one of the world's foremost researchers into stevia and other natural extracts. "We receive a lot of commendations for knowing how to make it taste right," May says. "There are currently compounds called glycosides in the stevia leaf. It is necessary to know which to extract to get the final taste – there's more than just crushing up the leaf, there's a lot of science to it.
"You have to know what to extract, at what percentages and in the right context, to make stevia taste its best," she adds. "We feel the taste problems that some companies have had with stevia are artifacts of the layers of chemicals they use in processing. We work as hard as we can to process the leaf in a gentle and natural way to preserve its hundreds of nutrients and potential nutrients."
The company closely monitors its products during manufacturing. "We work with partners to make our various products, including several companies in the United States," May says. "We test more than what would normally be the case due to our focus on ensuring the highest standards of quality for our products."
Reaching Out
Wisdom Natural Brands keeps in close contact with industry groups and others that have an interest in stevia sweeteners as an alternative to sugars or artificial sweeteners. This includes noted national and international research and educational organizations. The company also works with cardiologists and other physicians to provide healthcare providers and their patients a better way to reduce the intake of excessive dietary sugars which excellent clinical research has now demonstrated to be a challenge to the human body.
"We don't just think about excess dietary sugars as a source of calories or cavities, there's a lot more to it than that," May says. "[Dietary sugars] have an effect on various systems in the body, especially the cardiovascular system, but also the brain, liver, pancreas, skin, and premature aging."
The company also works with farmers in Paraguay and other countries to develop viable agricultural approaches for growing the stevia plant around the world.
"We're concerned about sustainability and are careful about using partners that share that responsibility," May says. "We are helping people in Third World countries develop social opportunities, and we care about making sure they have potable water and that their children get a good education. For us, making the world a sweeter place is not just about selling products but also about making positive changes to impact the quality of lives from farm to table."
Building Momentum
May expects the next few years to be increasingly successful and quite busy for the SweetLeaf Stevia brand. "We're in the midst of making decisions about not only what we will do, but what we will do first," she says, noting the company recently had far-reaching strategic planning sessions. "We've already started to multiply our distribution channels, and are being positively received. We see a growth in our ingredient business not just in stevia, but in other natural ingredients as well."
The company is developing a broad line of consumer-packaged goods it intends to launch in the first half of 2018. "We've developing other brands that will definitely expand our reach," May says. "We are excited about our new lines in development, as well as the new channels of distribution we're opening, particularly overseas. Roughly 95 percent of the world's total product sales volume is outside of the U.S., and we're working hard to meet that demand. We have some extraordinarily exciting things happening."