WKS Restaurant Group instills five core values in every level of its growing brands.
The goal at WKS Restaurant Group's support center is to provide the tools and training that makes it easier for the general managers of its 125 restaurants to do their jobs. Handling as many administrative tasks as possible outside of the restaurants frees its managers' time so they can focus instead on providing the best possible customer experience. "We have a saying in our support center: If you're not serving chicken, donuts or bacon and eggs, then you better be serving someone who is," President and CEO Roland Spongberg says. "We don't make a single penny here in the office. One-hundred percent of our money is made out there, in the restaurants."
Spongberg takes pride in the strong support system and management team he has built in the 30 years since he founded WKS. "You see some of these people that a few years ago were crew members and now they are buying their own homes because they've moved up in our system," he says.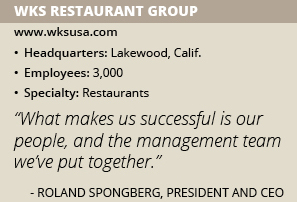 Developing Blueprint
WKS' origins actually begin in the real estate business. Spongberg built his first three El Pollo Locos in 1987 as part of other California development projects. He didn't expect to open many more locations, but a few years later another franchisee closed an El Pollo Loco just a few miles from Spongberg's office.
Spongberg realized the closed restaurant had a great location but had suffered from operational issues. He believed it still had great potential, so he took it over, cleaned up the building and reopened it to great success. When the same franchisee had issues at another El Pollo Loco location, Spongberg bought that one too, and turned it around.
Spongberg suddenly had five El Pollo Loco restaurants and a formula for success. From there, he dove fully into the restaurant business. Spongberg began buying struggling El Pollo Loco units that suffered primarily from a lack of focus by absentee franchisee owners. Once he remodeled them and refocused the management teams on being friendly and treating everyone with kindness and respect, it was common to see sales double over the following several years. This was a recipe for success, and so WKS was soon building new units again.
Since then, WKS, which stands for "We Know Success," has grown to become the largest franchisee in the El Pollo Loco and Krispy Kreme systems and is also one of the largest operators in the Denny's and Blaze Pizza brands. About 60 percent of WKS restaurants are in its home state of California with additional concentrations in Arizona, Illinois, Missouri, Nebraska, Utah, New Mexico and Wisconsin.
Building a Team
When Spongberg started out, the small scale of the company afforded him direct involvement in each restaurant's operation. But as the company grew it required systems and training to maintain its high operating standards. District managers were hired to oversee groups of restaurants and a separate vice president now manages each brand.
"It takes a team to run the number of restaurants that we have and our team is really outstanding," Spongberg says. "What makes us successful is our people, and the outstanding management team we've put together."
That team has evolved over the years as WKS has grown. The company's first CFO was also its controller and focused mostly on accounting. By the time it reached 45 restaurants in the mid-2000s its support center team was struggling to provide the same level of service to the restaurants and to finance its growth. The company's growth began to plateau.
Spongberg realized he needed a change to enable the next stage of expansion because everyone on his team had started out at WKS and lacked experience working in a leadership capacity in a larger company. So he hired Matt McGuinness, a former CFO at two of his franchisors, El Pollo Loco and Denny's, with public company experience as CFO of Diedrich Coffee. "I looked for someone with the experience to help me take the WKS to the next level," Spongberg says. "Matt was instrumental in helping us go from 45 restaurants to 125 and he shares my belief our best growth opportunities are still ahead of us."
Another key member of the WKS team is Jay Spongberg, chief operating officer and Roland Spongberg's oldest son. Jay Spongberg's accomplishments in his 17 years with WKS include leading the implementation of the MAP management system, developing an outstanding group of operations leaders and driving WKS' five core values throughout the organization.
The MAP system helps WKS' leaders at all levels – from Spongberg as CEO down to every store general manager – focus on the most vital factors of the business. It helps teach restaurant operators how to also manage a business. Every leader in WKS is part of a "Vital Factor Team" (VFT) and they meet quarterly to review a dashboard of performance metrics and to commit to achieving specific new goals. During these meetings, the team critically assesses each member's individual performance over the prior quarter. "When people share common goals as part of a team, personal pride and the desire not to let one's teammates down is a very powerful motivator, more so than money," Spongberg explains. "We think this is a key factor in our success."
Although WKS started out buying closed and underperforming locations, it developed about half of its current store portfolio. Vice President of Development and Finance Paul Tanner heads the real estate and construction departments, in addition to his finance duties. Tanner manages about 15 people responsible for finding new sites, constructing new WKS locations and remodeling existing ones. Tanner also works closely with WKS' leaders to finance its rapid growth. Tanner is also a member of the Spongberg family, but based on his background before joining WKS as a certified public accountant at KPMG in Manhattan and his MBA from Yale University School of Management, any organization would be fortunate to have him on its leadership team.
All those new restaurants need to be staffed and keeping employees happy and safe is necessary for the entire operation to run smoothly. To better address its employees' needs, WKS hired attorney Joanna Blake as its vice president of people services and general counsel.
Blake assures WKS stays in compliance with all labor and employment laws – especially important for a company based in California, which has complex state and local employment regulations which are often more stringent than the federal rules. For example, California recently made paid sick leave mandatory and is increasing the state minimum wage to $15 an hour in stages by 2022. "We're make our people services team accessible to store -level employees, making sure people are comfortable and, if there are any issues, that they have somebody to talk to other than just their manager," Spongberg says.
The last key member of the WKS senior leadership team is Mark Stinson, senior director of IT. Stinson's team maintains support center systems and operates a help desk to prevent point of sale system downtime in the restaurants, which is critical to keeping WKS' store managers' morale high and minimizing negative impact on its guests.
The IT team also maintains above-store reporting tools that pull data from the stores to allow its operators to better manage the business in real time and to maximize efficiency for back office support departments such as accounting and payroll. "We try to simplify our GMs and support center staff's jobs by using technology to automate manual processes wherever possible," Spongberg says.
Value Driven
WKS sets a high level of standards all of its restaurants must achieve. The company prides itself on being one of the best-rated franchisees for each of its brands. One brand, for example, focuses on a key overall operations metrics and scores the average restaurant in its system at 75 percent. According to Spongberg, WKS' locations have a higher average score of 87 percent – and not one is below the chain's average. "It's a matter of pride among our operations team that we want to operate great restaurants," he says.
WKS strives to ingrain five key values throughout every level of the company: integrity, loyalty, winning, service and teamwork. "These values are communicated to everybody that works for us," Spongberg explains. "We talk about and teach these values starting on the first day we hire a new team member. If people are aligned with and can follow these five values they're going to be successful here."
Employees who demonstrate the company's values have ample opportunities for advancement. WKS spends more than $1 million in training annually to ensure standards are met and to prepare workers for future roles. "Our philosophy is we're better off promoting from within whenever possible," Spongberg says. "Our current people know our systems and believe in our culture. And growth opportunities help attract the best new talent to replace those who advance. Some of our people started out as crew members a few years ago and now they're buying their own homes because they've moved up within our system."
The approach creates loyalty and inspires employees to view WKS as a long-term career opportunity, reducing costly turnover. As a result, only a few of WKS's 17 district managers were not developed internally.
A strong corporate culture that focuses on its people, support systems to make restaurant manager's jobs easier, and training programs to continuously develop new leaders are the foundation for WKS's future growth. The company plans to build 12 new restaurants this year and will continue to explore acquisitions in each of its brands. "We're totally focused on the brands that we're in and we have an exciting growth strategy for each one," Spongberg says.