Wok Box Fresh Asian Kitchen
After enjoying sustained success in Canada, Wok Box fresh asian kitchen is now expanding south of the border into the United States and other international sites.
"We focus our brand on offering something that is just not really out there in the current market," CEO Lawrence Eade says. "It's healthy and quickly prepared with high-quality ingredients. There is low sodium and gluten-free options, and vegan and vegetarian items are part of the main menu mix."
The premium fast-casual Asian concept started in Edmonton in 2004 and has since grown to 60 locations and growing daily. It started in western Canada, then expanded into eastern Canada, followed by international expansion into the United States as well as Qatar and Lebanon.
Wok Box's Asian palette includes flavors and spices inspired by countries including Thailand, Malaysia, Mongolia, Singapore, Korea, China,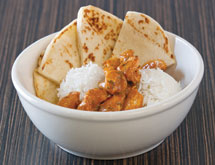 Japan, India, Cambodia and Vietnam. Food is prepared for customers in three to five minutes without table service. Restaurants are typically  1,500 to 1,800 square feet in size.
More Locations
Wok Box fresh asian kitchen has launched five new locations in the United States with another 15 on the books. Wok Box has inked a deal to develop 10 stores in the Miami area and another in Fort Lauderdale. Operating south of the Canadian border has signaled a few changes for Wok Box. The restaurant business is viewed as less risky by American business owners, and there are more multi-unit operators in the states, Eade notices. Educating consumers about nutrition and portion size was a challenge in the past, but Eade sees the American food marketplace turning toward healthier choices with media outlets like the Food Network leading the way.
"Florida presents a great opportunity for Wok Box to expose a wide range of customers to high-quality product in a quick-service environment," Eade notes. "Customers come back to us again and again because of the experience and value at Wok Box. We look forward to winning over the people of Florida as we have across many other markets." Wok Box plans for a total of 45 stores in the Sunshine State.
Untapped Potential
The majority of North American Asian food restaurants are mom-and-pop operations. Although they enjoy considerable loyalty among small segments of the market, market research shows much of the general public is weary and prefers something safer, Eade explains. P.F. Chang's, Panda Express and Pei Wei Asian Diner have laid the groundwork for the Asian chain category. Wok Box differs from them, however, as it is fast-casual with an average ticket price of $10 for lunch and $14 for dinner.
Wok Box fresh asian kitchens have leather seats instead of plastic seats and other characteristics of fine dining for "great customer experiences and fantastic food prepared fresh in an upscale, vibrant atmosphere," Eade says. In many respects, however, Wok Box is closer to the QSR side of the market with a higher-quality product, he says, similar to Panera Bread, Chipotle and Smashburger.
It also offers a healthier alternative to many mainstream QSRs with a robust selection of vegan, vegetarian and gluten-free options. Unlike many eateries, there are not just one or two token veggie items hastily added to the menu; instead, these items are top offerings.
Wok Box locates restaurants near large shopping centers or on retail streets with heavy foot traffic. Its typical customer might fit into the 25- to 40-year-old demographic, but Wok Box also enjoys a strong following among those younger than 25 as well as older customers. On-the-go moms might select Wok Box for a fast, healthier dinner, Eade says.
"It sounds cliché, but really it is for everyone," he says.