Wonton Food is helping the Chinese food industry make the shift toward healthier lifestyles.
Each day, Wonton Food's noodles, wrappers, crispy noodles, fortune cookies and other Chinese food products touch thousands, if not millions, of customers. The company supplies more than half the country's Chinese restaurants and countless other supermarkets and retailers. CEO Norman Wong credits much of Wonton Food's success to being a family owned company. "We intend to keep it this way because noodle making is a craft and you need to maintain that," he says.
"I look at our company not only as a business. I think we're here to preserve family culture and the Chinese way of doing things," he adds. To Wong, the Chinese food his family's company manufactures is an instrument through which it spreads Chinese culture and extends its community. It's a directive that was ingrained in the Wong family through Norman's father, Ching Sun Wong – who continues to do his own part in sharing his homeland's culture by performing in Cantonese opera at the age of 80.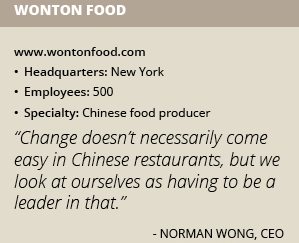 An Immigrant's Story
From the time Ching Sun Wong arrived in New York City in the 1960s, he felt he was privileged to be in a special place. Ching Sun grew up in China as the eldest of five children. At the age of 13, his parents pulled him out of school so he could support his younger siblings. Ching Sun traveled to Hong Kong to learn the art of noodle making, a skill he carried with him to the United States. "His uncle told him if he held onto this craft of making noodles he'd always be able to make a living," Norman Wong says.
Those noodle-making skills saw little use during Ching Sun's first years in New York. Like many immigrants, he earned a living completing odd jobs. Then he married and realized he needed something more stable to support his new family. Ching Sun borrow money from contacts within the city's Chinese community and in 1973 opened a noodle shop in Chinatown with a basement food factory.
The business truly took off after he acquired two fortune cookie manufacturing facilities and moved the business to Brooklyn. Soon, the company expanded to a wider range of Chinese food items, including bean sprouts and a vegetable mix used as an ingredient in a variety of products. Today, Wonton Food operates three manufacturing plants in New York, one in Houston and another in Nashville, Tenn.
Many of the company's nearly 500 employees share Ching Sun's immigrant experience, having found their first job in the United States at Wonton Food. The culture within the company breeds loyalty, Norman Wong says, and many employees have stayed with Wonton Food for more than 20 years.
The extensive knowledge and experience of its employees is an important advantage for Wonton Food. Even though production is largely automated, Wong says it still requires much know-how to work the dough to the perfect consistency for Wonton Food's products.
Customers are also used to the personal touch of working with a family owned company with longtime employees. It's one of the reasons Wong is determined to keep the company within the family. "People want to deal with real people," he says. "They don't want to deal with some faceless, nameless organization."
Wonton Food strives to establish personal relationship with all customers, whether it's a major retailer, well-known chef, regional distributor or a company that needs ingredients for airline meals. The company prides itself on adjusting to each customer's demands, even if it means making multiple deliveries the same day to a single client. Wong says customers crave that kind of flexibility. "That ability to give them that kind of service separates us from our competitors," he explains.
That level of service is matched by Wonton Food's commitment to quality. Nearly every department within the company participates in quality control, including R&D, sales, production and logistics. Wonton Food conducts daily inspections of its products and holds weekly meetings to discuss production and quality issues. "We're constantly keeping an eye on it and trying to find ways to improve," Wong says. "It begins with an insistence from top management, the family."
Guiding the Transition to Healthy
Wonton Food's is constantly developing new products to meet evolving customer requests. The trend in the food industry of the past few years has been toward healthier and more natural. Although Chinese food is not traditionally thought of as a low-calorie meal, Wonton Food is adjusting its products and talking with chefs and customers about how its products can be used in healthier recipes. The company is exploring healthier grains and flours such as quinoa and incorporate those ingredients into the noodle-making process.
"We try to promote healthy eating to help the Chinese [food] industry grow to the next level," Assistant Vice President Alice Mok says. The move toward healthier foods is also driven by large retailers such as Whole Foods, which refuses to sell any product made from items on its list of unacceptable ingredients. To get on store shelves, producers such as Wonton Food must be cognizant of those prohibited ingredients and adjust their product accordingly.
Wong believes Wonton Food's position as a premier supplier of Chinese food products gives it the power to helm the industry's shift toward healthier offerings. "Change doesn't necessarily come easy in Chinese restaurants but we look at ourselves as having to be a leader in that," Wong says.
Healthier products and new takes on classics are instrumental to Wonton Food's growth plans within the United States. The development of new products begins with feedback from customers to the company's sales team. "We actively poll our sales people and ask them, 'what are you hearing? What are you seeing?'" Vice President of Business Development Mario Arena says.
Feedback is then entered into a database and filtered out to the rest of the organization. But Wonton Food does not simply follow the latest culinary craze. The company carefully considers whether a new trend has legs or whether it's a temporary flash. That approach helps it avoid investing capital and time into short-term fads such as the low-carb trend that was hot a few years ago but has since petered out.
Still, there are times when an opportunity is too large or when a request for a new kind of product comes from a major customer and Wonton Food must act. Arena describes it as a balancing act between potential and risk. "We're very careful at staying up on the trends and finding the longevity of the trend," he says.