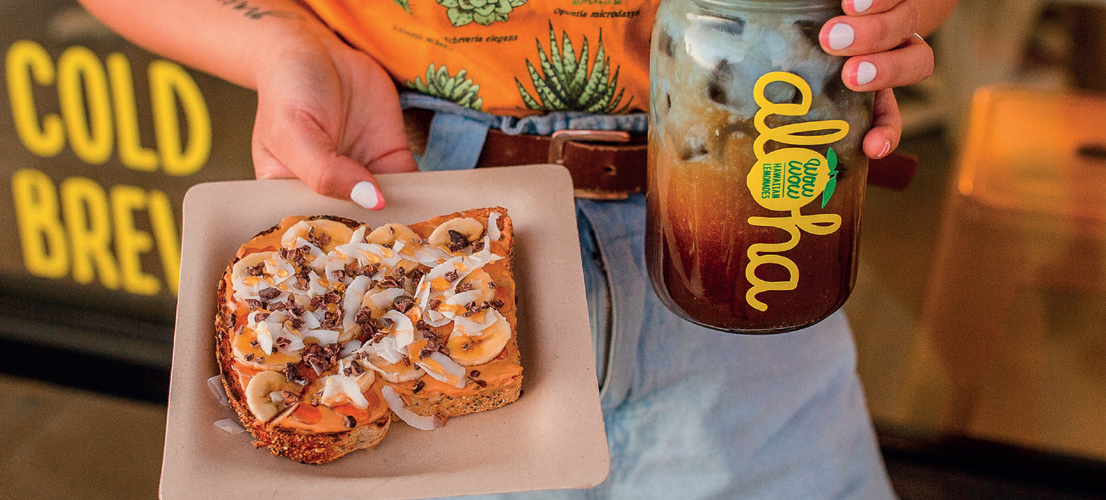 Wow Wow Hawaiian Lemonade Stand
The spirit of aloha
On the cusp of celebrating its ten-year anniversary, Wow Wow Hawaiian Lemonade is a beloved name that continues to grow internationally, while remaining synonymous with community, dedication and delicious refreshments
It may not be widely known that aloha means 'breath of life'; the essence of its translation embraces a way of living that revolves around community and togetherness. "People who visit us think that it's a greeting, but it's actually so much more than that. We are welcoming them with our values, spreading aloha in our communities, and that is what we capture within the Wow Wow Hawaiian Lemonade business. When you walk into any of our locations, you can expect a warm aloha welcome, and a unique energy and effort that goes into the preparation of our products that we believe in wholeheartedly. Not only that, we share that same excitement with our staff, our communities and the charities we support, because that is the spirit of aloha," says Tim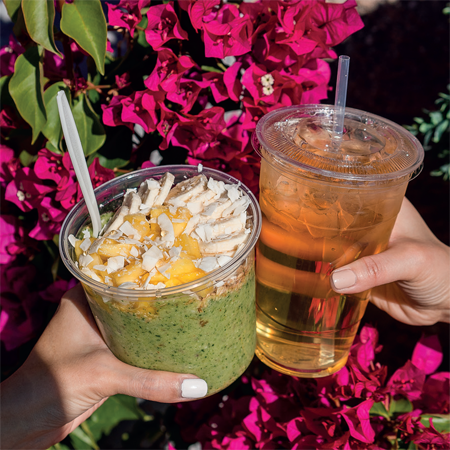 Weiderhoft, the CEO of Wow Wow Hawaiian Lemonade Stand. He discusses with us the specialty of his company's craft and how it has succeeded in sharing fresh and delicious products for Hawaii and beyond.
"We use only 100 percent pure organic cane sugar, and we also offer a monk fruit sweetener option, which is a fantastic substitute for those who are diabetic or trying to watch their sugar intake. In addition to that, absolutely everything we use is natural and excludes food coloring and dye; all our ingredients are fresh and hand-pressed. We love having customers come into our locations and watch how we prepare their orders, because I feel that having an awareness of what they're putting into their body is very important, and although looking at healthier alternatives isn't a new thing, getting it in a quick service restaurant that makes it easy and frictionless for our customers to consume whole foods is a big game changer," he shares.
Fantastic partner network
When it comes to blending together a fresh menu, Wow Wow believes in crafting unique flavors, relying on seasonal fruits and vegetables. "We have 15 hand-crafted lemonade flavors, which excludes the fact that our visitors have the ability to customize from those ingredients. Added on to that, we have about 50 additional recipes that we grab out the cupboard as the seasons change. For example, coming up for September, green chiles are thriving, and accordingly, we have a hatch green chile lemonade, which is exceptional. It has a beautiful evanescence as far as the smell of the chile is concerned, and although it has a bit of a stronger flavor, it is still smooth and thirst quenching. This is why we are constantly looking at different methods to utilize ingredients in a way that brings unique flavors, while also maintaining a gorgeous aesthetic," Tim shares.His personal favorite is the butterfly pea flower mojito, which hosts a strong mojito flavor, and a lovely rich purple color that ombres into a cascading drink similar to that of limeade. But how is that achieved without the assistance of food coloring? "Well science is a beautiful thing and when you take water and heat it to boiling with butterfly pea flower stirred in, it will turn a blue liquid. When the blue liquid hits the citrus of the lemonade, it actually turns it purple and so you get this stunning looking drink that also tastes exceptional," Tim explains.
Wow Wow is not only passionate about innovative drinks, it is equally motivated to provide delicious and nutrient-rich food to its menu. "Basically, we do way more than lemonade, because we support greater philosophical values that underpin a healthy lifestyle. We also offer an assortment of gourmet toasts on thick single slices of multigrain bread with a range of ingredients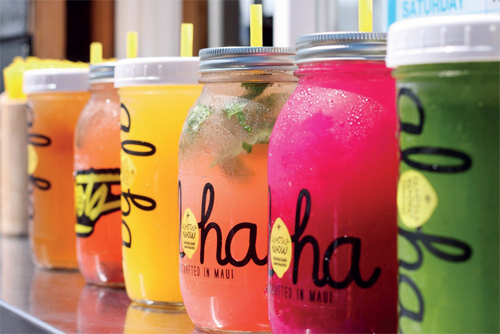 from something as simple as chili, lime, and avocado, all the way to more complex tastes like a coconut peanut butter with banana cacao nibs, coconut chips and honey. We also have our lilikoi butter toast – 'lilikoi' is Hawaiian for passion fruit – but one of our best sellers is the Blue Hawaii smoothie bowl, which has a base of banana, mangos and pineapple, and has a beautiful blue color, because we use blue spirulina, and then we sweeten it with dates, which again, eliminates added sugars. So, it looks and tastes delightful, while still maintaining excellent health benefits," Tim says.
While one might assume that innovation regarding these ingredients would reach an expiry date, the Wow Wow team employs a crew of franchisees who are creative and ambitious to bring refreshing ideas to the business. "Our network is so important to what we do; they're the ones who keep our menus enticing so we can provide original dishes with the greatest of quality ingredients. For example, we are bringing out our pumpkin spice cold brew, which is actually flavored with Kona coffee that we import from a partner on the big island of Hawaii; we are very excited about that. Another one is the pumpkin spiced nut butter toast, which tastes very much like pumpkin pie, but its light and quicker. We will also roll out a new avocado egg salad flatbread sandwich that doesn't have mayonnaise because the fattening portion is replaced with good avocado fat, added with a touch of sriracha, tomatoes and some green leaves in – I think it's very tasty and was an idea from one of our franchisees. We will also roll out our OG Dream Bowl, which is an orange and ginger mixture. The beauty of it is the ginger profile is quite subdued, rather than overpowering. So, you will see new menu items from us for the balance of the back end of this year as well as another one or two stores that will open, none of which would be possible without our fantastic network of franchisees, corporate team members, and vendor partners," he shares.
Creating communities
The culture of community curated at Wow Wow has long been embedded into the business' history, and innovation to create concepts like this actually originated with the inception of the company when nearly a decade ago, on the island of Oahu, the founder took the initiative to care for the people around him. According to Tim, the founder started making lemonade for farmers' and night markets across the island as an additional measure to make ends meet. While enjoying the natural beauty that Hawaii had to offer, he found that the success of his lemonade stand was superseding his regular income, and decided to jump all in. In 2013, he and his wife moved to Maui and the first Wow Wow Lemonade Stand opened up in Kihei. "That first brick-and-mortar location led to a chance meeting with another gentleman who soon became the company's partner in the island of Japan, which then led to the opening of two new locations," Tim divulges. "Considering how well the business was growing, the founder was approached multiple times about the possibility of franchising, but he knew that in order to do so, he wouldn't be able to do it on his own. This was when he moved to Arizona in 2017, and also when I entered the picture; I was very lucky to work with him. First, I became a consultant for the brand between 2017 and 2019, because at the time, I was working as the Vice President of Franchise Development for a different company.
"Personally, I fell in love with the business and decided to become a franchisee myself. So, I opened a stand in early 2019 in the North Phoenix area, and soon after, my business partners at C&G Franchise Development asked for a meeting to see it and they also immediately took to the concept and the vibe of Wow Wow. A couple of days after our meeting, the gentleman who is now my Chairman, wanted to know if the founder would be interested in selling, and because the founder wanted to be more involved creatively, rather than logistically, he said yes! Following a few months of negotiations, we acquired the brand in September of 2019. We opened three more locations in 2020 and another three in 2021, which brings us to ten locations domestically. At the moment, we have an additional 47 sites in development, which means that we are going to have a huge year coming up with new franchisees joining us. The cool aspect to Wow Wow is we don't just build restaurants, we also create communities, which is very in tune with Hawaiian culture. We are opening in new markets, like Reno, which we opened last weekend, and that will be our ninth store. We also opened in Tucson at the end of August, which is store number ten then we will have two stores opening in Las Vegas, two in Dallas and San Antonio and potentially one more in Northern California all in the next few months," Tim informs us.
And growth is really all the company is determined to keep in its cards, with more than 20 locations set to be up and running by the end of 2022 – an impressive doubling in size of the business across a single year. "We are super excited about the journey we're on and to think that it all started nine years ago as an idea to make some extra money. Now, Wow Wow has snowballed into this successful venture that is doing incredibly well within the communities we serve," he expresses. With the help of a dedicated team passionately sustaining the ethos of togetherness instilled by its founder, the Wow Wow Hawaiian Lemonade Stand looks set to continue the spirit of aloha for many years to come.
www.wowwowhawaiianlemonade.com