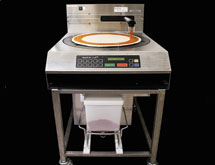 As one of the leading providers of dispensing equipment to bars and restaurants nationwide, Wunder-Bar has a unique challenge to overcome: dispelling the notion that high quality means high cost. In fact, President Rick Martindale is tackling the misconception head-on to ensure potential customers realize that the return-on-investment in its products can be as short as 10 to 11 months.
"Lots of people assume that they can't afford Wunder-Bar products, and I think it's because we're well known for the quality of our products," Martindale says. "However, there aren't many pieces of equipment out there that have as fast of a return-on-investment that some of ours do."
The Vacaville, Calif.-based company prides itself on its fast turnaround times and successful custom products developed in partnership with clients. "I don't think a month goes by that a customer doesn't come to us to develop a custom product or system for them," Martindale explains.
Big Benefits
Wunder-Bar was founded in 1968 as a manufacturer of a liquor dispensing system used by bars and restaurants across the country. From there, Wunder-Bar's product line evolved into soft drink, beer, condiment and sauce dispensers. "As long as the product is a liquid that can be pumped, we can develop a system for it," Martindale adds.
While best known for the Wunder-Bar flexible hose dispenser (bargun), one of its most successful products in recent years is the Wunder-Bar pizza sauce dispenser, which improves product quality and consistency, eliminates waste and reduces labor costs for its customers. "Pizza restaurants can lose a significant amount of money due to the mixing and application of sauce by employees who cannot consistently mix the concentrated sauce with water and apply the correct amount of sauce on the pie," Martindale says.
In today's economy, equipment that can save restaurants money is more in demand than ever. The challenge for Wunder-Bar is to ensure potential clients understand the benefits of its equipment. "These products are a tough sell, because oftentimes restaurant owners and managers just don't believe they really need it," Martindale says. "Restaurants will not think twice about purchasing a new oven, because there is no other way to cook the food. Our products add to the bottom line, but often people tend to be penny-wise and pound-foolish. Gaining acceptance in the industry with our specialty products has been our biggest challenge."
Although a couple of the new Wunder-Bar products are not quite at the threshold of widespread industry acceptance, the company has been gaining more exposure as restaurants begin to understand the potential benefits. "We're trying to come up with products that people need – not just because we think they do, but because they think they do," Martindale explains. "This has a good deal to do with problems the restaurant or bar owner/manager encounters. We can almost always find a dispensing solution."
One of its more recent innovations is a hot cheese dispenser, which improves both the quality and safety of the products. "The important feature of this product is that it allows restaurants to move away from heat lamps, which eliminates most or all of the sanitation and quality issues," Martindale explains. "One of the problems with viscous products like hot cheese is getting all of it out of the container, but this new dispenser can evacuate all the product. The restaurant gains revenue from the additional cheese that they realize, faster service to their customers, along with an easy-to-clean, automated dispenser. We've seen some very positive results from this product so far."
The company's diverse product line is complemented by local service availability, and a warranty plan that ensures that Wunder-Bar products continue to deliver results, long after the sale. "Nobody can design a better piece of equipment and service it after the purchase better than we can," Martindale explains. "It's also part of our culture that the customer is always right, and that we do everything we can to make sure they're satisfied with our products and ongoing service."