Each element of who I am plays a role in how I personally think about Yellow Banana and its mission statement," asserts Ademola Adewale-Sadik, one of Yellow Banana's four Co-Founders. "Yellow Banana's mission is to deliver essential nutrition to working families at affordable prices. Each of us have in some way been on the receiving end of the socioeconomic realities that our customers deal with daily, so we truly 'understand the assignment,' so to speak. We care about our communities in direct and tangible ways."
Yellow Banana is a grocery retail platform that operates under a triple commercial mandate of addressing food access, job creation and economic development for the benefit of three key stakeholders: customers, colleagues and communities. Yellow Banana provides underinvested communities with dignified shopping and employment experiences to enhance quality of life and gradually tackle the damaging impact of socioeconomic inequities, specifically food insecurity. Yellow Banana is owned by 127 Wall, a holding company formed by the Yellow Banana Co-Founders.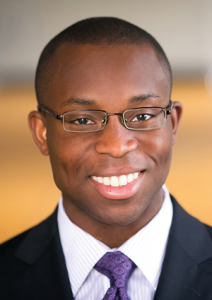 The company was founded in 2021 by three long-term friends – Michael Nance, Walker Brumskine, and Ademola— and Joe Canfield, a seasoned operator in the grocery sector. "We were some of the only Black guys at Yale Law School and we became fast friends," says Michael. "Even though we were from geographically dispersed areas – Ademola immigrated from Nigeria, Walker's heritage is from Liberia and I grew up on the urban east side of Cleveland – we all shared similar backgrounds and spent a lot of time considering how to make an impact in the communities we deeply care about."
The loss of Walker's father and Michael's mother, as well as the Covid-19 pandemic, plunged that conversation into new depths. "We realized that life is extraordinarily brief; we thought we would go off and share the riches with the people we love, but that isn't always the case," Michael states. Instead, Yellow Banana incorporates the Founders' careers and expertise, while speaking to deep, personal missions to tackle injustices and establish food stability across the US.
To elaborate: Michael, Ademola, and Walker's private sector skills in law, business, and private equity investing, together with Joe's extensive experience in the grocery industry, created the ideal environment to form Yellow Banana. "Knowing who I knew from the industry and working with the folks at Save A Lot, I found out about this opportunity for retail partners to acquire some of their stores," explains Joe. "Then, as Michael and I had a personal relationship from moving in similar circles in Cleveland, he introduced me to Walker and Ademola and one thing led to another."
Yellow Banana initially purchased 32 Save A Lot stores and now operates 38 premises under the same banner, with plans to further expand. Its footprint spans five states: Ohio, Illinois, Wisconsin, Florida, and Texas. "There are a lot of neighborhoods in the Midwest that need our help, so we are focused on growth in those states," says Joe. "However, we feel like we are building a model that we can replicate with other local governments in other locations when the time is right."
Michael expands: "We are excited to enhance our impact in communities in which we already operate. For example: in Illinois, we have been able to pair a $13.5 million grant from the City of Chicago with over $20 million in New Market Tax Credits allocation to acquire and refurbish stores across the City."
This unique ability to harness public dollars, and partner this with private dollars to create effective, meaningful support for communities, sets Yellow Banana miles apart from its competition. "There are three parties in our investments," Walker explains. "There are private sector dollars, so banks or equity investors, then public sector dollars in local governments, and social sector dollars, such as nonprofit. We look for opportunities where all three can ideally play together."
Community engagement
In addition, Yellow Banana has recently partnered with Flashfood to place inventory that would otherwise be discarded onto the Flashfood app at discounted prices. "We will always seek continuous
improvement with respect to inventory purchasing, but some items will always expire," Ademola highlights. "Flashfood enables us to offer products before their sell-by dates to a wide range of customers across all socioeconomic demographics through a mobile app. This not only provides customers with discounted groceries, but it also minimizes both food waste and the costs associated with inventory losses."
So, Yellow Banana's mission is to bring healthy, affordable food options to working class communities, but how does it decide which communities to operate in? "Our partners, particularly Mari Gallagher, the expert who first popularized the phrase 'food desert,' create models that help us identify food-insecure areas," Michael reveals. "She has data that enables us to see how many meals are missed in communities most in need, so we harness these analytics to make informed decisions about where to pursue opportunities for new stores."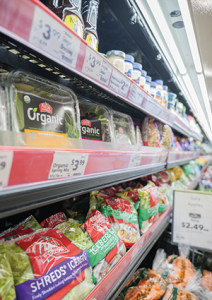 Walker adds: "We started our journey at grocery stores because that industry, more than any other, sits at the nexus of all the social issues we are trying to combat. There are few sectors that simultaneously address racial inequality, unequal healthcare access, low-income communities, or the many other forms of discrimination."
Since its inception, Yellow Banana's community engagement has exceeded its original plan. "We are proud of the community aspect, but we didn't totally foresee the company's continual emphasis on community," says Michael. "We have done a lot of listening and explaining to locals that not only has the leadership at Save A Lot changed, but also that we as a retail partner are independent and localized, with a real stake in seeing stores succeed."
Returning to company's triple commercial mandate – food access for Yellow Banana's customers, job creation for Yellow Banana's colleagues and economic development for Yellow Banana's communities – Ademola explains how Yellow Banana's in-store colleagues "typically live near Yellow Banana's stores, and their families and friends shop there. In addition, a grocery store serves as a 'community anchor tenant' that attracts commercial activity, ensures that schoolchildren don't sit in class unable to focus due to hunger and otherwise promotes positive socioeconomic development on a community level." Localized employment opportunities have resulted in a diverse workforce, with women making up over half of store managers, and most employees being Black or Hispanic to reflect the communities in which they work.
Call to action
Joe is particularly passionate about the human impact of his work, which has been engrained in him since his early career. He adds: "We encourage staff to be entrepreneurial and give them responsibilities to enhance pride in their work. While we push them to work hard, we want to take care of them because at the end of the day, we don't do heart surgery, we sell green beans!"
Turning to the future of the company, Michael states: "We have a model of public and private partnership, a method of community engagement, and the tenacity to figure out tough problems. We want to ensure we are addressing social issues related to food insecurity, so for instance, working towards adequate housing and better transportation." Walker adds: "We hope to expand to other areas and continue securing funding to invest in deprived communities."
Joe believes that Yellow Banana is a platform for both people and businesses to contribute to ending food insecurity. He states: "Our call to action is to the vendor community. There is excess capacity out there and lots of passion to enhance food security in our country. We are here and ready to talk with anyone who shares our mission to help people in underinvested communities."
"We see ourselves as our customers," Michael concludes. "I am the kid who grew up in Cleveland going shopping with my mom at one of the stores that is now in our portfolio. We identify with the people we serve, so we genuinely want the best for those communities."
Michael reminds us that although Yellow Banana is a fine example of a company that remains true to its roots, it is so much more than a business. It is a community hub and an inspirational model for us all to
follow in targeting the issues we are deeply passionate about. Beyond that, Yellow Banana is testament to the notion that community, friendship, and love can conquer all