Yoshida Foods International
Junki Yoshida believes great success can come even at times of great struggle. In Yoshida's case, an economic recession nearly 20 years ago led directly to the formation of an international sauce and manufacturing business that is going strong during another recession.
In 1982, Yoshida – then a karate instructor for the Oregon State Police Academy and other police training programs – lost many of his clients to training budget and hiring cutbacks caused by the deep recession of the early 1980s. "I struggled and wondered, 'How is my family going to survive?'" he says. "I realized later that whenever there is a crisis, there is always opportunity."
For Yoshida, that opportunity revealed itself when his wife suggested they give bottles of teriyaki and other sauces made from family recipes for Christmas gifts that year. The Yoshida family had developed the sauce recipes in the 1930s in Kyoto, Japan, for use in their steakhouse restaurant. The business became successful in large part because of the taste the sauces brought to dishes such as Yakitori (grilled chicken kabobs) and Yakiniku (grilled beef short ribs), Yoshida says.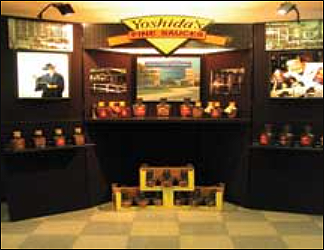 Several recipients of the gift, including one of Yoshida's police academy students, were so impressed by the sauce they asked him for more only a month after Christmas.
"It was an interesting situation," Yoshida remembers. "I told (the student) he was supposed to wait until next year, but he said, 'No, we'd like to pay you for it now.' It hit me right then, they wanted to buy the sauce; that was the beginning.
"I was beating up cops at the police academy, and now I had my own business," Yoshida adds with a laugh.
Expanding his Base
Initially, Yoshida brought the sauces to small independent stores and started an in-store demo program. He says he found a "savior" in club retailer Costco, which was launched at almost the same time as Yoshida's sauce business.
"They had only two stores at the time," Yoshida says. "As they grew, my company grew."
Today, Mr. Yoshida's brand sauces are carried in major club and grocery chains, including Sam's Club, Albertson's and Safeway. Another major breakthrough for Yoshida came 10 years ago when Heinz U.S.A. purchased the brand and distribution rights to his sauces in North America. "It's a wonderful partnership; Heinz are very honorable people," Yoshida says.
Outside of North America, Yoshida retains the brand and does direct distribution of his products around the world, including Australia, the United Kingdom, Taiwan, Korea and Japan. While today's economic conditions are similar to those that gave rise to Yoshida Foods International, Yoshida says his sales are increasing, especially in the club retail market.
"Believe it or not, when the economy is down, our sales increase because people cook more in their home," he adds.
Yoshida Foods International is recognized as a Minority Business Enterprise organization by the Northwest Minority Business Council.
Production Capabilities
In addition to the sauce line, the company is also active in private label production, liquid manufacturing and packing for other companies. Yoshida's staff works with East Coast brands looking to expand their distribution and production in the west, he says.
In addition to producing other companies' barbecue, pizza, pasta and other sauces, Yoshida's Portland, Ore., production plant is equipped to produce teas, juices, sodas and other products. The plant  is certified Kosher as well as maintaining Organic Certification.
"We produce anything to do with liquid." Yoshida says. The plant's bottling machines can produce up to 250 bottles of carbonated drinks and 160 bottles of sauce every minute.
Yoshida uses three 1,500-gallon mix tanks and a 275-gallon tank for cooking sauces in a traditional, slow-cooking method. This helps give them their "very distinguishable flavor," he says.
"We don't use a quick heat exchange cooking method, which a lot of people do," according to Yoshida. "We let the sauce sit longer – the way it would be made at home."