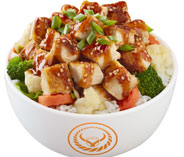 Many fast-food restaurant chains use discount promotions to reel in consumers still stinging from the recession. Yoshinoya America Inc. – a Japanese bowl fast-food concept with 1,759 locations in California, Las Vegas and around the world – has taken the opposite approach. Instead, it touts the use of fresh ingredients and its commitment to authentic Japanese meals to bring its customers back.
According to Executive Vice President Manuel Villareal, Yoshinoya America Inc. doesn't have to produce anything new to get this message out. All it takes, he says, is focusing on what Yoshinoya has done all along since the concept first landed in Los Angeles in 1979.
"We want to tell customers about what Yoshinoya is, what we do and how we do it," Villareal says. "We developed the tagline 'tastes better because it's cooked fresh.' We're always cooking and we don't have a process where our food sits for an entire day, but we never told our customers that in the past.
"We also never told customers, 'Our bowls are better than theirs,'" Villareal adds. "Instead, we tell the customers that Yoshinoya is the first company that brought a meal in a rice bowl to America. Our approach now is to tell customers about the good things we do here."
With a history that dates back to the 19th century, there is plenty of backstory to share with customers. The first Yoshinoya restaurant opened in 1899 in Tokyo, where it introduced its signature beef bowl before expanding with more quick-service restaurants.
Today, the company's menu is based on the fresh ingredients featured in its Beef Bowl®, Chicken Bowl, Combo Bowl and varieties of other Japanese favorites. Yoshinoya says it serves 700,000 bowls every day around the world.
It may have taken the first quarter of 2012 for customers to latch onto the new marketing strategy, but Villareal says Yoshinoya consumers have come back with a vengeance now that the company focuses on its branding instead of discount promotions. Yoshinoya also launched an expanded menu that includes healthful choices and spread the word through an aggressive advertising campaign on television and radio outlets.
"The expectation was by July, we would be back with couponing," he says. "Instead, I did nothing. In the beginning, it was kind of tough, but right after that, we've seen a little more loyalty from the people coming in."
Simple, Sweeping Changes
Along with focusing its marketing message on authenticity and freshness, Yoshinoya has made small yet important changes throughout its menu with the help of its first corporate chef. After taking over the R&D department in early 2012, Villareal hired Roy Alamillo to help revamp Yoshinoya's menu.
Alamillo has not made widespread monumental changes to Yoshinoya's offerings. Instead, Alamillo has focused on small tweaks of existing items that improve the taste or presentation of already popular dishes. For instance, with Yoshinoya's gyozas – Japanese-style dumplings – Alamillo recommended adding a simple sauce to this order, and Villareal says it worked perfectly.
"Sometimes, a little change doesn't make a lot of difference, but sometimes it does," Villareal says. "Whether it's how we cook a product or the combination of sauces, every time we have changes, it has worked."
In May, the company launched a new concept – Asiana Grill Yoshinoya® – which is a create-your-own menu restaurant. The first location opened in Fullerton, Calif., and its second one in Los Angles in August, and the concept should be available for franchising soon.
Villareal says Asiana Grill Yoshinoya® is meant to cater to customers who prefer to customize their meals. This makes the customer the "boss," he says, and they have trained chefs able to deliver exactly what the boss wants. These units will be larger than the original Yoshinoya locations – 2,400 square feet vs. the typical 1,900.
"Yoshinoya is very good with its rice bowl menus, and even though we do a lot of customization, it isn't completely customized," he says. "Asiana Grill Yoshinoya® [is where] the customer can do whatever they want. They can create their own meal however they want it with different ingredients, just the way they like it."