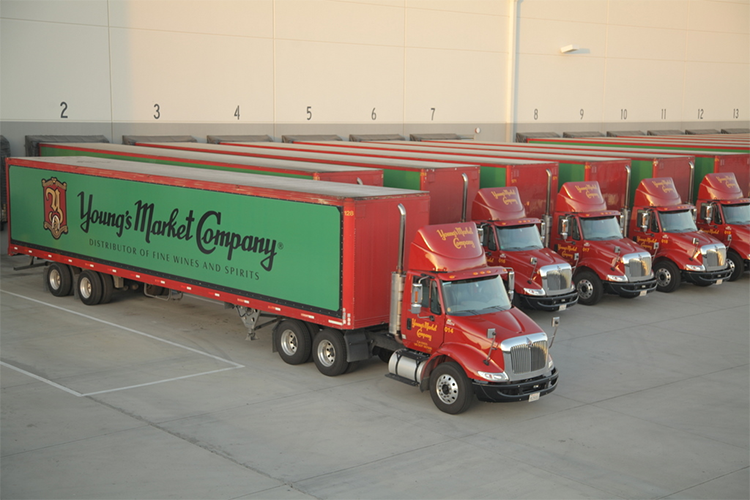 Young's Market Company distributes a wide variety of spirits, wines and beer to its customers.
Contrary to its name, Young's Market Company is an old timer in the food and drink industry.
Founded in 1888 by CEO and President Chris Underwood's great-great grandfather, the business started out as meat and groceries outlet. The California-based company grew into a chain of 60 neighborhood retail markets by the 1920s.
In 1933, with federal prohibition ending, the stores began selling wine and spirits. By 1940, the company sold off its retail stores and focused solely on wholesaling food, wine and spirits to retail outlets. "Back then, we delivered quality grocery products in our shiny red trucks," Underwood says. To continue this legacy, Young's Market Company currently has a fleet of red trucks that deliver product to bars, restaurants and grocery stores.
In 1992, when Underwood's father took over the business, Young's Market Company sold its food division to completely focus on wine and spirits. "We're celebrating 130 years in business," Underwood boasts. "Today, we represent 500 different wine suppliers with 3,600 different wine brands as well as 250 spirits suppliers with more than 1000 brands."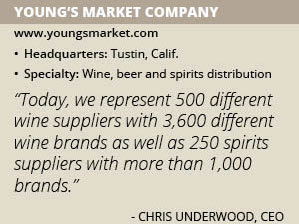 Young's Market Company also offers craft and specialty beers, sake and other beverages. It has operations in Alaska, Arizona, California, Hawaii, Idaho, Montana, Oregon, Utah, Washington and Wyoming.
Young's Market Company sells products to licensed retailers through field and inside sales teams, an online portal, and Express stores, and the company provides its retailers with marketing support. Moreover, Young's Market Company strives to educate its retailers about all aspects of the products they distribute. The company offers invitations to tastings, seminars and special events to further its customers' knowledge.
Educating Retailers
The distributor's Estate Group is a team that consists of 125 of the wine industry's top professionals. "We believe that the wine business is a people business," says the company. "With each wine there is a story, a wine maker and a sales team that delivers on each and every bottle."
Young's Market Company recently introduced a "Wine Wisdom" column on its company blog and social media. In it, the company's Senior Director, Wine Training and Education, Chris Coon, explores various types of wines (e.g., sparkling wines are currently featured) and how they're produced. There are also some producers' sparkling wines showcased along with their flavor notes. Coon also, "creates and teaches programs to onboard new sales associates," the company says.
Within the company's portfolio is a wide range of craft spirits available through its distribution channels. A copy of its Craft & Luxury Guide, which lists a variety of different spirits, from vodkas to whiskies to specialty liqueurs, is available on its website. This guide gives a brief background on each of these spirits and lists the variety of spirits available along with their flavor notes and characteristics. Additionally, various distilleries are spotlighted and specialty cocktails are featured throughout the guide. The company also represents craft beer brands in Arizona, California and Hawaii.
Giving Back
The company has created The Underwood Family Foundation to give back to the community. The Adrienne and Vernon O. Underwood scholarship program, which awards scholarships to Young's Market Company employees' children, was named after Chris Underwood's grandparents and has assisted nearly 170 students since 2001. The company's campaign to rebuild Napa and Sonoma gifted $200,000 to help restore homes leveled during 2017's Northern California wildfires. Young's Market Company also contributed to Sonoma State University wine business institute for its new Wine Spectator Learning Center, a 15,000 square-foot learning center that features advanced technology classroom, a student commons and garden, and a collaborative space.
"Many wineries are family-owned operations," Underwood says. "The fact that Young's Market Company is a family-owned business means we understand those types of businesses and treat them just like family." He adds that makes them able to have transparent, open dialogue about solving any issues.