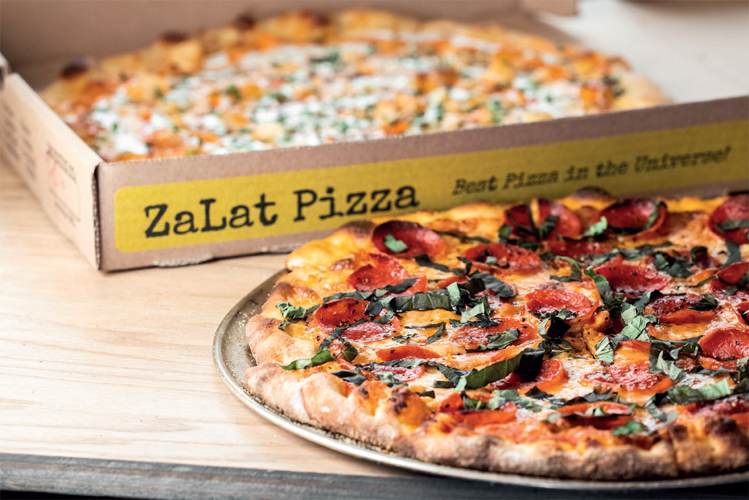 A pizza the action
Never afraid to do things a little differently, Zalat Pizza is growing across Texas thanks to its innovative, high-quality menu, late opening hours, and passionate band of pizza 'Zealots'
Somewhat unconventional in its rise to the top, Zalat Pizza has mirrored the journey of its Founder, Khanh Nguyen. A self-described 'accidental restaurateur', Khanh's career path meandered through law and software design before, in 2012, he discovered his passion – food.
"In 2012, I was doing a lot of cooking at home when I finally decided to open up my own late-night Vietnamese restaurant," Khanh says. "Two years later, a pizza store became available next door, so I decided to take it over and try my hand at pizza."
After spending six months developing its recipe and designing its menu, Zalat Pizza opened its doors in April 2015. The company has been growing ever since.
"Back in 2015, before we opened, we made a batch of dough a day for six months as we worked on our sauce, on our cheese and on a bunch of different recipes," Khanh reveals. "Today, we have a really strong crust, fresh pizza sauce every day and premium ingredients like 100 percent beef pepperoni, which I think adds a lot more flavor than regular pork pepperoni."
As Khanh suggests, Zalat excels at the basics, but the company also offers a large range of unique specialty pizzas. These include the Elote, a Mexican-inspired pizza with a Srirancha (its own trademarked house blend of sriracha and ranch) base, and the Loaded Notato, a pizza with blue cheese, bacon and a variety of common loaded baked potato toppings.
"We now have around 20 specialty pizzas on our menu," Khanh confirms. "We usually don't pay that much attention to trends or anything, we tend to trust our own creations, but we did recently add a new pizza to the menu that is a very hot item right now. Consisting of crunchy pickles, chicken and red onions slathered in sweet and spicy Nashville hot sauce, the new pizza was suggested to us during our design phase. We tested the flavor, put it on the menu and it has proved very popular over the last three months."
Remaining resilient
The rapid success of Zalat's Nashville Hot Chicken & Pickles pizza is reflective of the company's wider growth of late. As the company prepares to open its 14th location in the Dallas-Fort Worth area later in 2021, it already has seven further stores in development, including three sites slated to open before the end of September.
"We are starting to open up in different cities," Khanh states, "and we expect to open four or five stores in Houston over the next eight months. We do an extremely high volume at our outlets, despite working from a small average footprint of 1500-square feet per store.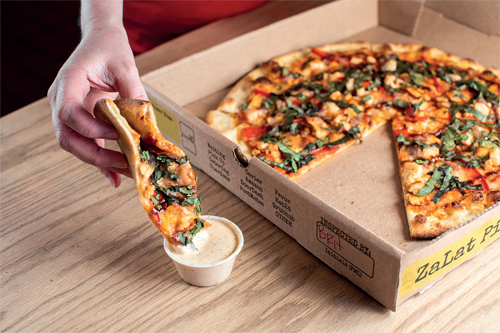 "One key differentiator for Zalat is that we open late, sometimes as late as 4am, at which point we are only really competing with factory-style chain stores. Even late at night, our high quality is never diminished because our product is handmade and we don't use a conveyor belt system like the larger brands."
In order to provide the best pizza on the market across the Dallas-Fort Worth area and beyond, Zalat relies on two key groups of people – its suppliers and employees. Regarding the former, Zalat's supply chain has remained resilient during the Covid-19 pandemic and relationships with suppliers like Sysco have allowed the company to continue serving its valued customers throughout. When it comes to the latter, Khanh has always known that he can rely on his passionate, hardworking team of Zalat Pizza 'Zealots'.
"We have engineered our business model around taking care of our employees," Khanh declares. "Known as Zealots, our team members – from the cooks to cashiers – are offered full benefits, as well as stock options, which is quite unusual, but we want to go above and beyond, making sure that everyone gets a slice of the pie. We are all on the same mission to make this company great, so we believe it is important to share the wealth."
Along with the impressive, more conventional package of benefits that Khanh lays out, Zalat – unsurprisingly given the inimitable character of the organization – offers its staff some more unusual perks too. "After a year of working at Zalat, we will actually pay for employees to have a tattoo of our company logo," Khanh notes. "It's something quite different from the norm, but it emphasizes our common mission."
Growing rapidly
This mission continues for Zalat and its Pizza Zealots in 2021. After doubling in size during the pandemic, the company now hopes to bring its innovative menu and much-loved customer experience to more pizza lovers across Texas.
"Our sales are increasing, we are growing rapidly and, as I mentioned, we are adding new stores," Khanh reports. "In the modern world of third-party delivery, of which we are a key utilizer, people have access to every restaurant in a city, so it's no longer about having a thousand-item menu that caters for everyone, but about focusing on your core product and making it the best product out there.
"In our case," Khanh adds, "we are a pizza specialist and 91 percent of our sales are pizza. We've discovered a niche in the American restaurant market, which is really high-end pizza delivered by a casual brand that is open until 4am, and that is what we do well."
The next few years are all about growth for Zalat, as the company looks to maintain high quality in its outlets, whilst increasing the speed of its new store development. "Our plan or model is to run as fast as we can for as long as we can keep the quality of our pizza and the quality of our service at the level it's at today," Khanh proclaims. "If quality is ever in question, then we will stop expanding, but for now at least, our number one item is to increase in size.
"Ultimately, in three-to-five years' time, we aim to be a lot larger. We are going to stay heavily focused on Texas because we have a presence in three large metropolitan areas there that we are hoping to grow and build upon. Once we have increased revenue, and assuming that our product quality is under control, then we will look to expand into other states. Beyond that, at some point in the next five years, we will hopefully be looking at taking the business global."
www.zalatpizza.com