Ziegenfelder prides itself on making high-quality treats any family can afford.
Ziegenfelder Co. puts a lot of effort into supporting its employees. In addition to providing quality equipment to help them be successful in their jobs, the flavored ice pop maker provides training that can be carried to future jobs along with competitive benefits and incentives.
Each Thanksgiving, Ziegenfelder gives every employee a turkey and on Christmas they received $25 gift cards to Walmart. The company has always taken pride in its employees, but Vice President Barry Allen says he's not sure how many of its workers realize how valued they truly are. He says 2017 is going to be the year they find out.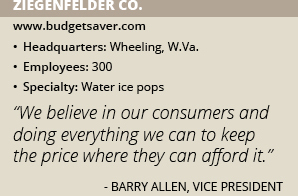 "We care about our employees greatly and we've made a commitment to our employees this year by adopting a strategy of 'better before bigger,'" Allen says. Ziegenfelder recently hired a "chief people officer" to oversee and implement several new employee-focused initiatives, such as a program to hire former prison inmates trying to reintegrate into society. "Our people are why we are successful," Allen says. "They are the ones that put the product in the bag that goes to the store that the customer sees every day."
Cost Conscious
Ziegenfelder started in 1861 as a candy maker before getting into the ice cream business. But ice cream is an expensive product compared to ice pops and too costly for many families to enjoy on a regular basis. In the 1980s, then-owner Charles Lando helmed a new direction for the company and transitioned it into the ice pop business. "He said people deserve a high-quality product that tastes really good and doesn't cost a lot," Allen says.
Lando's goal was to reduce as much as possible the costs around the production and distribution of ice pops without compromising on taste. The company chose to start with twin pops because other twin pop manufacturers had gone out of business, yet twin molds were the only molds the company had. Today, the Budget $aver brand is one of the few remaining twin pop makers on the market, giving the company's products a memorable look.
Other production decisions were also made with costs in mind. One of the most expensive aspects of production was packaging. Lando realized he could trim costs by foregoing traditional cardboard boxes in favor of clear plastic packaging.
What started out as a cost-cutting move turned out to be an advantage for the company. The see-through packaging allowed customers to view the actual product before purchase, so if a stick was broken or a flavor discolored they could simply buy a different package instead of being disappointed with sub-par quality once they got home.
Lando developed a mix of sugars and stronger flavors. The vibrant colors spoke to kids and adults alike. "When people eat them the flavor 'pops'," Allen says. The amount of flavor in a single bag has only increased over the years. Instead of limiting customers to a few options for each purchase, Ziegenfelder puts all six flavors in every bag, creating a truly multi-colored look that led to the creation of the company's "Rainbow Array®" clear packaging.
Lando's daughter, Lisa Allen, Barry's wife, took over the company in 2003 and immediately set out to strengthen its presence on the West Coast. Today, Budget $aver twin pops and other Ziegenfelder products are found in most major retailers, including Walmart, Kroger, WinCo, H-E-B, Safeway and Albertsons. The company produces more than two million water ice pop each day in its three facilities in Wheeling, W.Va., Chino, Calif., and Denver. Barry Allen says the company has averaged double-digit growth for 17 straight years.
Ziegenfelder may watch its pennies, but its ice pops are by no means a low-quality product. Allen says the company's commitment to driving down costs enables it to keep prices low for all consumers. The inexpensive price – $2.16 for a bag of 18 at many retailers – means that families at any income level could enjoy the treats.
Ziegenfelder keeps those prices low by closely watching its spending. The company buys sugar ahead of time to avoid price hikes, and employees frequently fill multiple roles. Allen recounts a recent meeting with a marketing firm that was shocked to learn that Ziegenfelder's social media person also handled graphic design, public relations, marketing and photography. "We really get a lot out of our organization where we can."
That careful hold on spending gives Ziegenfelder the flexibility to keep prices low even when supplier costs increase. Take for example the sugar shortage of 2012. Many ice pop producers immediately raised prices to adjust for higher sugar costs, but Ziegenfelder waited until after the summer selling season to increase the price of its pops. Allen says the move didn't make much financial sense, but customers appreciated the delay. "We believe in our consumers and doing everything we can to keep the price where they can afford it," he adds.
Staying Focused
Most companies in the market are ice cream makers that have a side business in ice pops. Ziegenfelder is a purely ice pop business. As such, the company is focused on its core product line, recognizing the products that are outside the company's core competencies.
Sometimes that means letting go of a market. This year, Ziegenfelder is ending its line of fudge and orange cream pop products. Making those items required a different process than the company's core water ice products and put a strain on employees. Eliminating the line will allow the company to better streamline water ice production. "By getting out of cream and fudge we'll be able to run our equipment more efficiently," Allen notes.
Even as it gets rid of two product lines, Ziegenfelder continues to look at what's next. The company is introducing two new products this year: Fan Favorite, a single-flavor package that will start with blue pops but rotate to other colors in future editions; and a complete bag of root beer-flavored pops.
Further, the company is bringing its popular Red, White and Berry Blast pops to Dollar General stores. The move will not only increase the distribution of the American-flag colored pops to 14,000 new locations, but it will heighten the company's charitable efforts. A percent of each sale is donated to Operation Homefront, an organization that supports military families. Ziegenfelder has given an average of $25,000 to Operation Homefront in recent years and stands to donate even more with the introduction of Red, White and Berry Blast to Dollar General.
Staying competitive in the food industry means staying on top of trends – including consumer demand for more natural ingredients and healthier choices. Budget $aver twin pops have only 42 calories per serving, but Allen says some customers are put off by the use of high fructose corn syrup and artificial coloring.
Ziegenfelder experimented with an organic pop product a few years ago in Aldi stores, but Ziegenfelder's facilities were not properly configured to handle the product at the time so it was eventually dropped. With the natural food craze seemingly here to stay, Allen says Ziegenfelder is testing the idea again. "It may be something we do in a few years but we're not doing it today," he adds.
Still, it's an example of how the company is willing to try new things and innovate while adhering to its legacy as a budget-minded treat for everyone. "You got to be thinking, 'What's the next thing?'" Allen says.