The Bloody Mary was always one of the most difficult cocktails for the restaurant and bar industry because consistency in taste was difficult to achieve and it was time-consuming to make. That all changed in 1996, when Zing Zang founder Richard Krohn bottled his signature Bloody Mary recipe and began distributing it throughout the country.
"We had a sale because of the taste," National Sales Manager T.M. Ashcraft says. "I have been in the restaurant business all my life and we had used mixes prior to Zing Zang, but you always had to add things. With Zing Zang all you need is ice, vodka and a paying customer." Zing Zang was formally introduced in 1997 at the National Restaurant Association's annual show in Chicago. One year later, the Zing Zang Bloody Mary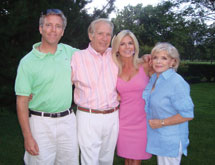 mix took first place in a blind Bloody Mary tasting at the Fiery Food Challenge in Albuquerque, N.M.
Today, the Zing Zang team of seven sells its nine drink mixes in 50 states and Canada. The product is used in the finest restaurants, bars and country clubs. It can also be found on the shelves at local liquor and grocery stores. "Since its inception, the growth curve has been amazing," Krohn's son and Zing Zang President John Krohn says. "Every year the company has been growing approximately 20 percent on average. The goal and the vision are to keep the company on a similar growth curve and try to introduce Zing Zang to as many people as possible."
History in the Making
Bloody Mary cocktails were always a staple of the Krohn household, says Krohn's wife, Serena. "I remember it seemed like Rich's mom would have brunches a lot and Bloody Mary's were always served," she notes. "It was Rich's recipe and no one really knew the exact amounts of the ingredients. He would just pour a little of this and add a pinch of that."
Serena Krohn was introduced to Krohn's recipe one Sunday morning about two years after they were married. She remembers they had been to a party and stayed out late the night before, and Krohn said he had something that would make her feel better. "I said OK, so he went to the stove and began brewing up his now famous recipe," she says. "I just gulped it down. He made me another one and I felt so much better. I'll never forget it."
Richard Krohn spent his career working as a banker and real estate developer, but John Krohn says he remembers his father's passion was present at every family party. "I was about eight or nine years old and my mom and dad would put on these great Super Bowl parties for the neighborhood," he says. "I remember my dad breaking out – from scratch – the formula he used for his Bloody Mary, which is today's Zing Zang. My best friend's dad came up to me, this guy was a federal judge, and said to me 'John, son, I just want you to know one thing – your dad makes the best Bloody Mary mix ever!'"
Perfect Mix
Years passed and Krohn's Bloody Mary recipe remained a family only treasure until 1996, when Krohn decided he wanted to try to bottle and sell his mixture to the world. "He wanted to see if he could market it and the family thought he lost his screws," Zing Zang National Sales Manager Steve Mattison says. "What was he doing? He was getting ready to retire and suddenly decided to pursue a new career in the Bloody Mary mix business."
Krohn began working with Tone Products, a leading manufacturer of private label sauces, marinades and beverages in Melrose Park, Ill., to produce his formula on a larger scale. The relationship between the two companies remains strong to this day. In the beginning, Krohn carried cases of Zing Zang in the trunk of his car and traveled to various places in Chicago to have people try the drink. "He took the product and went up and down Milwaukee Avenue having people try it and they loved it," Mattison explains. "That's when he knew he had something. He got serious and hired me and T.M. because of our backgrounds in the restaurant industry."
Selling the product is as easy as pouring the drink. On-premise restaurants and bars are provided samples and the taste of the mix seals the deal, Ashcraft says. He adds that Zing Zang also transformed the way the industry made Bloody Marys in restaurants and bars. "From an owner/operator standpoint, a Bloody Mary was a problem before Zing Zang," he adds. "A bartender would create a masterpiece and take a lot of time doing so. Once Zing Zang came out they only had to shake the bottle and pour. It's the same drink every time and consistency is the most important thing in our industry."
Building the Brand
Once Krohn had settled on Zing Zang as the name of the company, he needed to come up with a label for the bottles. He walked around a grocery store in Glenview and stumbled upon inspiration. "He brought home this roll of paper towels that had swirls on it and he wrote Zing Zang across it and that's how it got the label," Serena Krohn says. "Believe you and me, one of his friends who was CEO of a well-known advertising firm gave him so much grief about it over the years. He would tell how Rich went to the grocery store and just did it all the wrong way and it turned out fabulous."
When Zing Zang started, the product was used a lot in the tourist areas of Florida, Mississippi, New Orleans and South Carolina. Krohn built the company's website, www.zingzang.com, so tourists would be able to find the product when they went home. Consumers could order cases or bottles and all purchases were sent on good faith by Krohn, Ashcraft recalls.
"They wanted to use their credit cards, but we didn't accept credit cards, so we would put the bill in the box and they would pay after they received the mix," he says. "The man [Krohn] trusted them to pay for their Zing Zang and I don't think one person forgot to pay in 17 years. That's one thing people always talk about was how the owner just trusted them to pay."
Krohn was also the man behind every phone call made to Zing Zang. The phone number printed on the side of every bottle was for the phone that rang in Krohn's pocket. "That's unheard of," John Krohn says. "He answered the phone every time until he passed away."
"It was Rich's baby," Serena Krohn adds. "He loved every aspect about it. He used to say he was in the banking and real estate business for far too long."
Krohn's daughter, Katherine Roppolo is the chief marketing officer for Zing Zang and oversees all the social media, promotions and events for the company.
"This is something new we started just before my dad passed away," she says. "I love telling my dad's story and people are always so interested to hear about the man behind the amazing Bloody Mary mix."
Katherine Roppolo remembers fondly all of the great times working at the office with her father and the whole family. She recalls her father being a family man who loved time with his wife, children and grandchildren.
"He never missed celebrating anyone's birthday and always made sure we spent Sunday nights together having family dinners," she says. "His generosity was remarkable. He never hesitated to help anyone in need. He had a heart of gold."
Alexandra Roppolo, Krohn's oldest granddaughter, says he was the greatest guy to work for and was "lucky" to get a job at Zing Zang after of college. "He spent so much time with me, teaching me every aspect of the beverage industry," she remembers. "He also set one-on-one meetings with me to go over the day to day operations. This was such a remarkable gift he gave me. I can't think of a more incredible mentor. He was my best friend."
Growing Further
One of the unique aspects of Zing Zang's mixes is that they can also be used for cooking. Recipes are available on the company's website that use the mixes to give flavor to a variety of dishes. That is not the main focus for Zing Zang, but finding new ways to use the product is something people at the company enjoy, Ashcraft says. "I live in Austin, Texas and I do my tamales in Zing Zang," he notes. "It's really tasty."
The goal of the company is to get current fans of Bloody Mary cocktails who haven't tried Zing Zang to try it. The company also works to make Zing Zang enthusiasts out of people who are not yet Bloody Mary drinkers.