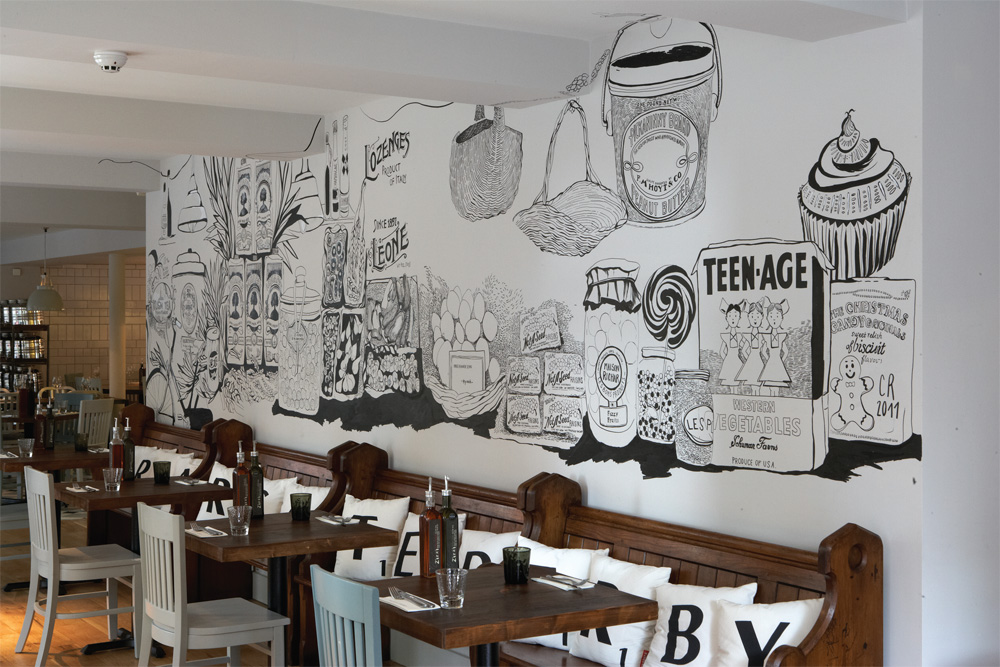 A local Italian
Zizzi Restaurants is embracing innovation and technology in order to maintain an exceptional level of quality
Specialising in Italian-themed meals such as pasta, pizza and gelato, Zizzi Restaurants prides itself on being able to deliver authentic Italian flavours in individually designed interiors.
Over the course of 2011 Zizzi has been focusing on what it calls 'localising' its restaurants, and has now refurbished over 60 per cent of the estate, as Helen Jones, managing director explains: "Each one now reflects local themes, undiscovered elements of the surrounding area and incorporates ideas customers have shared with us through feedback. Some recent transformations include Paddington Central, Derby, Cambridge and Victoria."


These refurbishments have gone hand in hand with new restaurant openings, with sites in Lincoln, Durham, a second site in Leeds and a new location in Uxbridge having all opened in the last year. "These were chosen based on our customer profile and brilliant sites," adds Helen. "All sites are performing well."
Alongside personalising each restaurant's appearance their menu also features local specials, as well as a core menu that changes seasonally. "We've recently been showcasing chef specials from winners of an internal Fresh Talent competition where our chefs are asked to create their own dish," says Angelo Garafalo, executive chef. "These dishes are unique to their restaurant."
Other new food concepts have also been introduced in 2011, as Angelo goes onto outline: "The biggest innovation has been Cichetti – small sharing plates. We launched these in September in all restaurants, introducing the idea that Italian food can be lighter and shared with friends. This menu is now part of our daily offering and is constantly being reviewed for new dishes." The Cichetti menu includes many delicious sounding creations, including Arancini ai Funghi – mini risotto balls with mushrooms, mozzarella, thyme and rosemary, served with a pomodoro dip; and Polpette al Pomodoro, mini beef meatballs in a rich tomato sauce with onions and mushrooms.
Zizzi's dedication to innovation stretches across its entire operation, and that translates to the company working with fresh talent across not only food, but also service, art and music. "It's not strictly a food innovation but it is something we're incredibly proud to support and share with our customers in order to create a more enjoyable eating experience," explains Helen. The organisation is also keen to adopt new technology, and its website features a fresh talent gallery, menu filters, its own blog and links to YouTube, Twitter and Facebook in order to enable customers to instantly share their thoughts, likes and dislikes. There is even a Facebook and Twitter poll online, which is bringing very valuable feedback straight to Zizzi.
This is incredibly useful to the organisation, as any new concepts introduced by Zizzi are usually created through a combination of customer demand/feedback and industry trends: "We are always listening to our customers and when they say they want to see something we try it out," confirms Liz Norris, marketing director. "Not every idea is right for our brand so we have a cross functional new product development team that keeps close to trends in eating behaviour and new ingredients.
"Then concepts are tested in our restaurants and reviewed before launching across all sites. A good concept will deliver on our brand vision, is unique from the market, is based in customer insight and drives new customers through our doors or increases the frequency of visits."
At the current time the Cichetti and Fresh Talent programme are Zizzi's main areas of focus. "Our work with Kitty Travers on the development of artisan gelato made with milk from the organic dairy Calon Wen has been inspiring and customers love it too, even in the winter," adds Liz. "We have a pipeline of interesting flavours that will come out seasonally."
One of the main draws for customers to visit Zizzi is the combination of the best of Italian with all things local. "We source our award winning extra virgin olive oil from Puglia, where in our view the best olive oil in the world comes from. And as you'd expect our buffalo mozzarella and ricotta come from Italy. However, where possible, we're equally keen to source the very best of British produce. As I mentioned, we buy delicious organic milk for our gelato from a Welsh co-operative called Calon Wen and source our soft drinks from a company called Luscombe down in Devon. We also found a company called Dove's Farm, based in Wiltshire, which makes the most excellent organic wholemeal gluten free pasta. We also work with Belu, Britain's most eco-friendly bottled water, which is from Shropshire. In addition, we just launched a selection of micro brewed local beers in Scotland."
Although Zizzi's business has understandably been affected by the reduction in high street spending across the UK, Helen was pleased to announce that the majority of its locations are still performing well: "We believe we're performing on or above market trend, and we are actively pursuing our ambitious opening plans for new restaurants across the UK. Our long-term strategy is to become one of the standout casual dining brands in the UK, and our energy is all focused on this for the foreseeable future."