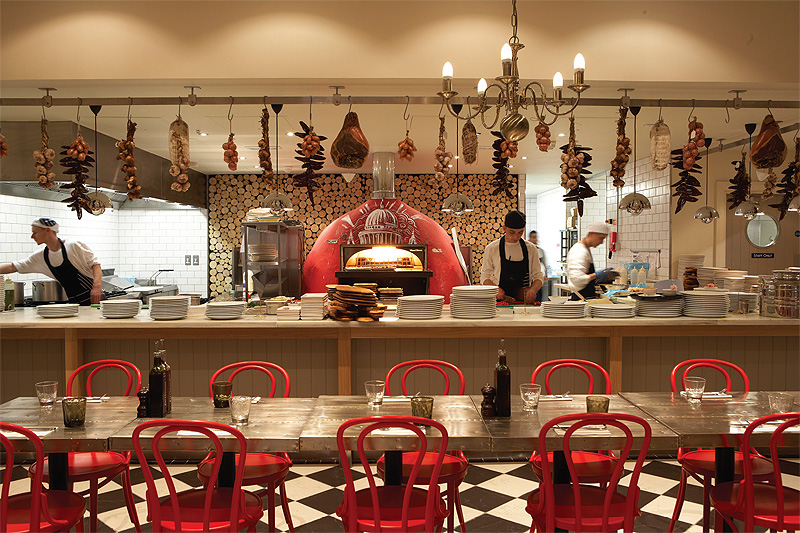 Italian design
Zizzi restaurants are undergoing major changes that will make them more individual and local than ever before
Having opened its first restaurant in 1999, the Zizzi brand of restaurants has performed tremendously and gone on to open more than 100 new branches over 11 years. Specialising in Italian-themed meals such as pasta, pizza and ice cream, the brand prides itself on being able to deliver authentic Italian flavours in individually designed interiors. Zizzi is also part of Gondola Holdings, which owns a number of other prominent food and beverage chains throughout the UK.


There are 114 Zizzi restaurants located across the country and it is the company's philosophy that each of these should bear a distinctly unique feel, fitting in with local atmosphere whilst contributing its own characteristics to the environment. To this end, and to increase high street visibility, 20 restaurants last year were redesigned to have a more local flavour to them as part of an eventual redesign of the entire chain.
One such redesigned restaurant was the company's Oxford location that was reopened in October 2010. Based on three prominent local themes – C S Lewis, the Ashmolean Museum and nickname 'city of dreaming spires' – the restaurant installed silver birch trees and multi-coloured lights in allusion to the world of Narnia. In another new feature, the upstairs booth seats are set inside frames to emulate the feel of being inside a museum display case. Furthermore, award-winning artist Lizzy Mary Cullen helped to create a locally inspired illustration featured on the building's exterior face. Nineteen other outlets underwent similar localisation including restaurants in Highgate Village, Loughton, Beaconsfield, and the chain's original outlet in Chiswick.
This was supplemented by the opening of eight new restaurants around the country including Winchester, Didsbury, Chelmsford, Aberdeen, Glasgow West End, the Trafford Centre in Manchester, the Metro Centre in Gateshead and on Bankside in London. In addition there is the brand new Central St Giles restaurant, a central London outlet designed by famed architect Renzo Piano. This venue is also host to a new brand concept, Zizzi Sessions, in which diners are given the opportunity to 'sing for their supper' in lieu of paying for the meal. The price of the diner's food is then donated to The Prince's Trust by the branch.
Unified feel
There are, however, uniform elements to each Zizzi that give the chain a unified feel. These include an open kitchen so that customers can see their food being cooked, a wood-stone oven crucial to the authentic methods of cooking, and log walls that add an extra element of natural inspiration whatever the local interior design may be.
Of course, Zizzi would not be a success story without a great menu, and it has undergone a number of changes here too. It already has a wide and varied menu portfolio that encompasses everything from starter dishes like Goddess olives and the iconic Antipasto Zizzi, through fantastic thin-crust Rustica pizzas and innovative pastas such as Penne Vodka, to classic Panettone and organic and locally produced Gelato developed in partnership with fresh, young talent Kitty Travers. In addition, the new menu saw the introduction of a fresh specials section that offers a number of unique combinations such as squid ink linguine with calamari. Zizzi has executive chef Angelo creating brilliant dishes for its customers and first class chefs in every restaurant who ensure every meal is prepared to perfection before it is delivered to table.


Last year all of these changes helped push very positive results for the chain as a whole; sales went up by 9.4 per cent from 2009 with an average spend of £17 per head. Combined with eight new restaurants as well as the refurbishment of 20 further locations, the company was able to exceed targets for returns on capital investment.
As highlighted by Zizzi Sessions, the chain struck up a close relationship with youth charity The Prince's Trust. This organisation, founded in 1976 by Charles, Prince of Wales, funds and runs programmes that aim to aid disadvantaged children and teens throughout the UK. The charity and restaurant went into partnership in November 2010 and launched not only Zizzi Sessions but also other aid initiatives. These include: electronic charity box Pennies, enabling people paying by card to simply and anonymously donate 20 pence; bags designed by house artist Lizzy Mary Cullen; and a pledge to donate all profits from the chef's table at recently opened outlet One New Change. Zizzi is also doing more than raising funds, it is offering work placements as part of the Prince's Trust 'Get back into work' programme for young people to get the skills they need in the workplace.
Part of the company's corporate social responsibility (CSR) standards is a commitment to reducing environmental impact. It has implemented a number of minor and major methods to chase this commitment such as recycling, composting, and using office PCs rather than dedicated systems for playing music. These impact reduction techniques have been applied not only to the Zizzi chain but to all of the chains throughout Gondola Holdings. Zizzi is now stocking Belu water, a 100 per cent carbon neutral product; Belu invests in clean water products across the world. Coffee is triple certified meaning the beans are fair-trade, organic and Rainforest Alliance certified.
The Zizzi chain is part of Gondola Holdings, a group of restaurant chains including the fellow Italian-themed venues Pizza Express, Milano and ASK as well as hamburger restaurant Byron and Soho champagne bar Kettners. Annually, the group's companies serve over 38 million meals in more than 600 restaurants. The group made approximately £545 million in sales last year, a seven per cent increase on the previous year and continuing an average 8.4 per cent year-on-year growth in sales over the last four years.
Having had a great deal of success with it 20 refurbished restaurants, the outlook for an entirely renewed chain is very positive indeed. By localising each restaurant, making it a key part of the local community not only through serving great food but also by being part of the fabric, Zizzi is set to become a central hub in towns and neighbourhoods throughout the UK.